Investor-State Dispute Settlement: From The Context of Investor Protections and State's Right to Pursue National Agenda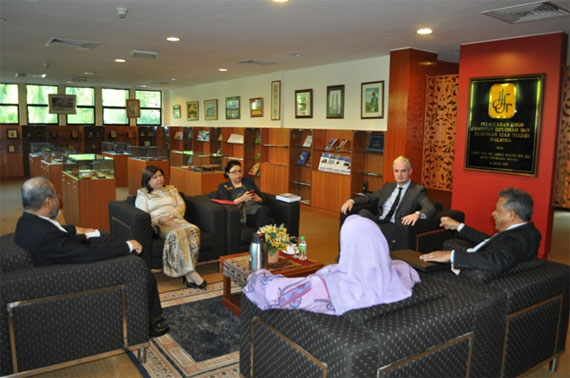 On 16 April 2014, the Institute of Diplomacy and Foreign Relations (IDFR), in collaboration with the Centre for Economic Diplomacy Asia-Pacific and the World Trade Institute (WTI), University of Berne, Switzerland organised a workshop under the Economic Diplomacy Series titled "Investor-State Dispute Settlement: From The Context of Investor Protection and State's Rights To Pursue National Agenda and Trade Integration". Associate Professor Dr. Juliean Chaisse, Director of Center for Financial Regulation and Economic Development, Chinese University Hong Kong and Chief Legal Counsel of World Trade Advisors delivered a lecture on the subject matter.
The session commenced with welcoming remarks from YBhg. Dato Hussin Nayan, Director General of IDFR. Datuk Dr. Rebecca Fatima Sta Maria, Secretary General of the Ministry of International Trade and Industry (MITI) graced the session with her opening remarks.
In his lecture, Associated. Professor. Dr. Juliean Chaisse talked on the issues of treatification of foreign investment law, provided an understanding of States to investment claims and for States to pursue their national agenda whilst protecting investors' rights.
He mentioned that investment treaties have provided investors with the assurance of a transparent and predictable investment regime in a host country. Proper implementation of investment rules is crucial and will preserve a State's regulatory rights. He also explained on positive impacts and potential downsides by implementing these investment treaties.
Two members of parliament, YB Datuk Wira Hj Ahmad Hamzah (chairman of the parliamentary caucus) and YB Wong Chen PKR (Kelana Jaya) attended the event.
Officials from various government agencies and NGOs such as Wisma Putra, Ministry of International Trade and Industry, Ministry Of Finance, Attorney General Chambers, Bank Negara Malaysia, Securities Commission, MIDA, Bar Council, Pricewaterhousecooper (PwC), Badan Bertindak BANTAH TPPA (BANTAH), Majlis Tindakkan Ekonomi Melayu (MTEM) and Third World Network.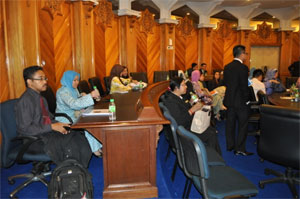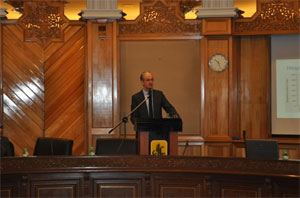 Reported by: Mohamad Shafiqal Abdullah Saidi
Regional and Security Studies Division