International Digital Libraries Conference 2014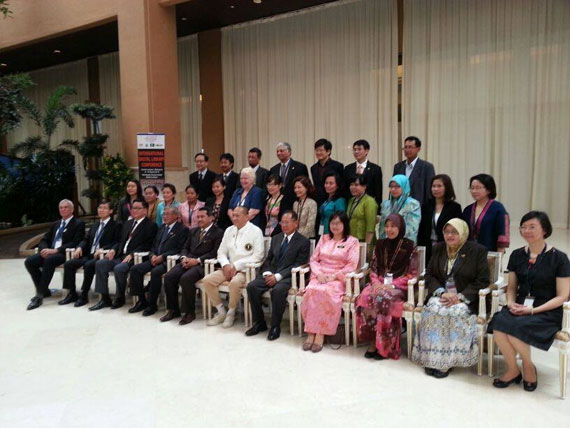 The International Digital Libraries Conference 2014 with the theme 'Preserving and Sharing Digital Resources Through Co-operation and Collaboration' was successfully organised by the National Library of Malaysia in collaboration with the Ministry of Tourism and Culture Malaysia from 8 till 10 April 2014 at the Royale Chulan Hotel, Kuala Lumpur.
The conference commenced with a welcoming remarks by the Director General of National Library of Malaysia, YBhg. Dato' Raslin Abu Bakar, followed by the opening ceremony that was officiated by Dato' Seri Mohamed Nazri bin Tan Sri Abdul Aziz, Minister of Tourism and Culture Malaysia. The keynote address was delivered by Dato' Sri Dr. Halim Shafie, Chairman of the National Library Advisory Board.
The conference aimed at creating regional cooperation and collaboration in implementing digitization programmes to enable information sharing, networking and preserving digital resources that support social and economic development, education and research, tourism and creative industries.
The two-day conference cum one-day workshop was attended by 250 local and foreign participants. Among them were librarians, information managers, knowledge professionals, IT professionals, academicians and students, information service providers and publishers. An exhibition and poster sessions related to library services and ICT was also held concurrently. IDFR was represented by Ms Hajah Kamariah Jaafar, Deputy Director of Library.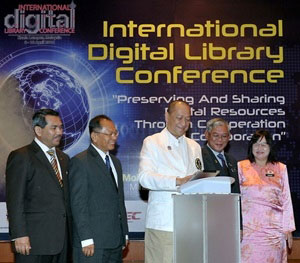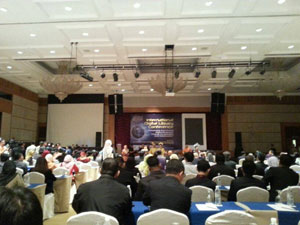 Reported by: Ms Hajah Kamariah Jaafar
Library Section, Corporate and Management Services Division