Crisis Management Course for International Participants 2014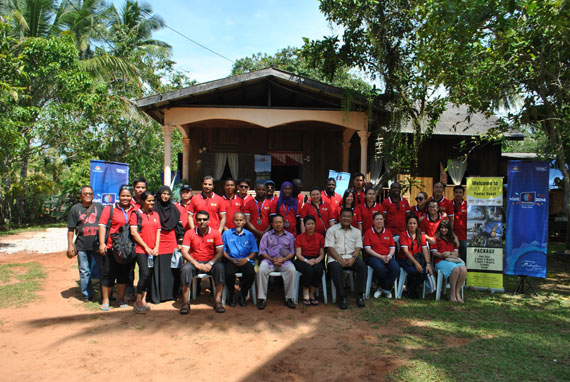 The Crisis Management Course for International Participants 2014 under the auspicious of the Malaysian Technical Cooperation Programme (MTCP) was conducted from 2 to 20 June 2014. It was attended by 24 participants from Brunei, Cambodia, Cape Verde, Congo, Cuba, Gambia, Kenya, Lao PDR, Maldives, Mexico, Morocco, Nauru, Nepal, Oman, Pakistan, Papua New Guinea, Philippines, Seychelles, Uganda and Zimbabwe.
The objective of the course is mainly, (i) to enhance knowledge and understanding on the theoretical and practical aspects of international crisis and crisis management; (ii) to increase knowledge and skills in the various approaches and techniques of crisis management; and (iii) to provide a forum for the exchange of ideas and experiences in crisis management.
The three-week course included several substantive topics on Theory and Concept of Crisis Management, Food and Commodity Crisis, Energy Crisis, Diplomacy in Crisis Management, Economic and Global Crisis, Media Response in Crisis Management, Simulation Exercise: Media Response in Crisis Management, Strategic Thinking in Crisis Situation, Crisis Forecasting, The Law and Armed Conflict in International Crisis, Peaceful Settlement of International Disputes Through Adjudication by the International Court of Justice (ICJ), Emerging Global Environmental Crisis Adjudication by ICJ, Conflict Resolution: Respect for Diversity, Country Risk Management, Simulation: Country Risk Management, Maritime Security in Southeast Asia and Managing Change After Crisis.
Besides that, the participants were also given the opportunity to participate in the public lecture titled, My Experience with the International Media and the Importance of Truthful and Moderate Approach, delivered by H.E Dr. Haris Silajdzic, Former Member of Presidency and Prime Minister of Bosnia And Herzegovina. They also participated in a number of study visits to the Ministry of Foreign Affairs, Malaysian Handicraft Corporation, Putrajaya Holdings, Malaysian Maritime Enforcement Agency (Klang District), Tourism Malaysia Pahang and East Coast Economic Region (ECER), Kuantan, Pahang.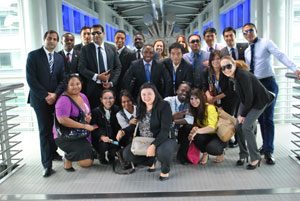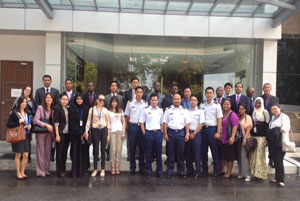 Reported by: Azmah Mahmud
Training Division