Malaysia-Australia Relationship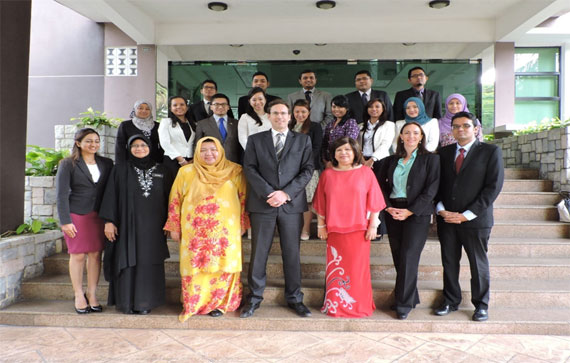 On 22 July 2014, a talk on "Malaysia-Australia relationship" by His Excellency Rod Smith, High Commissioner of Australia to Malaysia was held in IDFR. This talk was attended by junior diplomats, who are now undergoing their Diploma in Diplomacy (DiD). Ambassador Aminahtun Hj. A. Karim, Deputy Director General of IDFR presented the welcoming remarks.
During the talk, H.E. Rod Smith focused on Malaysia and Australia relations and the importance in strengthening both countries' relationship. He pointed out that the exercise of a country's foreign policy is the reflection of a country values and character. Moreover, foreign policy is also the extension of a country's national interests in which it is essential for everyone to understand it. He introduced contemporary Australia that is a very diverse country of which 1.7 million of its population were born in Asia, and is considered a country of migrants. Australia now becomes more livable and attractive and this reflects how Australia is internationalised in the world today. Other than that, H.E. Rod Smith also highlighted relations between ASEAN and Australia that could ultimately bring peace and prosperity for the region.
He also shared some important traits of a diplomat. First, diplomats should be able to be ready for surprises and open to challenges. In terms of this, diplomats will have to deal with uncertainty and therefore should be ready to handle any circumstance. Second, diplomats should always keep an open mind as every country is complex and different. It is crucial for them to know how a country thinks and how it works. Apart from that, diplomats should also be able to see things in a bigger picture as well as focus on the details. Third, diplomacy is not a zero-sum game. It is about partnership and partnership is about building approaches and finding common interests. In order to build a good relationship, it is important to find common interests that are eventually beneficial for both sides as well as being prepared to compromise. The fourth point stated by H.E. Rod Smith is about interest, influence and impact which is the capacity to advance a country's foreign policy. H.E. Rod Smith also stated that it is essential to be well prepared to deal with crisis. Flexibility, situational awareness, as well as managing information and coordination are also important elements in the areas of diplomacy.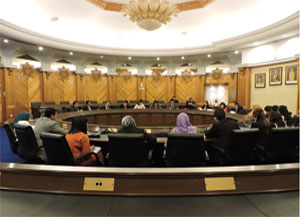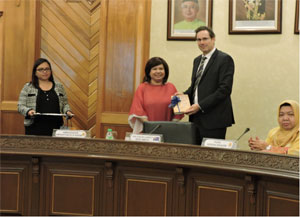 Reported by: Ernitasimbolon binti Erwan
(Intern)
Academic Studies, Research and Publication Division