Friday Morning Session: "Laughter Therapy towards Improving Quality of Life"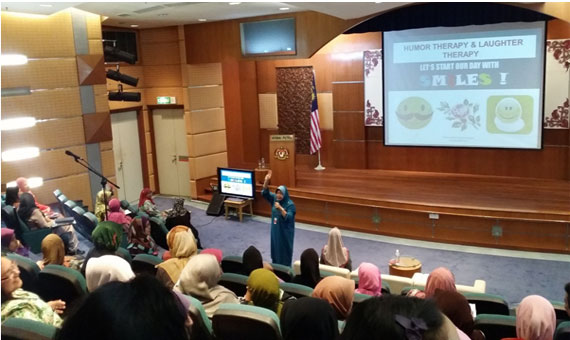 With the theme Laughter Therapy towards Improving Quality of Life, the Friday Morning Session of 15 August 2014 was held at Auditorium WP1, Ministry of Foreign Affairs (Wisma Putra). The session saw the participation of officers from Wisma Putra and six officers from IDFR. The objective of the session was to provide an insight into the importance of laughter therapy that can reduce stress and improve quality of life through the processes of physiological and psychological indirectly.
Dr Norzah Abd. Ghani, from the Ministry of Education was the guest speaker of the Friday Morning Session. She started her talk by getting the audience to take deep breaths to relax the body and mind. Next, she made everyone look at other people to initiate laughter. The eye contact is the most important factor in eliciting genuine giggles. As the session progressed, the quality of laughter improved. The audience was laughing non-stop.
In her non-stop laughing session, she highlighted the benefits of laughter therapy. It includes reducing the stress and strengthens the immune system, helps to change one's mood within minutes by releasing certain chemicals from the brain cells called endorphins and brings more oxygen to the body and brain, thereby making one feel more energetic and relaxed. Laughter therapy also helps to create a positive mental state to deal with negative situations and negative people. It gives hope and optimism to cope with difficult times.
In her final talk, she reminded everyone to love themselves and encouraged as many people as possible to share their smile with others in order to increase more positive energy.
The six officers who attended the session from IDFR were Ms. Lim Hui Chin, Mrs. Zuraini Harun, Mr. Amirul Khairi Mustafa Bakri, Mrs. Azmah Mahmud, Mrs. Farah Dibah Abu Hanipah, and Ms. Nik Nazarina Nek Mohamed.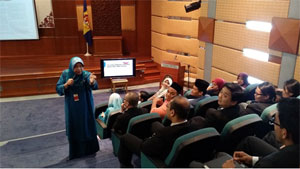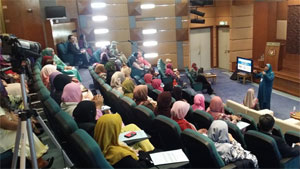 Reported by: Farah Dibah Bt Abu Hanipah
Academic Studies, Research, and Publication Division