SPKM Pre-Posting Orientation Course for Home-Based Staff and Spouses 4/2014 (Grade 41 and Above)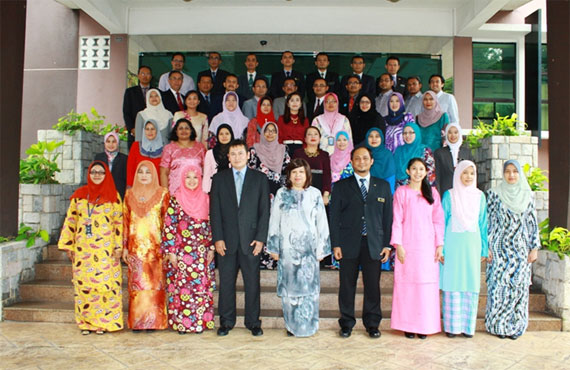 IDFR had just concluded its fourth series of SPKM Pre-Posting Orientation Course for Home-Based Staff and Spouses, which was held from 11 to 22 August 2014. The course was attended by 46 officers with their spouses. The participants came from varies ministries and agencies, such as Department of Standards Malaysia, Dewan Bahasa dan Pustaka, Istana Negara, Ministry of Agriculture and Agro-Based Industry, Ministry of Defence, Ministry of Education, Ministry of Foreign Affairs, Ministry of Home Affairs, Ministry of Human Resources, Prime Minister's Department, Public Service Department of Malaysia, Royal Malaysia Customs Department, Royal Malaysian Police and Selangor State Road Transport Department.
The objectives of this course were to increase participants' knowledge and skills in diplomacy and international relations; to expose them to the matters related to the working at the mission; to prepare the officer as well as their spouses for varied functions, duties and overcome their challenge abroad; and lastly, to instill esprit de corps among the participants for effective performance at missions.
Throughout the two-week course, the participants were briefed on matters related to administrative, finance, auditing, ethics, security, media skills, cultural, protocol, grooming and social etiquette. The speakers included Ministry of Foreign Affairs, the Economic Planning Unit (EPU), Southeast Asia Regional Centre for Counter-Terrorism (SEARCCT), Global Movement of Moderates Foundation (GMMF), Malaysian Anti-Corruption Commission (MACC), Malaysia External Trade Development Corporation (MATRADE), Malaysian Investment Development Authority (MIDA), and Malaysian Handicraft Development Corporation.
On the fifth day of the course, the participants were fortunate to have an interactive session with YBhg. Datin Siti Hawa Othman, from PERWAKILAN, who shared on the Roles of Spouses. Later that day, they were also privileged to have a session with Ambassador Aminahtun Hj. A. Karim, Deputy Director General of IDFR, for the Fine Dining Theory and Practicum module at Berjaya Times Square Hotel, Kuala Lumpur.
The certificates were presented by the Director of Training, Tuan Syed Bakri Syed Abd Rahman on the last day of the course.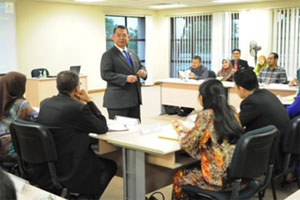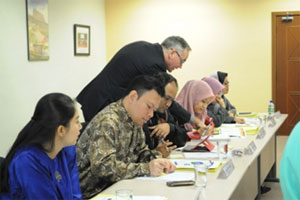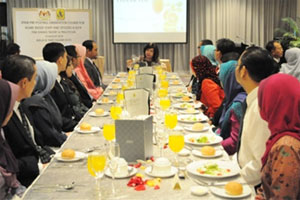 Reported by: Nur Aqilah Mohd Subari
(Intern)
Training Division