Diploma in Diplomacy 2014 Graduation Dinner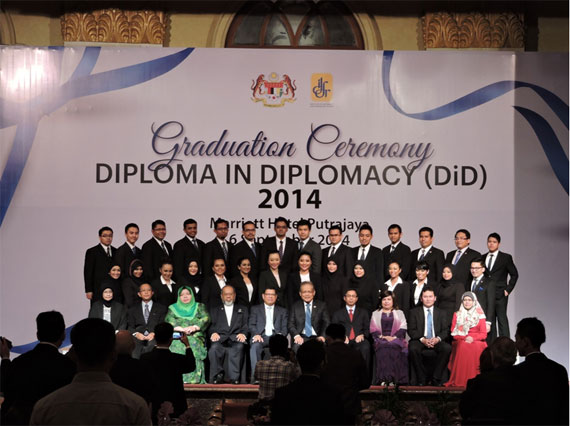 The Graduation Dinner of Diploma in Diplomacy was held on 6 September 2014 at Marriot Putrajaya Hotel. It marked the conclusion of the Diploma in Diplomacy 2014 and completion of the Regional and International Affairs Module (RIAM). The Deputy Minister of Foreign Affairs, Malaysia, Yang Berhormat Datuk Hamzah Zainuddin graced the ceremony and presented the certificates to the participants. The ceremony was also attended by YBhg. Dato' Ramlan Ibrahim, Deputy Secretary General of Bilateral Affairs, YBhg. Dato' Ibrahim Abdullah, Deputy Secretary General of Management Services, Ministry of Foreign Affairs Malaysia, ambassadors and high commissioners, senior officers from the Ministry and IDFR, parents and spouses of the participants and facilitators of the programme.
The evening began with the welcoming remarks by YBhg. Dato' Hussin Nayan, Director General of IDFR, followed by the address by YB Datuk Hamzah Zainuddin and presentation of diploma and certificate. The highlight of the agenda was the presentation of the awards for the Top Performers of the UNSC Simulation Exercise, Director General's Award for Best Speech Writer, Deputy Secretary General's Award for Best Presentation Skills, Secretary General's Award for Best Leadership and Foreign Minister's Award for Overall Best Student. The evening continued with the vote of thanks delivered by the best student, Ms. Priscilla Ann Yap. The rest of the evening was filled with the participants' performances.
In his address, YB Datuk Hamzah Zainuddin congratulated all the participants for completing the course and hoped that all of them benefitted well from the programme. He further emphasized on the role of diplomats as the managers of globalisation, whose roles are endless in "the shifting dynamics of international relations, characterized by geo-strategic changes, rapid technological changes and the need for leadership to deal with the myriad of international issues". Additionally, YB Datuk Hamzah Zainuddin stressed the importance of the roles of young diplomats in raising the profile of ASEAN by ensuring the success of Malaysia's functions for ASEAN Chairmanship 2015.
Reported by:Ms. Romaiza Abd Rahman
Training Division