IDFR-UNAM Workshop on Climate Change "Malaysia's Climate Change Strategies: Plan of Action"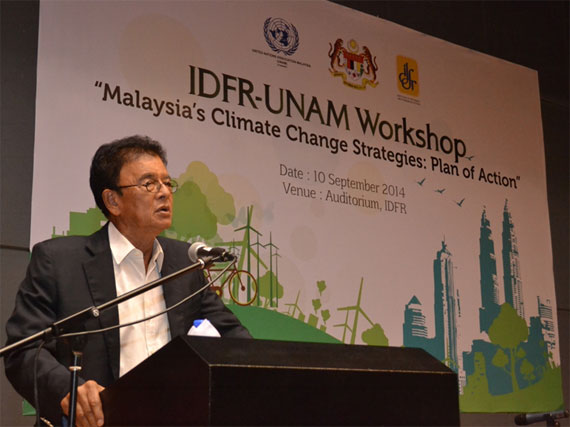 The Institute of Diplomacy and Foreign Relations (IDFR) in collaboration with the United Nations Association Malaysia (UNAM) organised a workshop related to climate change with the theme, "Malaysia's Climate Change Strategies: Plan of Action" on 10 September 2014 at the IDFR Auditorium.
The programme commenced with welcoming remarks by Ambassador Aminahtun Hj. A. Karim, Deputy Director General of IDFR. This was followed with opening remarks by YM Tengku Tan Sri Dato' Seri Ahmad Rithauddeen Tengku Ismail, President of UNAM and former Minister of Foreign Affairs Malaysia. The Keynote Address by the Minister of Natural Resources and Environment was then read by his representative, Dr. Gary William Theseira, Deputy Undersecretary of the Ministry of Natural Resources and Environment.
The workshop comprised of five presentation blocks namely: Setting the Scene, Global Perspective on Climate Change, Malaysia's Current Policies and Actions, Scientific Community View Point and Moving Forward and Preparation for Climate Summit 2014 respectively.
The event addressed the increasingly adverse threat of climate change to the planet and that it should be recognised as a serious crisis that does not discriminate between borders, hence requiring the coordinated efforts of all countries. Furthermore, it was pointed out that climate issues will be the primary focus for debate in the Climate Summit to be held on 23 September 2014 followed by continued discussion as a key agenda on this subject at the 69th Session of the United Nations General Assembly on 24 September 2014.
Representatives and officials from various ministries and government agencies, members of the diplomatic corps, council members of UNAM, UNAM Youth Circle and its UN Clubs, think tanks, public and private universities and relevant NGOs were among those who attended the event.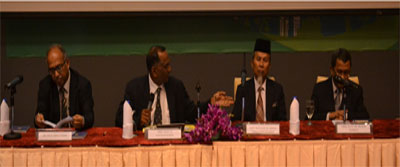 Reported by:
Muhammad Redha Rosli
Regional and Security Studies Division