Introduction to Diplomacy, Etiquette and Communication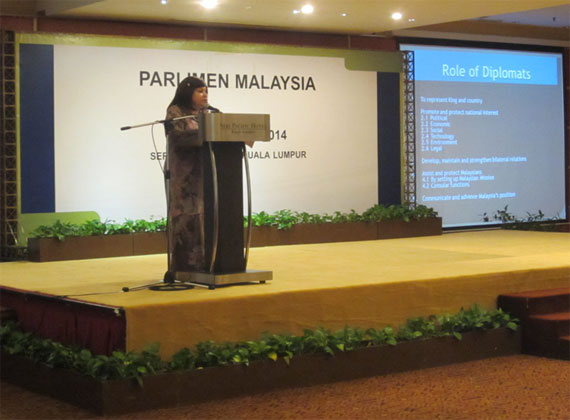 On 10 December 2014, Ambassador Aminahtun Hj. A. Karim, the Deputy Director General of IDFR representing the Director General was invited by the Senate to deliver a talk at the Seminar on 'The Practice of Diplomacy and Communication in International Relations for Senators' at the Seri Pacific Hotel Kuala Lumpur. The objective of the talk was to disclose the senators to Ambassador Aminahtun's knowledge and experience in the principles and practice of diplomacy.
The Seminar commenced with welcoming remarks delivered by Tan Sri Abu Zahar bin Dato' Nika Ujang, the President of the Senate, followed by Ambassador Aminahtun's brilliant talk and Q & A on 'Introduction to Diplomacy, Etiquette and Communication'. In her talk, Ambassador Aminahtun offered a dictionary definition as well as definitions of Sir Ernest Satow and Sir Harold Nicolson respectively of what constitutes diplomacy. She also spoke on the roles of diplomats, levels of diplomacy, handy tips for etiquette and communication in bilateral meetings and courtesy calls, and spoke from her experience on cross-cultural communication in Ukraine and The Republic of Croatia.
The Seminar was attended by 50 Senators. IDFR was represented by Ambassador Aminahtun Hj. A. Karim; Mrs. Norani Ibrahim, Director (Special Project); Mrs. Rahimah Yeop, Director of the Academic Studies, Research and Publication Division; Mr. Syed Bakri Syed Abd Rahman, Director of the Training Division; and Ms. Lim Hui Chin, Assistant Director of the Office of Director General.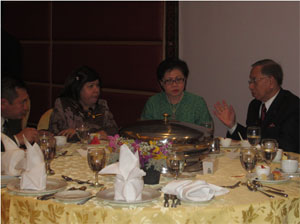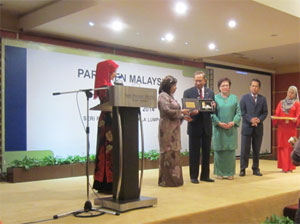 Prepared by:
Lim Hui Chin
Office of Director General