MiDAS Talk 10/2015: China's Neighbourhood Policy and ASIAN Security Architecture Building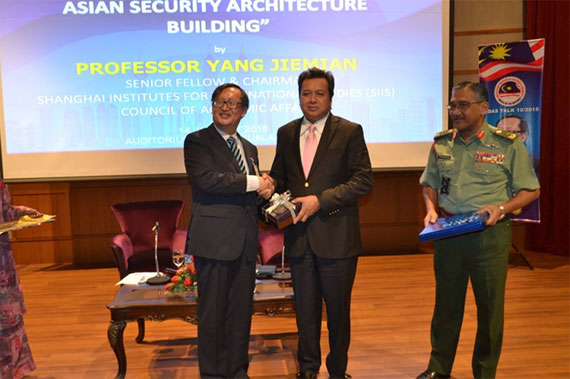 Malaysia Institute of Defense and Security (MiDAS) organised a talk titled China's Neighbourhood Policy and ASIAN Security Architecture Building delivered by Prof. Yang Jiemian, Senior Fellow and Chairman of the Shanghai Institutes of International Studies (SIIS) Counsel of Academic Affairs on the 14 January 2015 at the Ministry of Defence Auditorium. The session was moderated by Lt. Gen Datuk Dr. William Stevenson, the Chief Executive Officer of MiDaS.
In his opening remarks Lt. Gen Datuk mentioned that China and Malaysia had just celebrated the 40th anniversary of diplomatic relationship and that a solid diplomatic foundation has been established between the two countries.
Prof. Jiemian divided his speech into four parts; 40 years of bilateral relationship with Malaysia, China's Neighbourhood Policy; ASIAN Security Architecture and Opportunity and Challenges. He began by giving a brief history of how the Peoples' Republic of China (PRC) and Malaysia established diplomatic relationship 40 years ago when Malaysia's second Prime Minister, Tun Abdul Razak broke the ice of the Cold War and set foot in Beijing for a mission. He mentioned that the basic tenet of diplomacy with neighbours is to treat them as friends and partners, to make them feel safe and to help them develop. He said that China will work with ASEAN to hasten interconnectivity and establish a Silk Road Economic Belt and a Maritime Silk road for the 21st century. In October 2013, China held the first Neighbourhood Diplomatic Conference and proposed four ideas namely; Amity, Sincerity, Mutual benefits, and Inclusiveness. These ideas should be embraced first by China before it can be adopted by others in the Region.
Amongst the attendees at the event were representatives and officials from various ministries and government agencies and NGOs. IDFR was represented by Mrs. Sharizan Laily Shaharuddin and Ms. Eminder Kaur Kawan Singh.
Reported by:
Eminder Kaur Kawan Singh