IDFR Lecture Series 1/2021: The Biden Presidency and U.S. Policy in Southeast Asia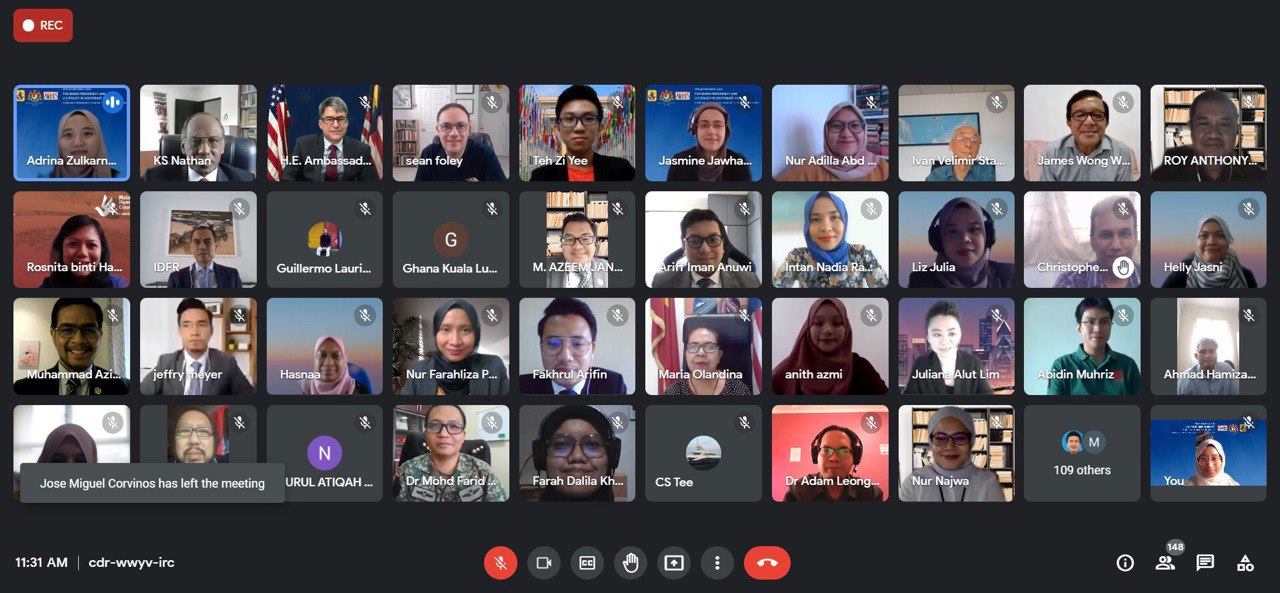 On 9 June 2021, the IDFR Lecture Series (ILS) 1/2021 titled The Biden Presidency and U.S. Policy in Southeast Asia was successfully held by the Centre for Political Studies and Economic Diplomacy (PSED). The topic was delivered by His Excellency Brian D. McFeeters, the U.S. Ambassador to Malaysia as the distinguished speaker, while Prof. Dr. K.S. Nathan, Distinguished Fellow of IDFR and President of Malaysian Association for American Studies (MAAS) was the moderator. The lecture was held virtually with an overwhelming attendance of 186 guests from various embassies and high commissions, as well as officials from relevant ministries, government agencies, think tanks and universities.
Prof. Dr. K.S. Nathan began the lecture by outlining several key expectations, including U.S. present position with China, the U.S attitude on economic regionalism in the Asia Pacific, and the U.S. efforts to enhance bilateral relations with several key actors in ASEAN, among others. This was continued by a short introduction of His Excellency McFeeters by Prof. Nathan.
His Excellency McFeeters started the lecture by reiterating the Biden administration's commitment in increasing American engagements in Southeast Asia and Asia in general. He affirmed that it would be carried out by improving the existing foreign policies including economic-related engagements. Throughout the lecture, he maintained his position that the present government is focusing more on continuity rather than change based on the various collaborations in the spheres of security, diplomacy, and economy.
According to His Excellency McFeeters, the Asian continent continue to be increasingly prominent economically and politically in the Indo-Pacific region. Despite their differences in size, they have remained secure in their sovereignty and displayed utmost capability in maintaining economic growth while adhering to international law as well as fair and open competition. Through this approach, the 'open-door' framework within the region convinced the speaker in enhancing collaboration and retaining existing alliances to face the recent challenges based on shared common values.
His Excellency McFeeters then spoke on the U.S.'s relationship with ASEAN, stating that the cooperation between the two have been focussing on matters such as economic integration, marine cooperation, youth and women's empowerment, as well as overcoming transnational issues. He explained the significant role of the Quadrilateral Security Dialogue (QUAD) collaboration in this respect, which recognises the centrality of ASEAN and its ability to work together in addressing these challenges. Apart from viewing it as a security alliance between the QUAD and ASEAN, the speaker stated that it is a flexible framework that may call for practical solutions to the Indo-Pacific region's issues.
In 2019, in terms of economic engagement, His Excellency McFeeters elucidated that the U.S. foreign direct investment totalled around USD$353 billion, which is more than China, Japan and Korea combined. He further elaborated that Malaysia's cooperation with U.S. companies have primarily focused on the development of high-tech equipment to maintain stable global supply chains and an open trade economy. He claimed that this type of investment will help Malaysia's competitiveness and government service efficiency, particularly in the digital domain. This economic perspective is not confined to monetary investment, but also to boost economic engagement that provides a platform or environment to solve other issues such as peace and security, human rights, education, and climate change, to name a few.
During the Q&A session, the questions posted by the participants were directed at U.S. plans to increase engagement, capability, and commitment on education issues as part of its foreign policy towards Malaysia. Furthermore, His Excellency McFeeters also replied to questions on U.S. vision of the QUAD formation, the nation's goal for moving forward with their efforts in addressing climate change initiatives, and pivot towards Asia. He ended the lecture by noting that the current Biden administration is focused on preserving existing policies and programmes that have shown progress in all respective areas.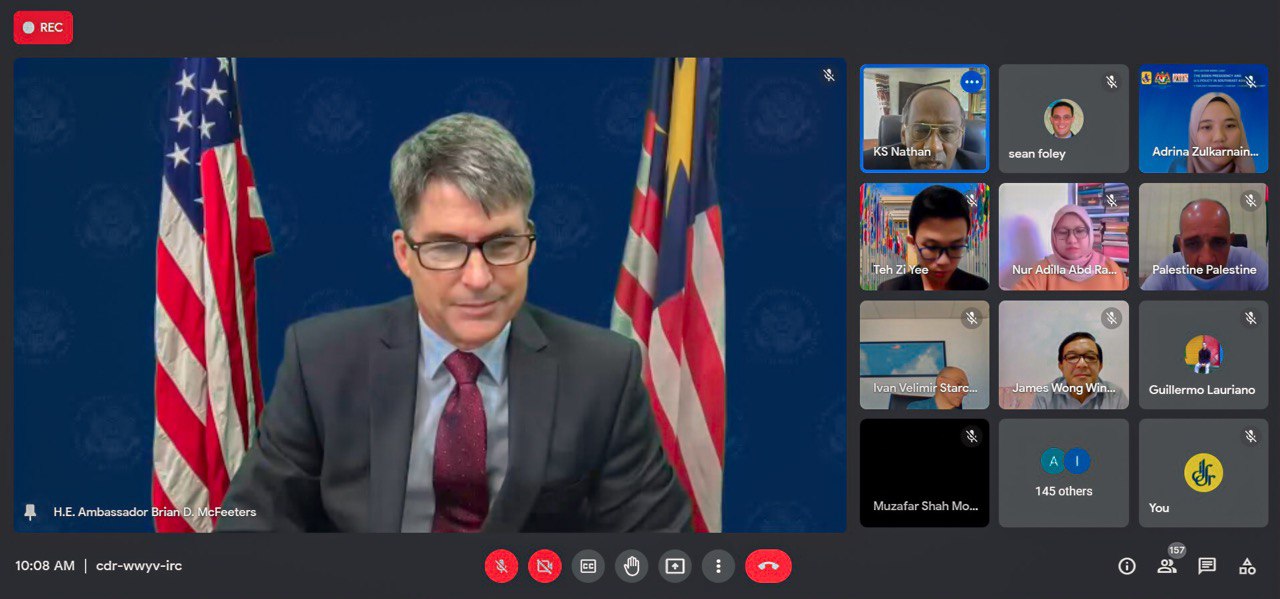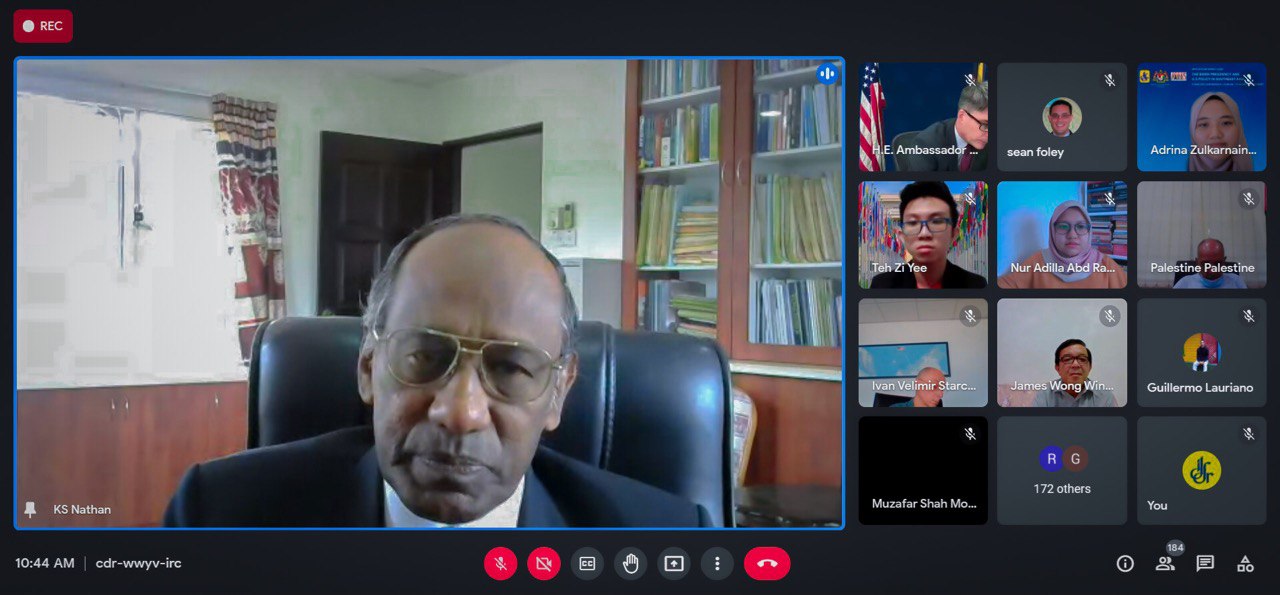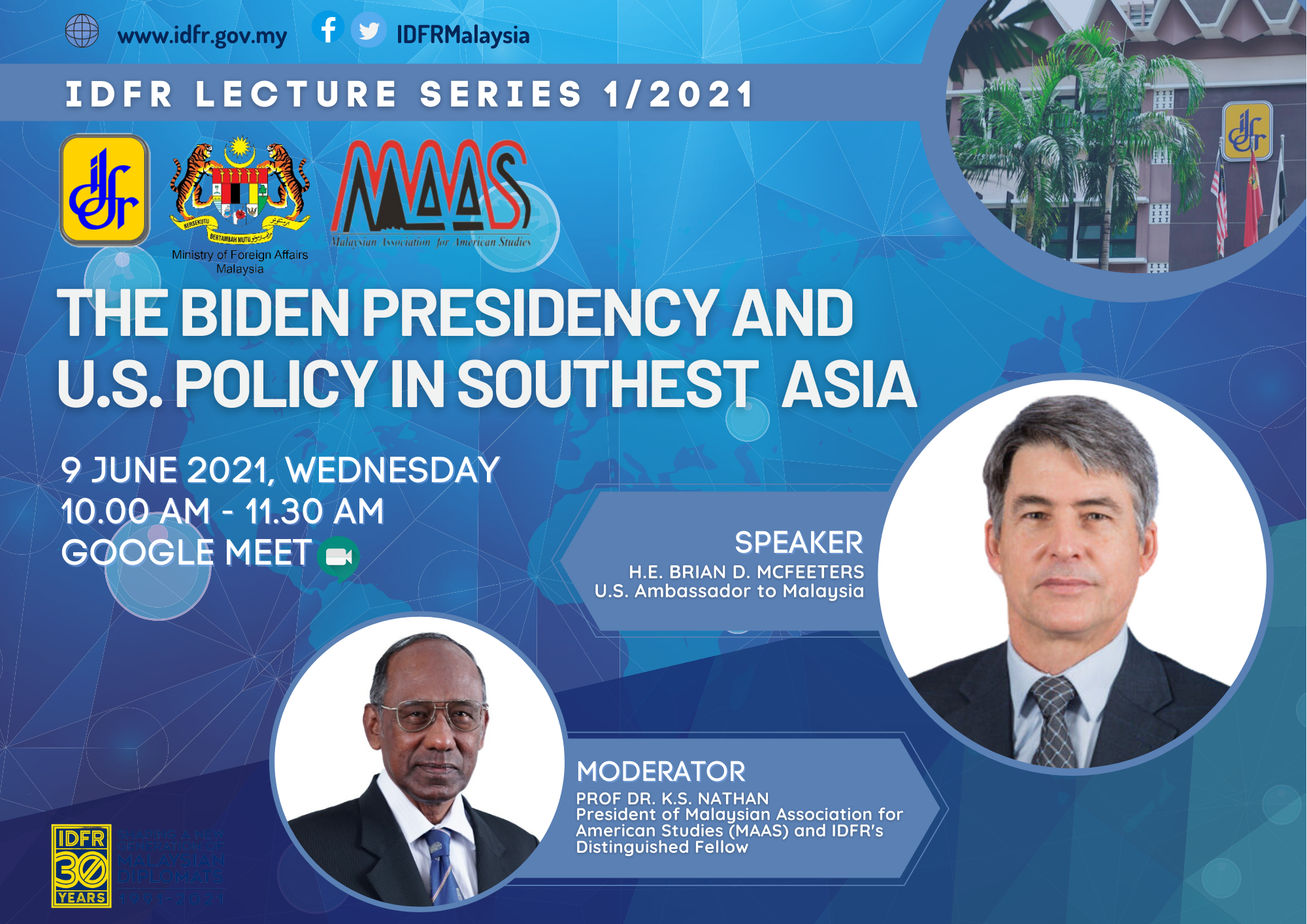 Prepared by:
Centre for Political Studies and Economic Diplomacy