Economic Diplomacy Series 1/2015 - "The ASEAN Economic Community (AEC): Making the AEC a Success"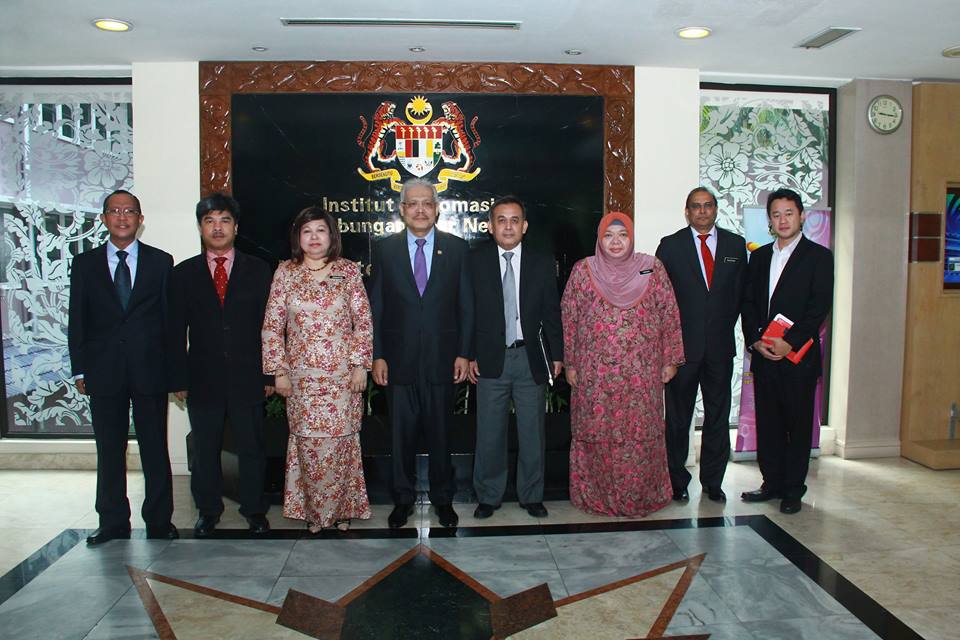 On 12th February 2015, the Institute of Diplomacy and Foreign Relations (IDFR), World Trade Institute (WTI) and Universiti Kebangsaan Malaysia (UKM) jointly organised a panel discussion under the Economic Diplomacy Series 1/2015 themed "The ASEAN Economic Community (AEC): Making the AEC a Success." The event was graced by YB Dato' Hamzah Zainudin, the Deputy Minister of Foreign Affairs, Malaysia.
The panel consisted of a moderator YBhg. Dato' Muhamad Noor Yacob, Chairman Malaysia Automotive Institute and three panelists - YBhg. Datuk P. Ravidran, Senior Director of ASEAN Economic Cooperation Division, Ministry of International Trade and Industry (MITI), YBhg. Assoc. Prof. Dr. Sufian Jusoh, Distinguished Fellow of IDFR and Mr. Fahmi Rais, Founder of the Aspirant Group Singapore and TAG Global Communication Malaysia. The objective of this discourse was to share the various efforts undertaken by ASEAN and Malaysia as the chair for ASEAN in 2015 to promote and realize the ASEAN Economic Community (AEC) 2015. It was also aimed at identifying the success factors and challenges to the AEC in its implementation of initiatives to achieve an ASEAN single market and production base, discuss opportunities and limitations for business and investing communities in leveraging on the AEC.
Datuk P. Ravidran as the first panelist gave an overview of the ASEAN Economic Community (AEC). The AEC is one of the three pillars to achieve a cohesive ASEAN Community. The other two are political or security and social cultural pillars. AEC is made up of four important pillars – a single market and production base, a highly competitive economic competition region, a region of equitable economic development and a region fully integrated into the global economy.
Dr. Sufian Jusoh then spoke on the "ASEAN Economic Community: Views from the Ground." He focused on two main issues which are very important under AEC – Services and Investment. He concluded that the awareness of AEC is still very low among member states and investors. Business organisations are seeking help from the government to communicate the mechanism of AEC and greater emphasis should be given to trade in services.
The third speaker was Mr. Fahmi Rais, a businessman who is thinking of expanding his business in ASEAN. He said that as an ASEAN business citizen, he wants to be able to tap on the nearest market and be able to receive more privileges and benefits as an ASEAN citizen setting up business in ASEAN member states. He also hopes that as he sets up business in other member states the political condition would remain stable and not deteriorate over time as this will affect his business.
Ninety participants attended this programme namely from the diplomatic corps, think tanks, government agencies and academics.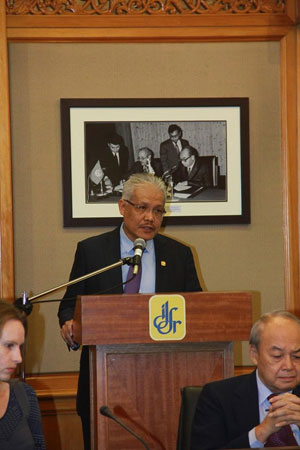 Prepared by:

Eminder Kaur Kawan Singh
Regional and Security Studies Division