ISIS International Affairs Forum "Diplomacy and Security Policy of Prime Minister Abe"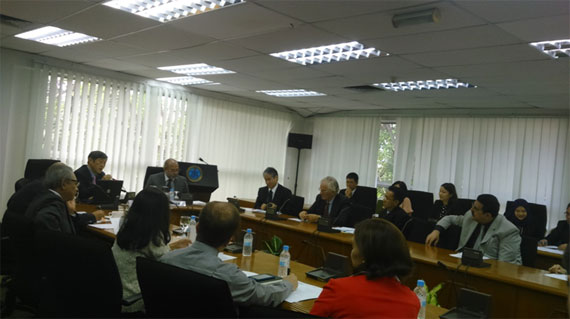 Professor Shinichi Kitaoka, President of International University, Japan delivered a talk on "Diplomacy and Security Policy of Prime Minister Abe". It was organised by the Institute of Strategic and International Studies (ISIS) on Monday, 16 March 2015 at the ISIS Conference Room.
The programme commenced with Welcoming Remarks by YBhg. Tan Sri Rastam Mohd Isa, Chairman and Chief Executive of ISIS.
As an overview, Professor Kitaoka pointed out the return of geopolitics in today's scenario. A broad understanding of the traditional customs and values of the country is essential to garner support from the people and maintain a peaceful order in the society and within the region.
Professor Kitaoka presented two main points in Japan's Foreign Policy under the Abe Administration namely, Security Policy and Historical Perception and Reconciliation. As a country that does not believe in the use of force as means of settling international disputes, the Abe Administration introduced a few measures to further strengthen Japan's security policy. As the Acting Chair of the Advisory Panel on Reconstruction of the Legal Basis for National Security, he shared with the audience the challenges and issues faced by the Abe Administration in restructuring their national security from the legal aspect. The major issues are mostly related to matters concerning rights of self-defense and collective security.
Professor Kitaoka elaborated on Article 9-1 and Article 9-2 of the Japanese Constitution which covered peaceful solution of international disputes and any war disputes. He also touched on the Rule of Law as the key to which any dispute should be solved peacefully. Abe's diplomacy strategy concentrates on deepening ties with the United States, Southeast Asian countries, India and Australia. At the same time, Japan gives more emphasis on cooperation with African and Middle Eastern countries.
The participants were from various ministries and government agencies, multinational companies, NGOs, individuals and IDFR was represented by Mdm. Zanariah Abdul Malek and Mdm. Sharizan Laily Shaharuddin.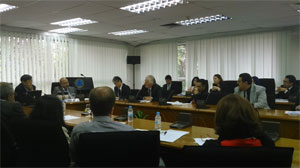 Reported by:
Sharizan Laily Shaharuddin (Regional and Security Studies Division)
Zanariah Abdul Malek (Academic Studies, Research & Publication Division)