Asia-Europe Public Diplomacy Training Initiative Workshop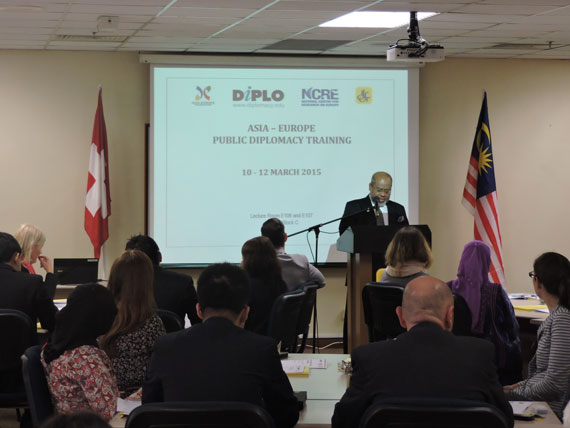 IDFR hosted the Asia-Europe Public Diplomacy Training Initiative Workshop from 10 – 12 March 2015. The Workshop was organised by the Asia-Europe Foundation (ASEF) and its collaborators, the DiploFoundation and the National Centre for Research on Europe (NCRE) – University of Canterbury, New Zealand. The Initiative is funded by the Federal Department of Foreign Affairs of Switzerland and ASEF with the support of the European Union. It was attended by 28 young diplomats from the Asia-Europe Meeting (ASEM) member countries.
The main objective of the Workshop was to enhance the public diplomacy efforts among countries in Asia and Europe. The focus was on skill-oriented training which was formulated by experts, practitioners and academicians in the field of public diplomacy. IDFR's involvement in the Workshop as the host was an evident support towards this Initiative and Asia-Europe public diplomacy in general.
During the three-day programme, a wide range of topics were covered including: Public Diplomacy: From Malaysia's Perspectives; Asia-Europe Relations, The role of Non-Governmental Organisations in Public Diplomacy; Introduction to Public Diplomacy; Public Diplomacy SWOT Analysis Asia in Europe and Europe in Asia; E-diplomacy; Cross Cultural Understanding and its Implications on Public Diplomacy; Working with the Media and Public Diplomacy Strategy Exercise.
The participants were engaged in simulation processes, hands-on exercises, group work and discussions and debates on various issues related to public diplomacy. These were facilitated by a group of speakers from various organisations from Asia and Europe. The training gave the chance for the participants to get insights from public diplomacy practitioners and experienced diplomats on their involvement in enhancing public diplomacy efforts among ASEM members.
The Workshop ended with a high-tea reception hosted by the Ministry of Foreign Affairs, Malaysia (Wisma Putra). The Director of Training Division IDFR, Mr. Syed Bakri Syed Abd Rahman delivered the closing speech to mark the end of the programme.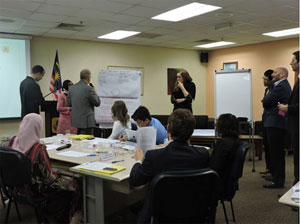 Reported by:
Farah Dibah Abu Hanipah
Academic Studies, Research and Publication Division