Launching of "Mexico and Malaysia: Celebrating 40 Years of Friendship" and The Panel Discussion on "Mexico - Malaysia Relations Present and Future Opportunities and Challenges"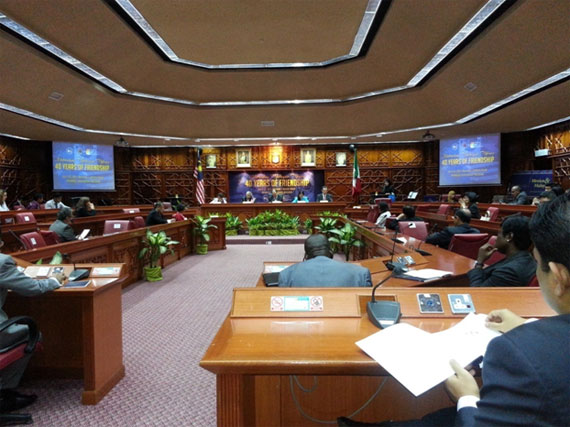 The launch of the publication Mexico & Malaysia, Celebrating 40 years of Friendship was held at the Senate Room, Universiti Kebangsaan Malaysia (UKM) or National University of Malaysia on the 14th April 2015. The event started at 10.00 a.m. with Welcoming Remarks by Professor Datuk Dr. Noor Azlan Ghazali, Vice Chancellor of UKM and Opening Remarks by H.E. Carlos Felix Corona, Ambassador of Mexico to Malaysia. The publication was then launched after Opening Remarks by Datuk Dr. Rebecca Sta. Maria, Secretary General of the Ministry of International Trade and Industry, Malaysia.
The publication captures 40 years of diplomatic ties between Mexico and Malaysia, its bilateral relationship of political dialogues, economic interactions, cultural presence and academic cooperation. The event then continued with a Panel Discussion on Mexico-Malaysia Relations Present and Future Opportunities and Challenges. The panel discussion was moderated by Associate Professor Dr. Zarina Othman, Head of the Centre for Latin American Studies. The panellists included H.E Carlos Felix Corona; Dato' Shamsuddin Abdullah, former Ambassador of Malaysia to Mexico (2005-2007); Ms. Elina Noor, Assistant Director of Foreign Policy and Security Studies, ISIS Malaysia; Professor Dr. Rashila Ramli, Director of the Institute for Malaysian and International Studies, , UKM and Mr. Fikry El-Kaissouni, Country Director of Cemex Concrete (Malaysia) Sdn. Bhd.
The discussion ventured into the areas where Mexico and Malaysia can further strengthen diplomatic relations, especially in political consultation, economic cooperation along with cultural and academic cooperation. H.E Corona suggested more visits between high level officers, planning a master plan of strategic partnership and deep dialogues. He further stressed that commercial exchanges with bilateral and regional strategies be synergised especially in the areas of tourism, automotive and halal industries. The panel discussion also talked about establishing a commission on Mexico-Malaysia to promote cultural and academic cooperation.
It was suggested that Mexico and Malaysia should leverage on Malaysia's Chairmanship of ASEAN. The panel discussion also took note of ISIS' suggestion that more cooperation between Mexico and Malaysia's think tank is needed especially to promote geostrategic cooperation and people-to-people exchanges.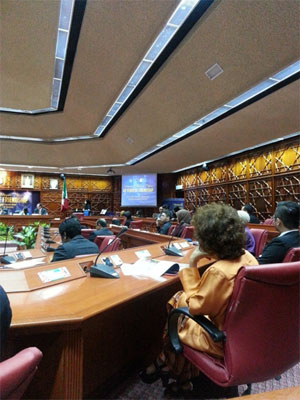 Reported by:
Siti Nooraznie Bt Abdul Rahim
Academic Studies, Research and Publication Division