Islamic State (IS) and Its Threats to Malaysia Forum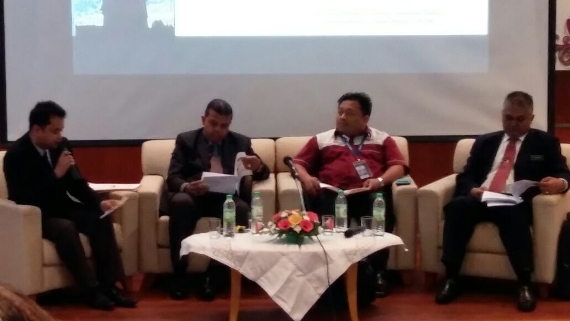 The Ministry of Foreign Affairs, Malaysia has organised a forum on "The Islamic State (IS) and Its Threats to Malaysia" on Friday, 22 May 2015 at Auditorium WP1, Ministry of Foreign Affairs, Putrajaya.
Islamic State (IS) is a radical Islamist group that has seized large swathes of territory in eastern Syria and across northern and western Iraq. Its brutal tactics of mass killings and abductions of members of religious and ethnic minorities, as well as the beheadings of soldiers and journalists have sparked fear and outrage across the world and prompted US military intervention. The forum discussed in great detail of the threats coming from groups that support the existence of the Islamic State (IS), and the off-late increased involvement of Malaysians with the organisation.
Among the points raised were the need to proactively counter the spread of harmful ideologies by IS through the social media, the collective responsibility of all to protect and defend national security and that there should be a balance between national security and civil liberty.
The forum has also allowed for the issue to be viewed from the various perspectives as the session was paneled by panelist from various Government agencies. The panelists for the forum were YBhg. Dato' Ayob Khan Mydin Pitchay, Assistant Director General, Special Branch (Operations/Counter Terrorism division), Mr. Hamzah Ishak, Undersecretary, Majlis Keselamatan Negara, and Mr. Shamril Faizalis Shamsul Bahari, Security and Public Order Division, Ministry of Home Affairs. The forum was moderated by Mr. Nik Hussein Nik Ali from the Ministry of Foreign Affairs, Malaysia.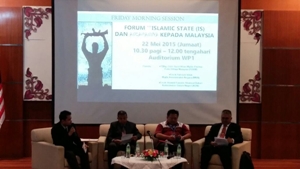 Prepared by Sarah Zahirah Ruhama
Regional and Security Division