DiD 2015: French Film and Art Festival 2015
The French Film and Art Festival was held in Kuala Lumpur and Penang from 14 May to 16 June 2015. It was organised by the Alliance Française and the Embassy of France in Kuala Lumpur to showcase French performing arts, visual arts and cinema as well as create linkages between Malaysian and French cultures.
The Diploma in Diplomacy 2015 (DiD) participants were privileged to be directly briefed by the representatives from Alliance Française on the various events held in conjunction with the festival at IDFR on 18 May 2015. Free French movie tickets were also distributed to the lucky winners to watch a limited screening of French movies at local cinemas.
On 19 May 2015, Mrs. Jeanette Daina, IDFR's French language teacher, led the DiD participants to a photo exhibition by French photographer, Ms. Maia Flore at Publika, Kuala Lumpur. The exhibition offered a glimpse of 25 cultural sites in France such as the Palais des Papes in Avignon, the Gardens of the Versailles Palace or the City of Carcassonne as well as many other historical sites in France.
The DiD participants also attended a dance performance show by Pierre Rigal and his dancers on 3 June 2015 at the Malaysia Tourism Centre (MATIC), Kuala Lumpur. The show showcases a powerful symbol of identity by French urban dancers.
Other events included exclusive dinner experiences in selected French restaurants in Kuala Lumpur to celebrate fine dining and highlight its unique cuisine to guests.
Overall, the French Film and Art Festival held was apt and timely for the DiD participants to experience French culture in Kuala Lumpur. It also provided the opportunity for the participants to converse in French language with other attendees of the festival and establish their networking with the French community based in Kuala Lumpur.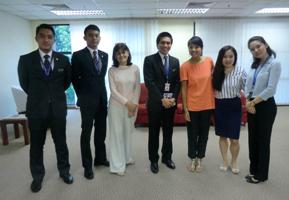 Reported by:
Johan Arief Jaafar
President
Diploma in Diplomacy (DiD) 2015