DiD 2015: Panel Discussion on Contemporary Political Issues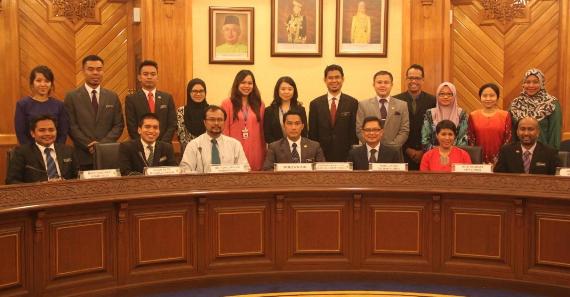 The Diploma in Diplomacy (DiD) 2015 participants in collaboration with IDFR organised a Panel Discussion on Contemporary Political Issues on 3 July 2015.
The invited panellists for the session were YB Dato' Haji Irmohizam Haji Ibrahim, Member of Parliament, Kuala Selangor; Dr. Tunku Mohar Tunku Mohd Mokhtar, Assistant Professor and Head, International Islamic University and Ambassador Datuk Salman Ahmad, former diplomat with over 30 years' experience at the Ministry of Foreign Affairs, Malaysia. The session was moderated by Mr. Firdaus Akhimullah Munir Al-Hakim Ramlly, the DiD 2015 participant. In attendance was Mrs. Romaiza Abd Rahman, IDFR's Director of Competency Enhancement Centre.
The focus of the session was on contemporary political issues from the viewpoint of a Member of Parliament, an academician and a former diplomat, which included history, evolution as well as issues and challenges of Malaysia's politics.
During the session, YB Dato' Irmohizam spoke on the concept of democracy and separation of powers of the executive, legislature and judiciary system. He believed that everybody was part of the civil society with freedom of expression. He further added that social media had become the mainstream media for the youth which represented 43 percent of Malaysia's population. As such, he urged the young generation to be critical in order to support the development of Malaysia.
Meanwhile, Dr. Tunku Mohar shared his knowledge on the structure of Malaysia's politics including Malaysia's constitution, principles of democracy and the concept of a two-party system. He highlighted that Malaysia's current economy including the 11th Malaysia's Plan would be an important factor which could determine the future direction of Malaysia's politics.
Ambassador Datuk Salman Ahmad as the third panellist, elaborated on the important characteristic required in young diplomats prior to their postings abroad namely the sense of responsibility to promote, defend and love the country. He added that young diplomats needed to be equipped with as much knowledge as possible on Malaysia's policy in order to clearly explain the country's position to their counterparts.
The participants took the opportunity to participate in the discourse and shared their opinions on the future of Malaysia's politics with the panellists. The session achieved its aim in enriching the participant's knowledge on contemporary political issues from various viewpoints.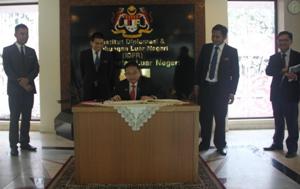 Reported by:
Johan Arief Jaafar
President
Diploma in Diplomacy (DiD) 2015