International Conference on the Plight of the Rohingya, Part II: Crime Against Humanity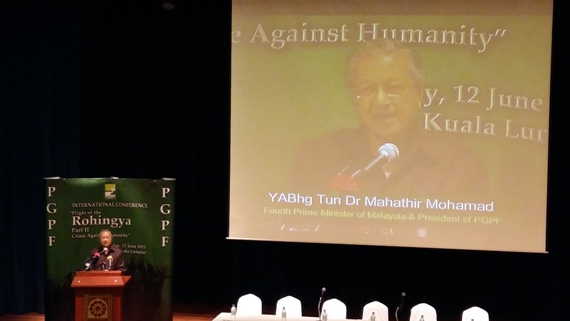 An international conference on the Plight of the Rohingya, Part II: Crime Against Humanity was organised by the Perdana Global Peace Foundation (PGPF) on 12 June 2015 at the Islamic Arts Museum, Kuala Lumpur. The welcoming address was delivered by Tan Sri Norian Mai, Chairman of PGPF while Tun Dr. Mahathir Mohamad, the fourth Prime Minister of Malaysia and President of PGPF delivered the keynote address.
The conference gathered prominent speakers from various countries and background to talk on the ongoing plight of the Rohingyas fleeing from state-sponsored brutality committed on the oppressed minority in Myanmar, and of the urgent need to help the Rohingyas who are internally displaced in the country and those who fled for survival only to fall into the hands of human trafficking rings.
Comprising two plenary sessions, distinguished speakers of the first session are Mr. Mohamed Naeem @ Khin Maung Myint of National Democratic Party for Development, Myanmar, Gen. Tan Sri Mohd Azumi Mohamed (Rtd) of PGPF, Dr. Abdul Malik Mujahid of Burma Task Force USA, Dr. Hla Myint of Rohingya Intellectual Community Association of Australia, and Mr. Matthew Smith of Fortify Rights, with Professor Salleh Buang, Deputy Chairman of Kuala Lumpur Foundation to Criminalise War (KLFCW) as moderator. The second session was moderated by Dato' Ahmad Talib, Trustee of PGPF, and invited speakers are Mr. Mohammad Abdoel Malik Rizal of Muhammadiyah, Indonesia, Dato' Dr. Ismail Noor from Malaysia, Reverend Alan Rey Sarte from the Philippines, Dr. Sriprapha Petcharamesree from Thailand, and Mr. Jason Kay of KLFCW.
The two plenary sessions are followed by some observations made by a group of NGO representatives on the plight of the Rohingyas and related issues. Finally, the conference ended with the adoption of a resolution presented by the Chief Rapporteur, Tan Sri Ahmad Fuzi Abdul Razak, Trustee of PGPF and Distinguished Fellow of IDFR. The resolution contained calls for appeal to the governments of ASEAN Member States, Bangladesh, the USA, the EU and Australia as well as the ASEAN Secretariat, the Organisation of Islamic Cooperation (OIC), the United Nations High Commissioner for Refugees (UNHCR), and the International Organisation for Migration (IOM) to, among others, provide direct socio-economic assistance to the Rohingyas in Myanmar, open up opportunities for the Rohingyas to be resettled in third countries, and for the Rohingya issue be made a permanent item in the ASEAN agenda in order to work towards reaching comprehensive solutions in the interest of regional peace and stability.
The conference was attended by members of the diplomatic corps, government officials, representatives from various local and international non-governmental and civil society organisations, media as well as academicians.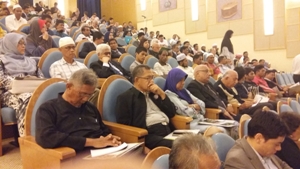 Reported by:
Sarah Zahirah Ruhama
Regional and Security Studies Division