Economic Diplomacy Series (EDS) 1/2021: Malaysia-China Economic Relations: Opportunities and Challenges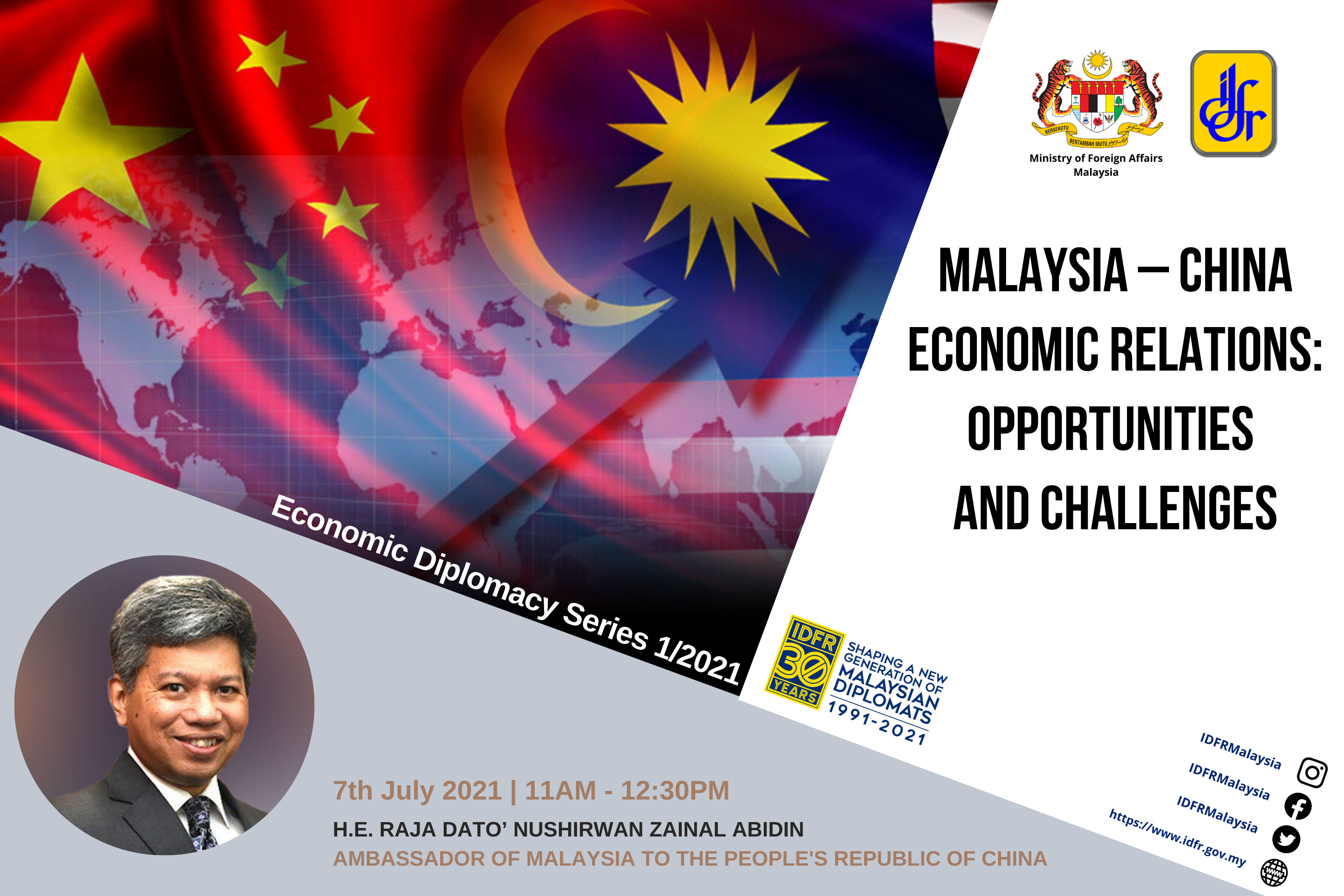 The Economic Diplomacy Series (EDS) 1/2021 titled Malaysia – China Economic Relations: Opportunities and Challenges was held on 7 July 2021 with His Excellency Raja Dato' Nushirwan Zainal Abidin, Malaysian Ambassador to the People's Republic of China, as the guest speaker. The lecture was held virtually and was attended by 176 participants from various embassies and high commissions, as well as officials from relevant ministries, government agencies, think-tanks and universities.
His Excellency Raja Dato' Nushirwan began the session by acknowledging IDFR's 30th anniversary as a diplomatic training institute since its inception on 1 July 1991. The lecture continued by describing the nature of Malaysia-China bilateral ties, which were first built on trade and economic principles. On 31 May 1974, Chinese Premier Zhou Enlai and Malaysian Prime Minister Tun Abdul Razak signed the Joint Communiqué between China and Malaysia, making Malaysia the first ASEAN country to establish diplomatic ties with China. Both nations are committed to having direct, private, and friendly discussions in finding favourable solutions to matters of mutual interest.
Concerning the COVID-19 pandemic, His Excellency Raja Dato' Nushirwan indicated that Malaysia was the first country to sign a Memorandum of Understanding (MoU) on post-pandemic measures and secured a reciprocal vaccine arrangement with China. Last year, the pandemic led to a 30% rise in trade between the two nations, totalling to USD$131.16 billion in diverse businesses, with China remaining as the largest investor in the manufacturing sector. In addition, the video conference between Premier Li Keqiang and Malaysian Prime Minister Muhyiddin Yassin that took place on 21 May 2021 resulted in both sides agreeing to venture into new areas of cooperation, including electronic commerce, high technology, digital economy, agriculture, and food security, among others.
His Excellency Raja Dato' Nushirwan also addressed the repercussions faced by several economies due to the pandemic. In order to attain shorter supply chains, economies must improve operational efficiency and resilience. He shared ideas of how China and the U.S. planned to increase their technological self-reliance. China must be able to design and produce semiconductor machines, whereas the U.S. must reacquire the skills that were lost when the semiconductor industry was moved overseas. As a result of these limitations, both countries have resorted to Malaysia, which has a nearly complete production ecosystem to meet their requirements and demands. In relation to this, His Excellency hoped that Malaysia would continue to innovate and provide greater designs in order to benefit from the recent developments between the two rivals.
Furthermore, His Excellency emphasised the importance of small and medium-sized companies (SMEs) in Malaysia-China economic cooperation to gain more opportunities. The SMEs may make up only a minor fraction of bilateral commerce, accounting for 3 to 4% of the sector on average, but he believed that the SMEs require government's aid to compete in the Chinese market. He explained how the Chinese government intends to build a strong domestic market and cultivate a new development pattern that encourages active interaction between domestic and international demands. This pattern demonstrates significant marketing potential, with the possibility to increase both internal and external trade flows, as well as bringing in more investment opportunities.
Additionally, with the lockdown measurements to curb the spread of COVID-19, digital marketing platforms have been prominent in permitting market flow to skyrocket. The speaker emphasised how Chinese customers have advanced their online culture and technology to help their businesses succeed. Online sellers have adapted to the change by creating content for their products to reach customers all over the world, such as through live streaming and online business platforms. He advised Malaysian businesses to use branding, design, and innovation to their advantage, as well as digitalisation, to move up the value chain.
During the Q&A session, the questions posed covered a wide array of topics. On the economic perspective, questions range from the extent of China's state-owned enterprises' contribution to the nation's agenda for an open economy, the bilateral development of Malaysia – China under the China's Belt and Road Initiative (BRI) strategy, the impact of the ratification of Regional Comprehensive Economic Partnership (RCEP) towards Malaysian enterprises and SMEs, among others. Additionally, questions on study abroad and student exchange programmes as well as whether the prolonged pandemic would lead to mapping progressive economic recovery strategies between both countries were professionally addressed by His Excellency Raja Dato' Nushirwan. The lecture ended with the speaker emphasising that Malaysia and China have developed deep and extensive bilateral ties that would continue to grow and benefit both countries in the years ahead.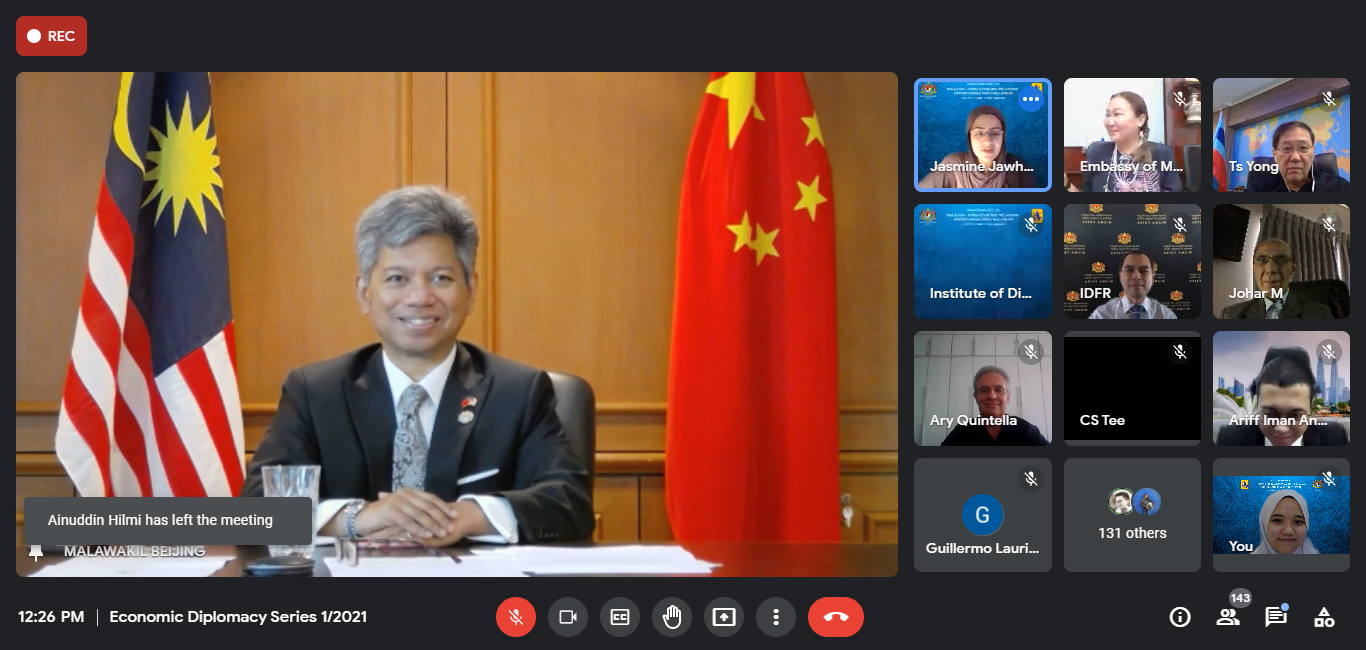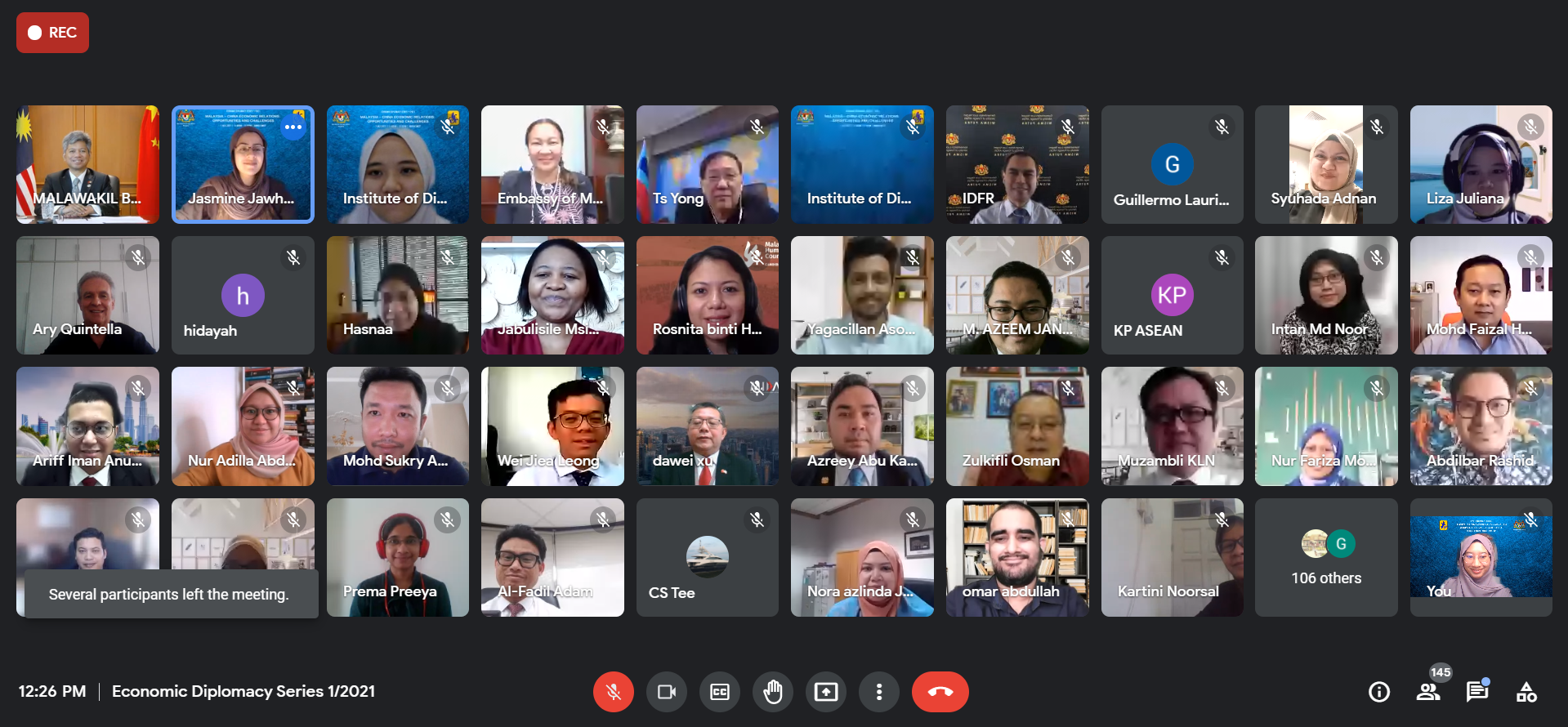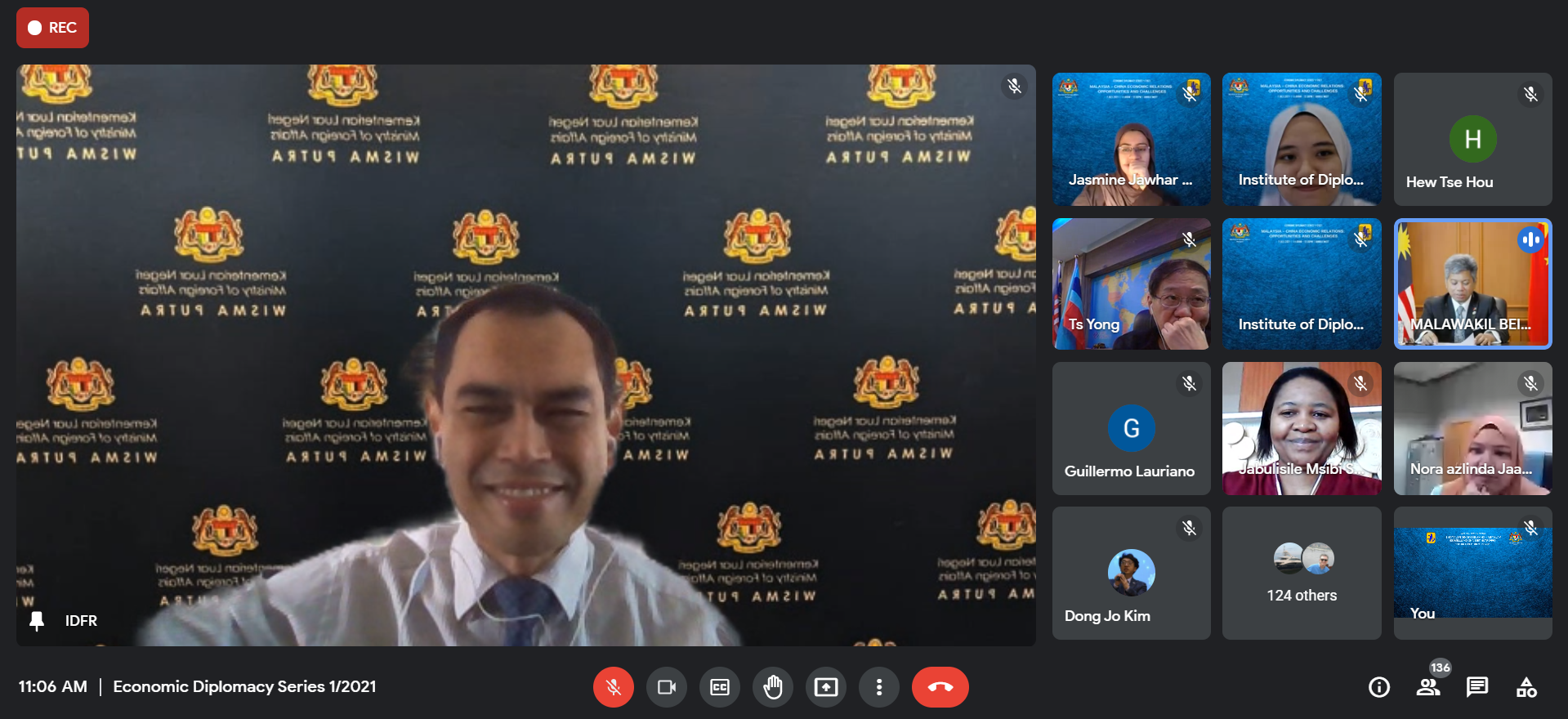 Prepared by:
Centre for Political Studies and Economic Diplomacy (PSED)