MTCP Strategic Analysis for International Participants 2015
Strategic Analysis for International Participants 2015 course was organised and held at IDFR from 27 July to 14 August 2015. The three-week course was attended by 22 diplomats, namely from Bosnia and Herzegovina, Brunei, Cuba, Guinea, Kenya, Kuwait, Kyrgyzstan, Lao PDR, Mauritius, Morocco, Myanmar, Nigeria, the Philippines, Sri Lanka, Timor-Leste, UgandaUzbekistan and Malaysia
The course aimed to enhance the participants' knowledge on strategic thinking and security analysis as well as to expose the participants to the changing political, security and strategic global environment. Furthermore, the course also served as a forum for the exchange of views and ideas regarding strategic thinking and security analysis.
Participants were exposed to an integrated teaching and learning methodology which included discussions, practical exercises in groups and individually, simulation exercises, visits and briefings. Selected modules that were included in the course were Introduction to Malaysia's Foreign Policy, Communicating Across Culture, Law of the Sea Convention 1982 and Its Impact on Southeast Asia, Strategic Choice Process and the Art of Choosing, National and International Security, Countering the Terrorist Narrative, International Negotiations: Analytical Tool for Thorough Preparation, Strategic Issues and Challenges on Human Rights, Scenario Planning/Strategic Future and a country paper presentation by participants which explored the issues and challenges related to their country's bilateral relations with Malaysia.
In addition, the participants were introduced to Malaysia's state-level governance through a study visit to Negeri Sembilan, Malacca and Johore. The visit included briefings from various agencies such as the Malaysian Peacekeeping Training Centre, Economic Planning Unit of Johore and Iskandar Regional Development Authority (IRDA). This module helped provide further understanding on how the Federal and the State Government work hand in hand in developing the nation.
A joint Closing Ceremony and Certificate Presentation for the 22 course participants and 16 participants of Diplomatic Training Course for Universiti Malaysia Sabah Student Ambassadors and Perdana Fellows was graced by the Honourable Dato' Seri Reezal Merican Naina Merica, Deputy Minister of Foreign Affairs of Malaysia on 14 August 2015 at Hotel Istana, Kuala Lumpur.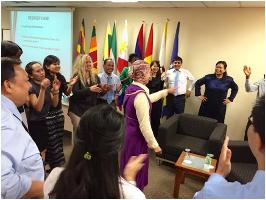 Reported by,
Sarah Zahirah Ruhama
Centre for Political Studies and Economic Diplomacy (PSED)