Visit from the Foreign Delegations to IDFR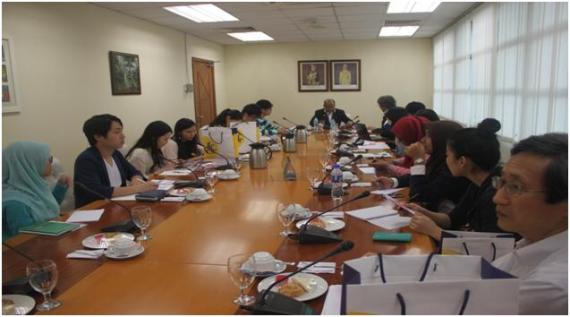 In the month of September, IDFR hosted two foreign delegation visits. The first visit was on 10 September 2015, consisted of 20 students from the University Malaya and the Kwansei Gakuin University, Japan. The delegation was led by Professor Dr. Washio Tomoharu and Mr. Masao Okuno, Director of ASEAN Project.
The purpose of the visit was to enable students from both universities in completing the development of the ASEAN Project which was inaugurated by the School of International Studies, Kwansei Gakuin University, Japan. This visit also aimed to impart the students with new insights on pertinent features and issues with reference to ASEAN which may relate to the socio-economy, regional political systems, and social values of the region.
The session commenced with welcoming remarks by Dato' Hussin Nayan, Director General of IDFR. After a short introduction of IDFR, Mr. Nazarudin Jaafar, Director, High Level Task Force, ASEAN-Malaysia National Secretariat, Ministry of Foreign Affairs, Malaysia, briefed the students on Malaysia Chairman of ASEAN. After the briefing, the students were brought for IDFR familiarisation tour.
On 15 September 2015, IDFR hosted delegates from the Lembaga Ketahanan Nasional (LEMHANNAS), Indonesia. This is part of their visit to relevant Malaysian Ministries and Agencies including Ministry of Defence, Ministry of Home Affairs, Malaysian Maritime Enforcement Agency and Institute Strategic and International Studies.
The delegation comprises of 41 participants of Program Pendidikan Regular Angkatan and was led by Dr. Ardi Partadinata, Director of LEMHANNAS. The objective of the visit was mainly to gather information and learn on the roles and functions of each Ministries and Agencies that they visited.
Ms. Hajah Norani Ibrahim, Director of Special Projects, IDFR, gave her welcoming remarks and followed by the address by Dr. Ardi Partadinata. In his address, Dr. Ardi expressed the LEMHANNAS's interest to learn more on IDFR's courses and programmes. The delegates were also keen on IDFR's stand on regional issues.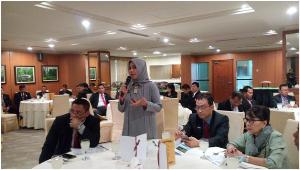 Reported by:
Azmah Mahmud
Management Services Division