Economic Diplomacy Series 1/2016 "ASEAN 2025: Forging Ahead Together"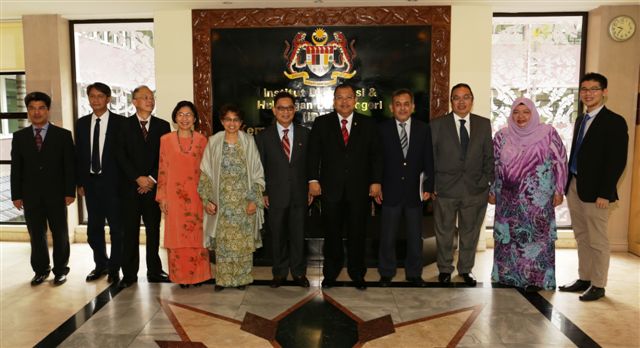 The Institute of Diplomacy and Foreign Relations (IDFR), in collaboration with Universiti Kebangsaan Malaysia (UKM), organised a panel discussion themed "ASEAN 2025: FORGING AHEAD TOGETHER" on 13th January 2016 at the Treaty Room, IDFR. The event was the first Forum for the year 2016 under the Economic Diplomacy Series which has been one of IDFR's flagship programmes for the past four years consecutively.
The programme commenced with the Welcoming Remarks by YBhg. Datuk Salman Ahmad, the Director General of IDFR, who praised the joint effort between IDFR and UKM and also welcomed fresh ideas on ways to strategise ASEAN integration as well as inputs to further strengthening the community. This was followed by a short welcoming remark by Professor Dato' Dr. Noor Azlan Ghazali, Vice Chancellor, UKM, who expressed his gratitude to IDFR as its good strategic partner of 20 years.
In his keynote address, the Deputy Chief Executive of Institute of Strategic and International Studies (ISIS), YBhg Dato' Steven CM Wong shared valuable experience throughout his 25 years of research on ASEAN. He added that as ASEAN edges closer to its 50th anniversary in 2017, ASEAN should refresh its relevance and functionality while maintaining its roots.
The keynote address was followed by a panel discussion on "ASEAN Post 2015: Challenges in ASEAN Integration".
The panel consisted of a moderator YBhg. Dato' Muhamad Noor Yacob, Director, Asia Pacific Centre for Economic Diplomacy (APCED Malaysia) and four panelists – Professor Dr. Rashila Ramli, Director, Principal Fellow IKMAS, Universiti Kebangsaan Malaysia (UKM), Associate Professor Dr. Bhanupong Nidhiprabha, Thammasat University, Associate Professor Dr. Toh Mun Heng, NUS Business School and Mr. Michael Teoh, Founding Director and Lead Trainer, Thriving Talents Sdn. Bhd. Dato' Muhamad Noor Yacob began by sharing the outcomes of the ASEAN Economic Integration Forum 2015 which took place at St Anthony's College, University of Oxford. The forum previously held on 10 November 2015 discussed a host of economic governance challenges facing ASEAN Member States.
Professor Dr. Rashila Ramli as the first panelist gave an overview of the Roadmap for ASEAN Community 2025. She pointed out key political and socio-cultural issues facing the ASEAN community and ways to overcome it such as rethinking of the South China Sea issue as well as better linkage of ASEAN Vision with global narratives such as the United Nations Sustainable Development Goals.
Associate Professor Dr. Bhanupong Nidhiprabha then spoke on "Thailand's Perspective of ASEAN 2025". He focused on the economic issues and challenges faced under ASEAN Economic Community (AEC) as well as highlighted the importance of the ASEAN nations continued commitment in tackling the remaining measures from the AEC 2015 Blueprint.
Associate Professor Dr. Toh Mun Heng as the third speaker spoke on "Singapore's Perspective of ASEAN 2025" especially from the economic viewpoint. Dr. Toh shared his view on ASEAN's future as a region with simplified rules, closer regulatory cooperation, greater transparency, a talented and well-educated pool of workers as well as a large vibrant consumer base.
Speaking on "The Role of Youth in ASEAN Community 2025" Mr. Michael Teoh stressed on the importance to integrate education of values, culture and history of ASEAN as part of formal education.
The event was well attended by members of the diplomatic corps, senior officials of the Ministry of Foreign Affairs, NGOs, think tanks, government agencies and academics.

Reported by,
Augustino Jude