February 2016 Foreign Embassy And Delegation Visits To IDFR
During February 2016, The Institute of Diplomacy and Foreign Relations (IDFR) received visits from three foreign representatives i.e. H.E. Manuel Guzman, the Ambassador of Venezuela, who was accompanied by Mr Enrique Gonzalez Kong, Minister Councellor; H.E Ibete Fernandez Hernandez, the newly appointed Ambassador of Cuba and H.E Carlos Felix Corona, Ambassador of Mexico.
It has been an eventful month for IDFR as discussions involved potential areas of interest and activities; especially when this year is also the 30th year of diplomatic relations between Venezuela and Malaysia. H.E Manuel Guzman is a long serving ambassador to Malaysia, a significant 10 years. Discussions were on potential activities to celebrate the commemorative year.
H.E Ibete Hernandez, in her second month in Malaysia and her first visit to IDFR, has expressed interest in exploring more cooperation in capacity building and people exchange. H.E Hernandez, having extensive experience in Africa, also shared her passion in women development and academic cooperation.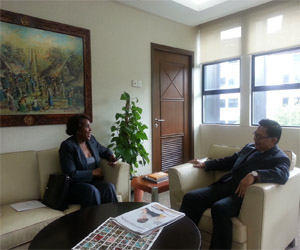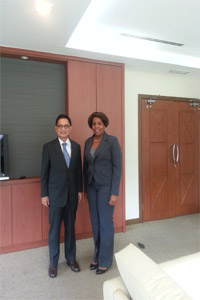 Reported by:
Siti Nooraznie Bt Abdul Rahim
Head of Corporate Affairs Section