Diploma in Diplomacy 2016 : A session with Genovasi Malaysia
On 20th June 2016, participants of Diploma in Diplomacy (DiD) 2016 and IDFR junior officers participated in a Design Thinking Workshop organised by Genovasi Malaysia. Genovasi is known as the premier Design Thinking School in the ASEAN region and a leader in Design Thinking and Innovation methodologies located in Petaling Jaya. The visit was organised to expose DiD participants to 5 steps creative thinking model developed by Stanford University Centre for Professional Development.
Genovasi, a contraction of 'Generasi' and 'Inovasi' opened its door on the 4th February 2013 and has become one of the prominent innovation organizations in Malaysia to propagate innovation and design thinking skills, creating services and solutions for a better Malaysia.
During the workshop, participants were divided into 4 different groups and were given various tasks to redesign the learning experience for working adults. In order to complete the task at hand, all participants were brought to commercial areas in Petaling Jaya to interview people at random about their learning experience as working adults. Then, participants were taught to use design thinking tools which consist of empathize, define, ideate, prototype and test to solve the task. The participants also had an interactive session with Datuk Wong Sai Wan, Editor in Chief of The Malay Mail, whereby he shared his knowledge on the changing landscape in news sharing, citizen journalism, and the influence of social media in decision making.
The visit to Genovasi had served as an excellent platform for the DiD participants to gain valuable experience to learn and use innovation for social inclusion, active citizenship and personal development, and to be equipped with future transferable skills to face challenges in life as civil servants and future diplomats.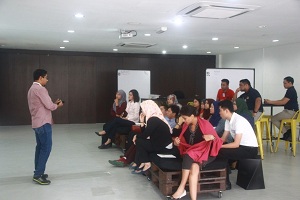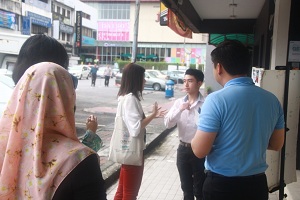 Reported by:
Adibah Abdullah (Intern)
Competency Enhancement Centre.