MTCP : Public Diplomacy for International Participants 2016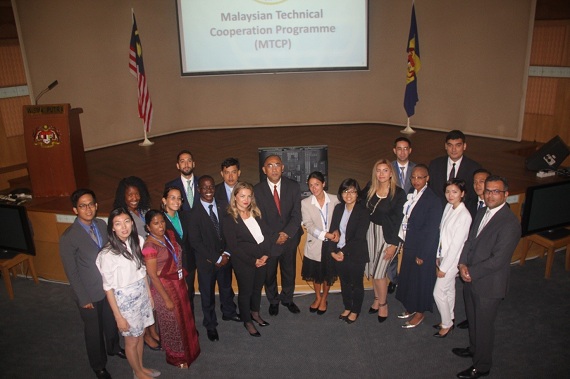 IDFR organised a Public Diplomacy for International Participants 2016 course on 17 to 26 August 2016. Funded by the Malaysian Technical Cooperation Programme, the course is designed to enhance the participants' knowledge on public diplomacy and improve their skills in handling the media in the context of public diplomacy and advocacy. The course is the sixth MTCP training held at IDFR this year.
18 diplomats and officials from 14 countries participated in the 10-day training covering various topics such as overview of Public Diplomacy, Effective Media Relations, Sharing of Personnal Experience by Former Ambassador of Malaysia to China during the case of MH370, Media Crisis Management, Introduction to Cross Cultural Communication, Public Diplomacy: Engaging New Media and Civil Society and Australia's Public Diplomacy Efforts in ASEAN. The participants were from Bosnia and Herzegovina, Cambodia, Cuba, Guinea, Georgia, Kazakhstan, Paraguay, Palestine, Sri Lanka, Turkmenistan, Turkey, Vietnam and Zimbabwe
Through a visit to the state government of Malacca, the participants had the opportunity to discover the historical state of Malacca and visit the Stadhuys, Porte de Santiago, A'Famaso, and Kampung Morten Homestay Programme where participants had the opportunity to experience Malaysian culture.
A Closing Ceremony and Certificate Presentation was held on 26 August 2016 for the participants of the Public Diplomacy for International Participants course at the VIP Dining Hall, IDFR. Ambassador Norman Muhamad, the Director of Centre for Leadership, Negotiation and Public Diplomacy delivered the Closing Remarks on behalf of the Director General and presented the certificates of course completion to the participants. Mr. Fabian Rafael Ybara Fernandez delivered the vote of thanks on behalf of the class. Also in attendance to the ceremony was H.E. Ibete Fernandez Hernandez Ambassador of Cuba to Malaysia, H.E. Dato' Dr. Anwar H. Al Agha, Ambassador of the State of Palestine to Malaysia, Mr. Beh Ching Chye, Principle Assistant Secretary of the International Cooperation and Development Division (ICADD), Wisma Putra and Embassy Representatives of the participating countries.

Report Prepared by,
Eminder Kaur Kawan Singh
Principal Assistant Director
Centre for Leadership, Negotiation and Public Diplomacy
Institute of Diplomacy and Foreign Relations