Johor Student Leaders' Council Young Diplomats Programme 2017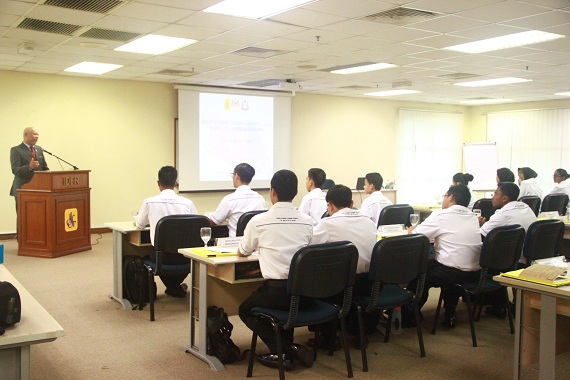 IDFR once again collaborated with the Johor Education Department and the Iskandar Regional Development Authority (IRDA) to organise the "Young Diplomats Programme" for Johor Student Leaders' Council (JSLC).
Held from 13 to 17 March 2017, the programme aims to provide the student leaders – selected from various secondary schools in Johor – with the exposure and in-depth knowledge on the basic theme of diplomacy and diplomatic practices. During the five-day programme, the students were introduced to the Roles and Functions of the Ministry of Foreign Affairs; Roles and Functions of Malaysian Missions Abroad; Consular Work at Missions; the Importance of Public Diplomacy and Media Relations; ASEAN Matters; Malaysia's Foreign Policy; Negotiation and United Nations General Assembly. They were also given hands-on training in presentation skills and social etiquette.
The highlights of the programme were a visit to the Ministry of Foreign Affairs or better known as Wisma Putra; a study tour to the High Commission of Australia in Kuala Lumpur; and a dialogue session with Datuk Mohamad Sadik Kethergany, Director General of IDFR. The visit to Wisma Putra was certainly a golden opportunity which allowed the students to engage and discuss with Malaysian diplomats on Malaysia's foreign policy especially on bilateral and multilateral diplomacy. At the High Commission of Australia, the students were given a briefing and had a discussion on its roles and functions. By visiting Wisma Putra and the High Commission of Australia, the students were able to relate to the importance of Malaysia's diplomacy and foreign policy in maintaining good relations with other countries.
The programme ended on a high note with a Closing and Certificate Presentation ceremony held on 17 March 2017. The ceremony began with a Zapin dance performance by the students. Ambassador Norman Muhamad, Director of the Centre for Political Studies and Economic Diplomacy, delivered the Closing Remarks and presented the Certificate of Attendance to the students. The vote of thanks from JSLC was delivered by JSL Anis Nazira Razali, the appointed representative.
Overall, the programme received glowing feedback from the student and the speakers. IDFR's Centre for Leadership, Negotiation and Public Diplomacy is indeed honoured to have had the opportunity to foster diplomatic learning experience among our young leaders and looks forward to continue collaborating with the Johor Education Department and IRDA in the future.

Prepared by:
Centre for Leadership, Negotiation and Public Diplomacy
Institute of Diplomacy and Foreign Relations (IDFR)