IDFR's Royal Address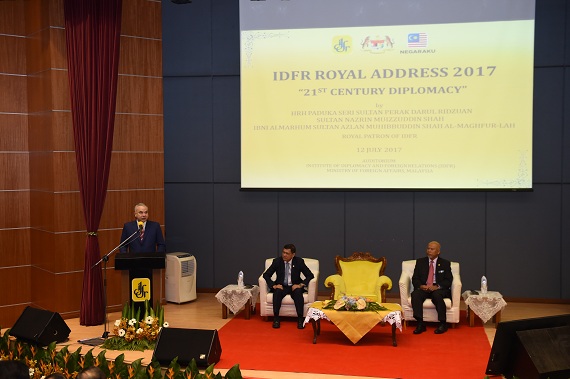 IDFR was deeply honoured when His Royal Highness Sultan Nazrin Muizzuddin Shah Ibni Almarhum Sultan Azlan Muhibbuddin Shah Al-Maghfur-Lah, its Royal Patron, consented at the beginning of the year to deliver a Royal Address at the Institute.
The Royal Address with the theme 21st Century Diplomacy was held on 12 July 2017 at the Auditorium. The event saw the attendance of approximately 250 guests from the Ministry of Foreign Affairs and other government agencies, the Foreign Missions, think tanks, universities, and various organisations associated with IDFR. The event was also graced by the attendance of Datuk Seri DiRaja Dr. Zambry Abdul Kadir, the Menteri Besar of Perak and other dignitaries from the state.
Upon the Sultan's arrival, His Royal Highness was ushered to sign the VIP Guest Book. His Royal Highness then consented to have his photograph taken with the Heads of Department and Heads of Centre of the Ministry of Foreign Affairs, as well as with the Master of Social Science students and the Diploma in Diplomacy students, respectively.
The event commenced with Welcoming Remarks by the Secretary General of the Ministry, Dato' Ramlan Ibrahim, who, among others, addressed the need for IDFR to transform itself into a Centre of Excellence by fostering excellence in research development, collaboration and output. In his speech titled Transformation for 21st Century Diplomats, His Royal Highness stated that national interest is best served when diplomats work together with civil societies and NGOs such as Amnesty International, Doctors without Borders and Mercy Malaysia, as well as multinational companies, in order to advance shared interests. Diplomats, however, have to have a sharp insight into the politics of various emerging issues – including the environment and climate change; education; disease and health; migration; and humanitarian disasters – and how they impact on the interests of the country. In order for diplomacy and diplomats to be truly transformed, His Royal Highness proposed a full-scale research project, which if well received, could lead to a difference in the diplomacy of 21st century, because unless there is a radical shift in the way the international order functions, the 21st century may not be any different from the centuries before. His Royal Highness also suggested that Malaysian foreign policy and diplomacy continue to strive for a better regional and world order.
Prior to his departure, His Royal Highness consented to mingle with the audience, especially with the Master and Diploma students, during coffee break. The event was widely covered by the media including BERNAMA, The Star, The New Straits Times, Utusan Malaysia and Berita Harian.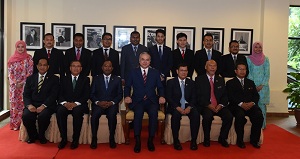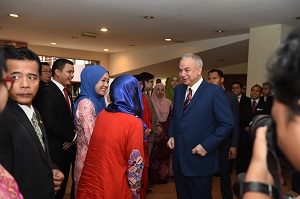 Prepared by:
Corporate Affairs Section