Cultural Appreciation Day 2017
In line with IDFR's aspirations in promoting multiculturalism and cultural diplomacy, the Institute once again organised its Cultural Appreciation Day on 22 August 2017. IDFR was honoured to have the Honourable Dato' Sri Reezal Merican Naina Merican, Deputy Minister of Foreign Affairs, Malaysia, to officiate the event.
The program attracted a culturally diverse crowd, including representatives from the foreign missions in Kuala Lumpur, officers from the Ministry of Foreign Affairs and other government agencies, think tank representatives, and members of the media. Participants from the Malaysian Technical Cooperation Programme (MTCP): Strategic Analysis for International Participants, Diplomatic Training Course for Universiti Malaysia Sabah (UMS) and Diploma in Diplomacy (DiD) also participated in this event.
Cultural exhibitions, performances and food samplings were among the activities at this year's Cultural Appreciation Day. The 11 MTCP participants from Bangladesh, Bosnia and Herzegovina, Fiji, Georgia, Kenya, Laos, Mauritania, Nigeria, Papua New Guinea, Uzbekistan and Vietnam showcased their cultural paraphernalia and donning their traditional costumes. On the other hand, the DiD participants portrayed the culture aspects of four foreign languages – Arabic, French, Mandarin and Spanish. Other exhibitors include the Universiti Malaysia Sabah (UMS), Istana Budaya, Kraftangan Malaysia and a special ASEAN @ 50 showcase by the ASEAN-Malaysia National Secretariat, Ministry of Foreign Affairs, Malaysia.
The cultural performances lineup were the Cibi, a captivating traditional Fijian war dance performance and Kenyan's welcoming dance from the MTCP participants, followed by the Sabah's traditional dance, Tarian Sumazau by the UMS participants, and Bhangra, a Punjab traditional dance. The event concluded with awards ceremony session, where Mr. Afdal Izal Md Hashim from IDFR and Ms. Dorothy Chebet Rotich from the MTCP: Strategic Analysis won the best-dressed for male and female category, the Arabic class (DiD) won the best booth award, and best performance was awarded to the UMS participants.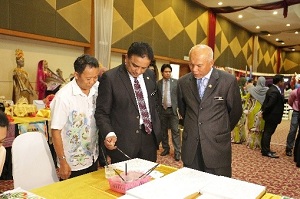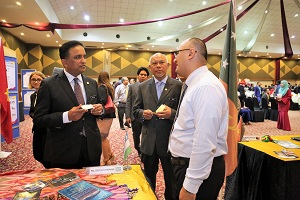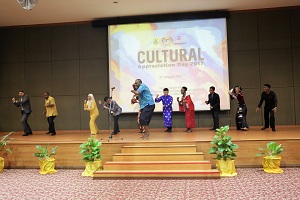 Prepared by:
Corporate Affairs Section