Panel Discussion: "Empowering Women, Empowering Malaysia"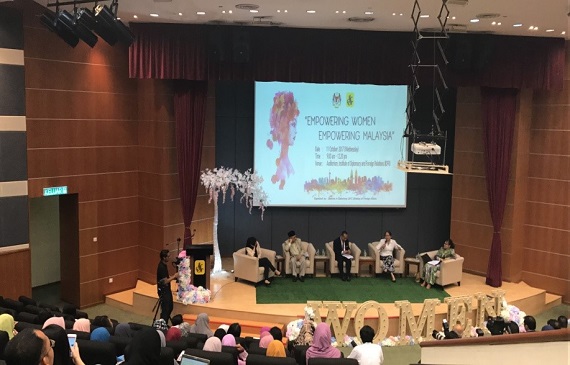 On 11 October 2017, a forum titled, Empowering Women, Empowering Malaysia, organised by the participants of the Diploma in Diplomacy (DiD) 2017, was held at the Auditorium.
The forum was moderated by Mr. Norafizan Mustafa, the Batch President of DiD 2017. The invited panellists for the forum were YBhg. Dato' Ismail Yahya, Former Mufti of Terengganu and Former Chief Judge of Syarie Court Terengganu; Associate Professor Dr. Madeline Berma, Academician and Former Director of Tun Fatimah Institute for Women Leadership, Universiti Kebangsaan Malaysia; Ms. Abir Abdul Rahim, Co-founder of Lean in Malaysia; and Ms. Ajanis Anak Ba-I, Assistant Director of Guidance and Counselling Division, Department of Women Development, Ministry of Women, Family and Community Development.
The forum was attended by 120 participants from IDFR, Wisma Putra, Institut Pendidikan Guru Kampus Bahasa Melayu and various women Non-Government Organizations (NGO) in Kuala Lumpur.
YBhg. Datuk Mohamad Sadik Kethergany, Director General of IDFR gave his welcoming remarks, highlighting that 35 percent of women in the Malaysian public sector are holding higher management and decision-making positions. This is a succinct example of how Malaysia has progressed in empowering women at work. He acknowledged the challenges faced by women today which include toxic masculinity. In line with the teachings of Islam, women are held high in the society. Nonetheless, he was of the view that empowering women should be consistent with empowering men, children, families and ultimately the entire society. He also mentioned that it is important to ensure that nobody is left behind in the country's development, and spoke about the importance of keeping abreast on technological and scientific development.
The panel discussion revolved around three main key take-aways which are; self-value and self-worth, women empowerment and societal expectations. The panellists gave their views on the challenges faced by women today and the societal expectations towards women. An empowered woman was described as having a vision, graceful, soft-hearted yet strong. Women should be empowered to achieve success in their careers and life without being penalised by the society. Many initiatives have been done by the government to encourage women to return to the work force after maternity. This includes the flexibility of working hours and the flexibility of working from home. The concept of 'work-life-balance' must be further promoted at work. Women are also encouraged to know more about their rights, and couples entering matrimony are advised to learn and be more equipped with knowledge on their rights and responsibilities. This is to ensure the sustainability of the family institution in Malaysia. The discussion also highlighted that the issue is not just about women empowerment; that men matter too.
It can be concluded that Malaysia can be a better nation when we empower women to participate effectively in society with men. Women empowerment is about providing equal opportunities for women living in the challenging world today. A conducive environment must be provided for women to make their own choices and pursue their dreams in life without society penalising them for their choices.
Prepared by:
Aadela Melati Ahmad Termizi and Qairunnisa Md. Alias
Participants of the Diploma in Diplomacy 2017