Economic Diplomacy Series (EDS) "Negotiation Issues on Food Labels (Malaysia): Case On Halal"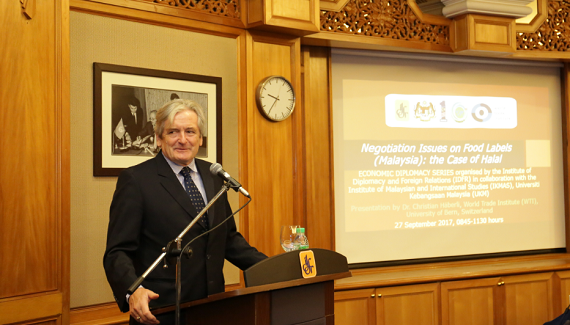 Dr. Christian Häberli, Visiting Fellow of IDFR successfully delivered a public lecture titled "Negotiation Issues on Food Labels (Malaysia): Case on Halal" under the Economic Diplomacy Series (EDS) at the Treaty Room on Wednesday, 27 September 2017.
Dr. Häberli touched on the economic potential of Halal in the global market, which is predicted to reach USD6.4 trillion in 2018, and highlighted how this industry may be to Malaysia's advantage. However, he remained wary on the real concerns behind the Halal labelling generally because it may possess similarities with that of organic labels – same disorientation. Within the context of World Trade Organisation (WTO) rules, Dr. Häberli emphasised that despite WTO's general principle of non-discrimination, WTO reserves the rights to take necessary measures if the Halal labelling was used as a disguised protectionism. He also suggested that Halal labelling should not be used if it may raise doubt about the safety of similar foods or claims that Halal foods are nutritionally superior to, or healthier than non-Halal foods. Despite this challenge, Dr. Häberli concluded that the Halal markets are substantially dynamic and could add value in the food chain open system.
Among the questions raised during the question and answer session was on whether non-Halal labelling is necessary vis-à-vis Halal food. Dr. Häberli responded that non-Halal labelling is applicable if the purpose is for consumer information. Another question was on Halal products from the market's perspective, to which Dr. Häberli replied by saying that the Halal markets have huge potential but he cautioned about its implementation which may distort the international markets.
The lecture was well-attended by more than 45 representatives from relevant government agencies, think-tanks and universities. The attendees include officials from the Ministry of Foreign Affairs, Ministry of Agriculture, Ministry of Health, Department of Veterinary, Ministry of International Trade and Industry, Malaysia External Trade Development Corporation and the Agriculture Section of the Australian High Commission in Kuala Lumpur.