Signing Ceremony of Memorandum of Understanding with Universiti Teknologi MARA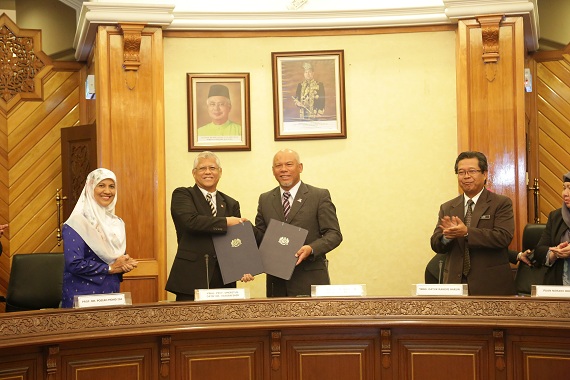 Monday, 27 November 2017 was a memorable day for both IDFR and Universiti Teknologi MARA (UiTM) as they marked their long-standing cooperation through the signing of a Memorandum of Understanding (MoU) on friendship and cooperation, promotion of mutual understanding, academic, cultural and scientific thought, and personnel exchange.
Signing on behalf of IDFR was Datuk Mohamad Sadik Kethergany, its Director General, and for UiTM was Emeritus Professor Dato' Dr. Hassan Said, Vice Chancellor of the university, witnessed by Datuk Rahimi Harun, Deputy Secretary General (Management Services), Ministry of Foreign Affairs and Professor Dr. Posiah Mohd. Isa, Dean of the Faculty of Administrative Science and Policy Studies, UiTM. The ceremony was also attended by several senior lecturers from UiTM and officers from IDFR.