IDFR Lecture Series 3/2018: "Europe and Asia: Partners in Security and Connectivity"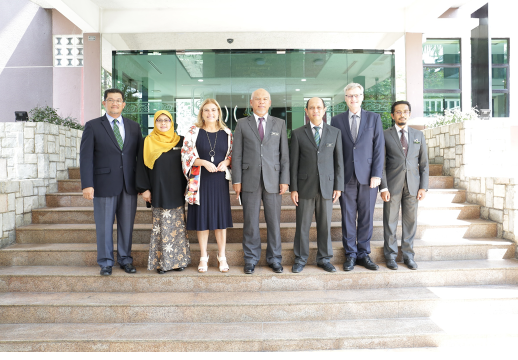 On 8 November 2018, IDFR hosted Her Excellency Maria Castillo Fernandez, Ambassador and Head of Delegation of the European Union to Malaysia for a lecture, titled, Europe and Asia: Europe and Asia: Partners in Security and Connectivity. The IDFR Lecture Series (ILS) provides an opportunity for distinguished speakers to share their thoughts and insights on the topic of their expertise. It serves as a venue for the speakers to highlight their respective views which could be shared with the audience from the various government agencies as well as foreign missions in Malaysia.
Her Excellency began her talk by providing combined statistical data on Europe and Asia in terms of global trade, population, economy and tourism that make the relations between Euro and Asia significant. Her Excellency stressed out that the main principles for the Global Strategy is based on sustainable, comprehensive and rules-based as its core for the implementation of EU's external action through the elements of multilateralism, security and connectivity. Her Excellency Castillo also shared her views for a better connected Europe and Asia through transportation links, energy networks, digital networks and human dimension which strengthens the resilience of societies and regions and help people to enjoy higher standards of living by enabling more opportunities for education, research and innovation and also to promote cultural and tourism.
The public lecture was well-attended by 77 representatives from relevant government agencies, embassies, universities and NGOs. The attendees include officials from the Ministry of Foreign Affairs, Kolej Poly-Tech MARA (KUPTM), as well as Ambassadors and representatives from the Embassies of Belgium, Spain and Poland in Kuala Lumpur.
Prepared by:
Centre for Political Studies and Economic Diplomacy (PSED)