MTCP: Diplomatic Training Course for International Participants 2019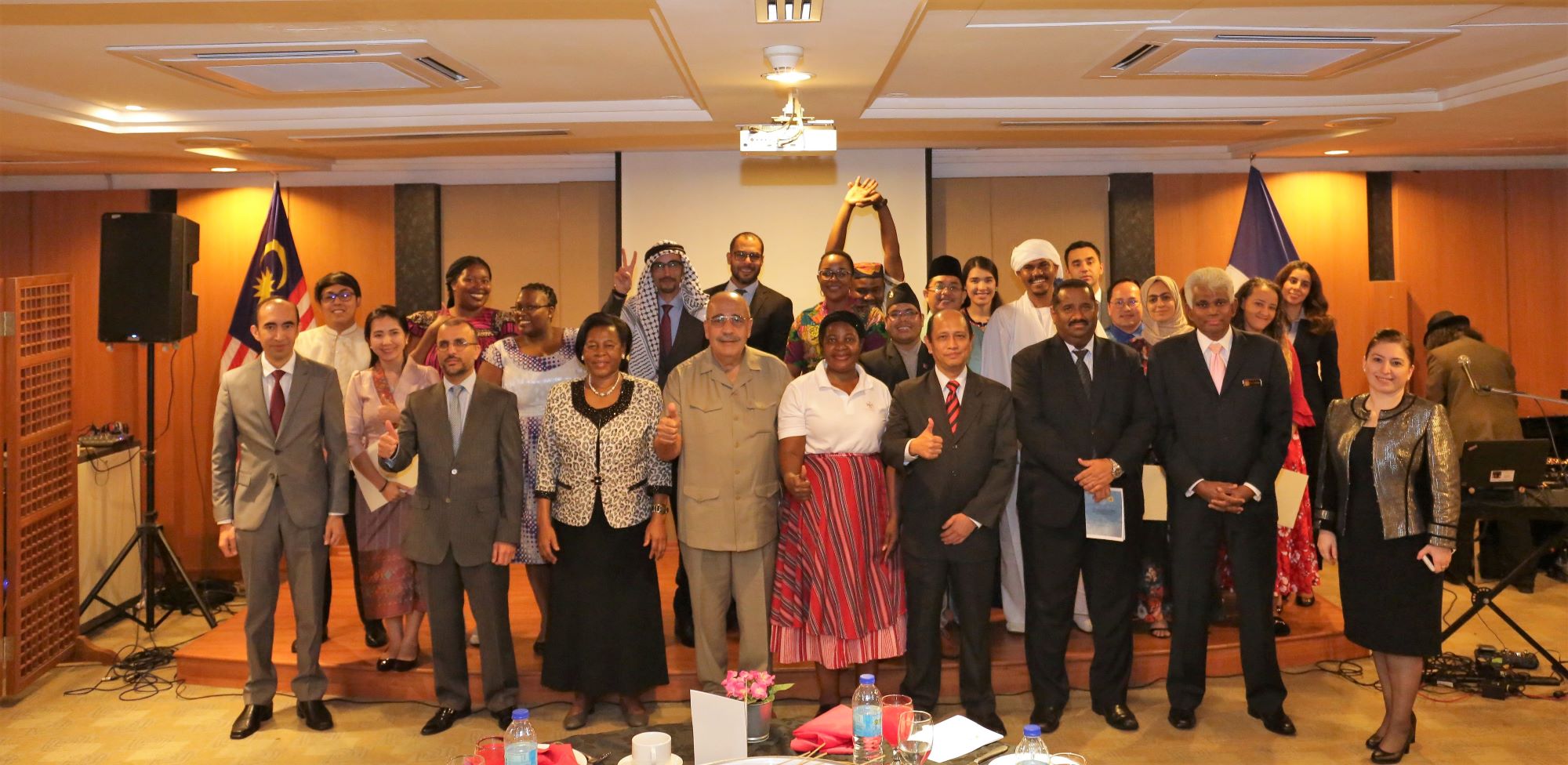 IDFR successfully organised its first Malaysian Technical Cooperation Programme (MTCP) course for the year titled Diplomatic Training Course for International Participants 2019 at IDFR from 15 to 26 April. It was attended by 18 participants from Albania, Azerbaijan, Bahrain, Jordan, Lao PDR, Namibia, Nepal, Oman, Palestine, Papua New Guinea, the Philippines, Seychelles, Sudan, Turkmenistan, Uganda, Uzbekistan, Zambia and Zimbabwe, as well as two officers from the Ministry of Foreign Affairs, Malaysia.
The programme had been designed to give exposure to the mid-level diplomats to various topics, including Malaysia's Foreign Policy, Practices in Diplomacy, Multilateral Diplomacy, Crisis Management, International Negotiations and Economic Diplomacy, by serving officers/practitioners from the Ministry of Foreign Affairs, Ministry of International Trade and Industry, and Malaysia External Trade Development Corporation. They were also taken to Batu Caves, Royal Selangor Pewter Centre, Kuala Lumpur Craft Complex, Kuala Lumpur Tower and Kuala Lumpur City Centre as part of the Kuala Lumpur city tour, and the Ministry of Foreign Affairs, Millennium Monument, Putrajaya International Convention Centre and Putra Mosque, as part of the study visit to Putrajaya.
The Closing and Certificate Presentation Ceremony for the programme was held on Friday afternoon, 26 April 2019. Present during the ceremony were H.E. Anne Namakau Mutelo, High Commissioner of the Republic of Namibia; H.E. Hamza Omer Hassan Ahmed, Ambassador of the Republic of Sudan; H.E. Dorothy Samali Hyuha, High Commissioner of the Republic of Uganda; H.E. Sheikh Al-Abbas Ibrahim Hamed Al Harthi, Ambassador of the Sultanate of Oman; H.E Muhammetnyyaz Mashalov, Ambassador of Turkmenistan; and H.E. Walid A. M. Abuali, Ambassador of the State of Palestine, as well as representatives from the embassies of Papua New Guinea, Uganda, Jordan, Zimbabwe, the Philippines, Azerbaijan, Zambia and Nepal. Several speakers for the programme were also present.
The wet weather that afternoon notably did not dampen anyone's spirit, as the ceremony proceeded as planned. The programme commenced with Closing Remarks by Ambassador Mohammad Azhar Mazlan, Head of the Centre for Political Studies and Economic Diplomacy, followed by the certificate presentation ceremony. Ms. Jacqueline Chaze Malunga, the class representative, then delivered a vote of thanks on behalf of the participants. A montage of the participants' activities throughout the two weeks was shown prior to everyone enjoying a wide spread of hi-tea. The ceremony ended with the participants, who resplendently donned their beautiful and colourful national dress, singing Rasa Sayang in front of all the guests.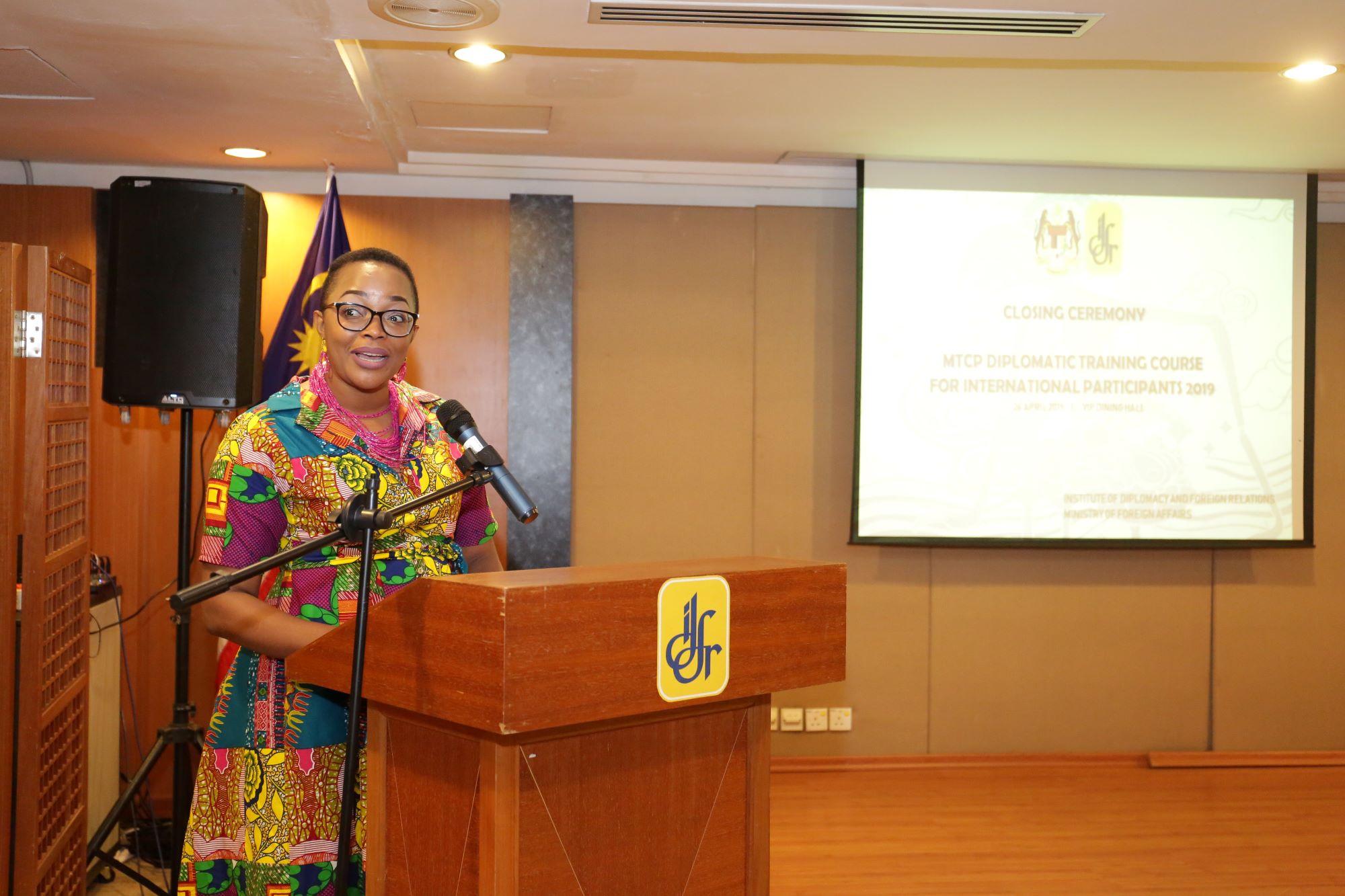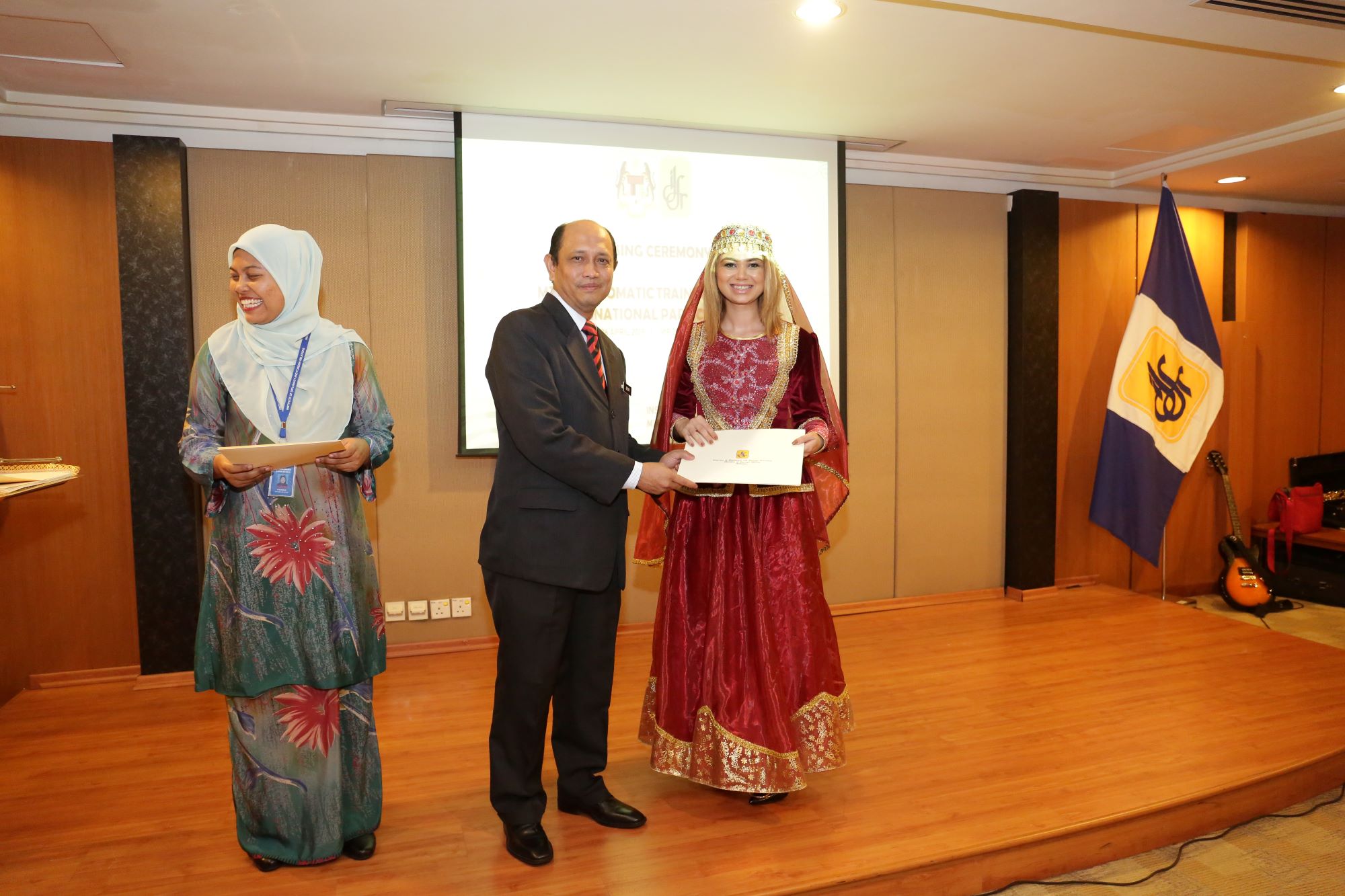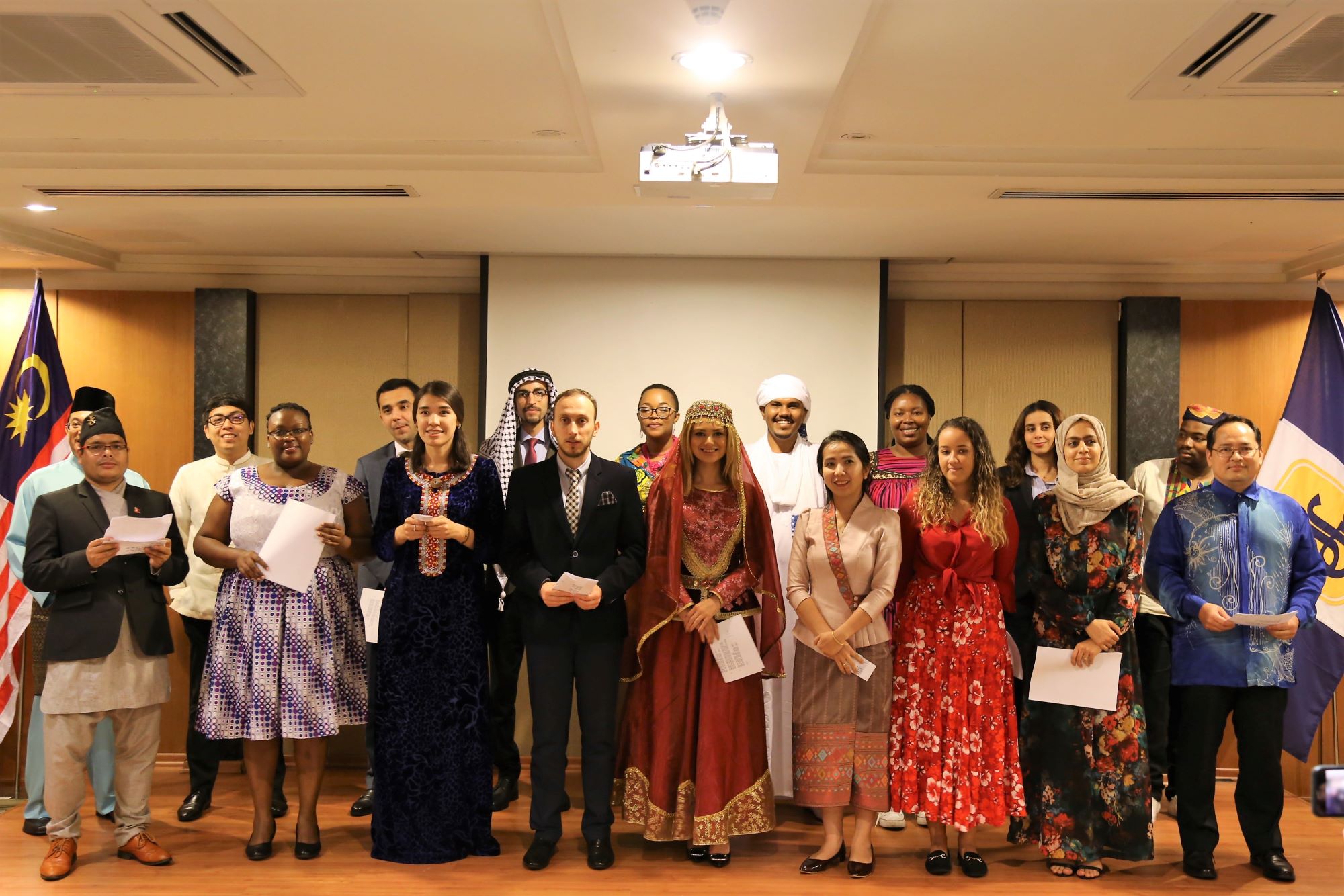 Prepared by:
Centre for Political Studies and Economic Diplomacy (PSED)