MTCP: Economic Diplomacy Course for International Participants 2019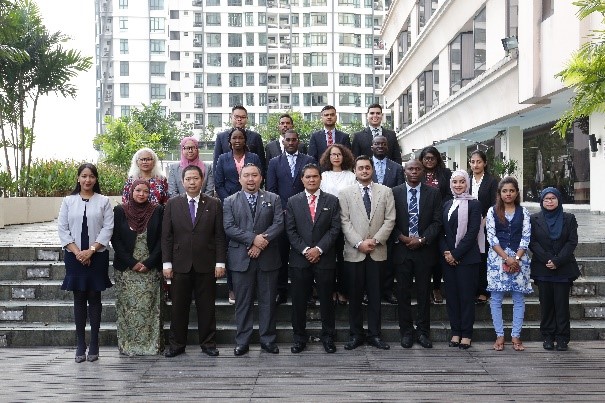 IDFR recently concluded its fourth and final Malaysian Technical Cooperation Programme (MTCP) course for the year. The MTCP: Economic Diplomacy Course for International Participants 2019 was held at The Pearl Kuala Lumpur from 17 to 31 July 2019. It was attended by 18 foreign participants from Bangladesh, Brazil, Brunei, Cambodia, Cabo Verde, Maldives, Mauritius, Nepal, Nigeria, Papua New Guinea, Saudi Arabia, Solomon Islands, South Sudan, Sri Lanka, Timor Leste, Vietnam and Zimbabwe, as well as four officers from the Ministry of Foreign Affairs, Malaysia and Ministry of International Trade and Industry, Malaysia. The Opening Ceremony was officiated by Mr. Ruzaimi Mohamad, Acting Director of the Centre for Languages and Cultural Diplomacy.
The course was designed to enhance the participants' knowledge on economic planning and policies, negotiations, investments and trade, as well as providing them with an exposure to Malaysia's efforts in nation building towards transforming its economic growth, governance and social development through lectures, discussions, simulation exercises, and study and networking visits. The topics covered include Malaysia's Foreign Policy, Malaysia in ASEAN from the Economic Perspective, Malaysia and the WTO, Malaysia and the Belt & Road Initiative, Navigating the U.S.-China Trade Wars from the Economic Diplomacy Perspective, International Negotiations, and Global Trends in International Sustainable Finance. The participants also visited the Ministry of Foreign Affairs, Malaysia External Trade Development Corporation, Petroliam Nasional Berhad; World Bank Group, as well as AirAsia Berhad, where they met and interacted with the Group Chief Executive Officer, Tan Sri Tony Fernandes. They also participated in IDFR's annual Cultural Appreciation Day, held on Tuesday, 23 July, and were taken on tours of Kuala Lumpur, Melaka and Selangor during the weekends.
The Closing and Certificate Presentation Ceremony was held on Wednesday afternoon, 31 July. Present were representatives from the Embassies and High Commissions of Cambodia, Maldives, Papua New Guinea, Saudi Arabia, Sri Lanka and Timor Leste, Heads of Centre of IDFR, as well as several guest speakers for the course. Mr. Zakaria Nasir, Acting Director General of IDFR, delivered the closing remarks, followed by the certificate presentation. Mr. Helder Paulo Machado Silva, the class representative from Brazil, then delivered a vote of thanks on behalf of the participants.
Based on the participants' feedback, they had benefited from the programme and looked forward to maintaining and enhancing the camaraderie forged during the course.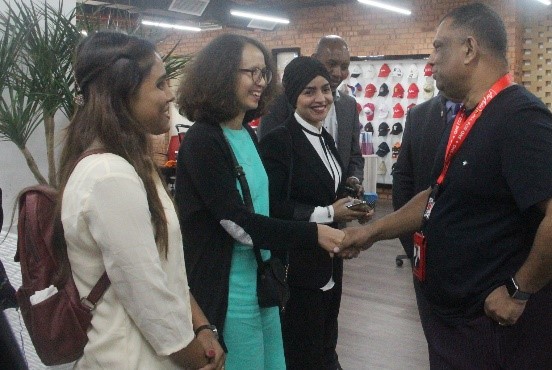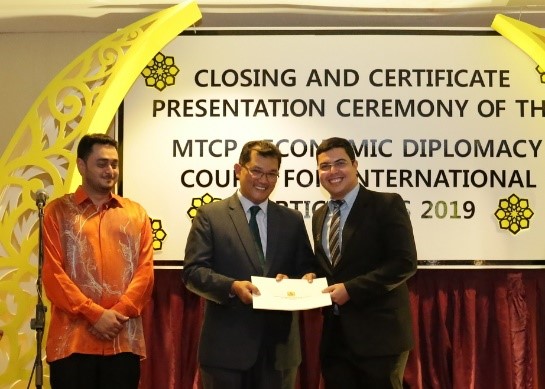 Prepared by:
Centre for Political Studies and Economic Diplomacy (PSED)