MTCP: Economic Diplomacy Course for International Participants 2021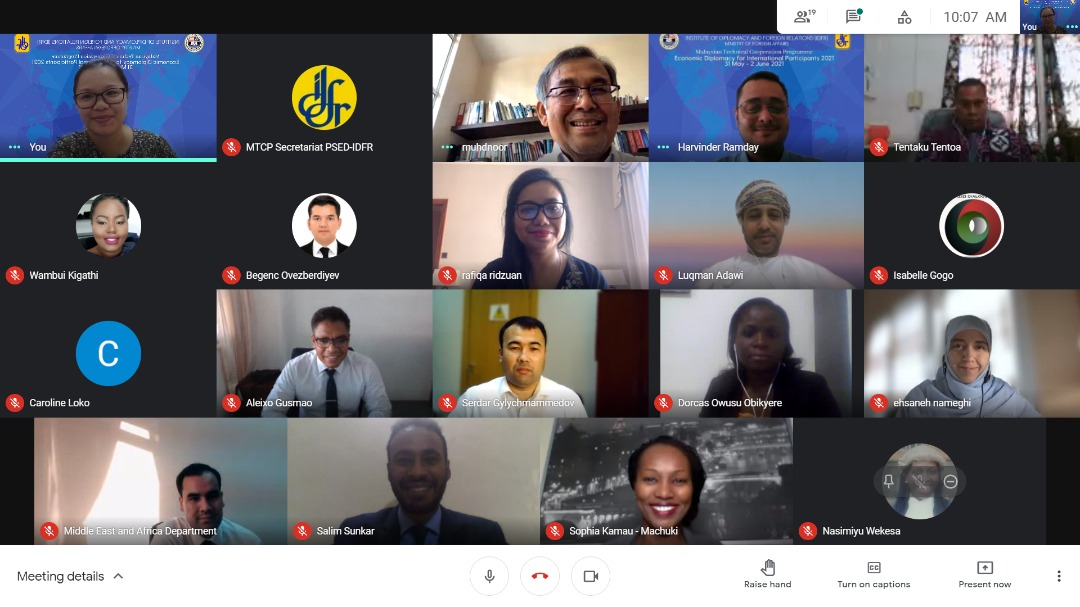 IDFR recently concluded its first Malaysian Technical Cooperation Programme (MTCP) course for this year. The MTCP: Economic Diplomacy Course for International Participants 2021, was held online from 31 May to 2 June 2021. It was attended by 20 foreign participants from various countries such as Ghana, Iran, Kenya, Kiribati, Morocco, Oman, Samoa, Timor Leste and Turkmenistan. The opening ceremony was officiated by Ms. Norli Muadza Mohd Noor, Acting Director of the Centre for Political Studies and Economic Diplomacy (PSED).
This course was designed to enhance the participants' knowledge on economic planning and policies, negotiations, trade and investments, as well as to provide them with an exposure to Malaysia's efforts in nation building towards transforming its economic growth, governance and social development through lectures, discussions, and stimulation exercises. This online course is practice-orientated, and aims at capacity development of the participants as well as to provide them knowledge of understanding the concepts and skills needed for effective engagement in Economic Diplomacy and multilateral negotiations.
The topics covered in this online workshop include Introduction to Economic Diplomacy, Strategic Thinking to ROI, WTO & Foreign Trade, Post-Covid Economic Recovery, Economic Diplomacy; Malaysia's Experience, Malaysia's Foreign Policy, Malaysia's International Trade Policy & FTA, and International Negotiations. Several distinguished speakers such as Prof Dr. Sufian Jusoh, Dato' Muhammad Noor Yaacob and Dato' Abdul Majid Khan delivered the lectures and shared their experiences to the participants in relevance to the topics. Their prominent insights had benefited the participants in developing their capacity and knowledge towards economic planning and policy formulation.
Based on the participants' feedback, they had benefited from the programme and looked forward to maintaining and enhancing their fellowship formed through this online course.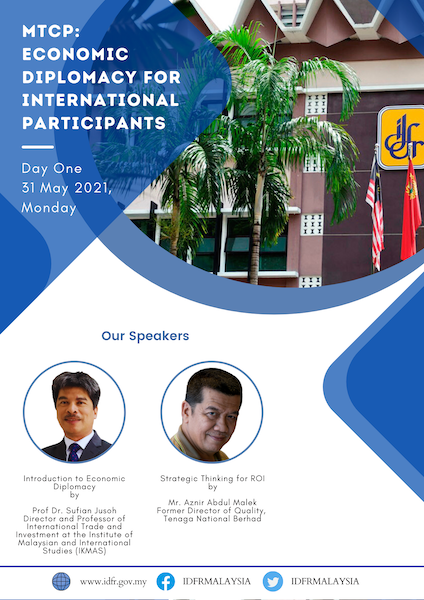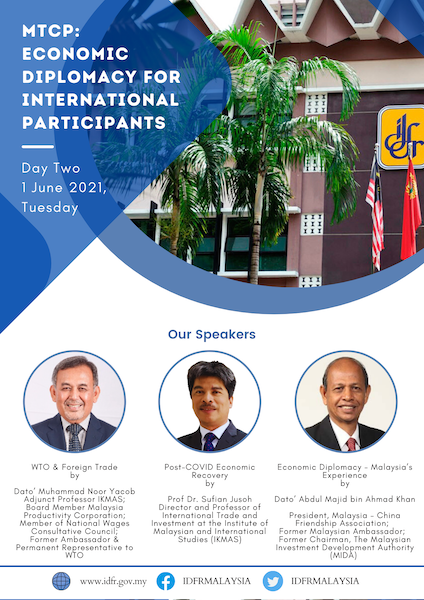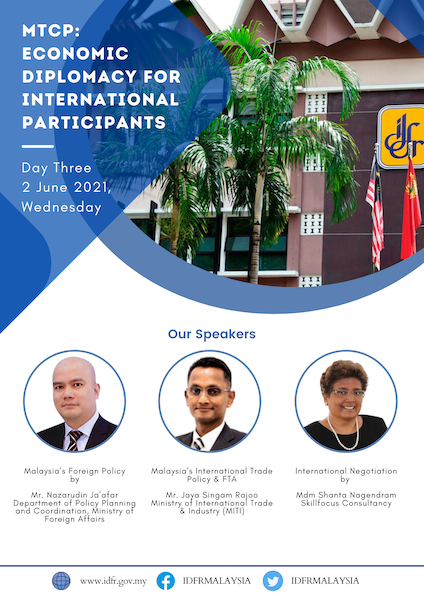 Prepared by:
Centre for Political Studies and Economic Diplomacy