SPKM: Pre-Posting Orientation Course for Home-Based Staff and Spouses 3/2021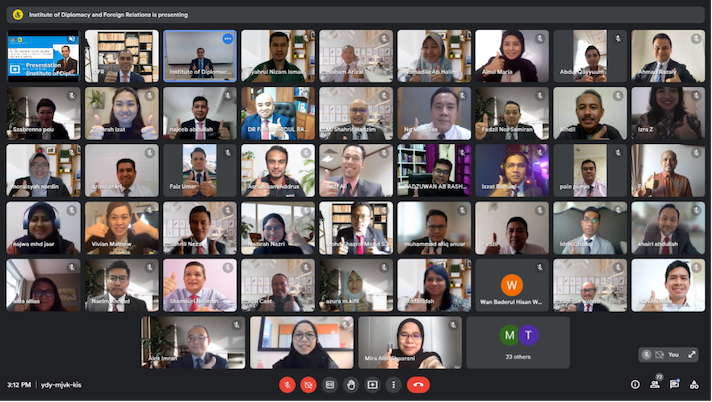 The Centre for Leadership, Negotiation and Public Diplomacy (LNPD), IDFR had successfully organised the third SPKM series for the year 2021. The Pre-Posting Orientation Course for Home-Based Staff and Spouses 3/2021 was held online from the 31 May until 10 June 2021. This course was intended for officers of Grade 41 and above, together with their spouses, focusing on improving and expanding their diplomatic, administrative and social etiquette skills, as well as augmenting their skills and understanding international diplomatic practices that are convenient for their future postings abroad.
119 participants who attended the course were among 68 Malaysian government officers along with 51 spouses of various ministries, departments and agencies. There were the Ministry of International Trade and Industry, Ministry of Education, Ministry of Higher Education, Ministry of Domestic Trade and Consumer Affairs, Ministry of Health, Ministry of Entrepreneur Development and Cooperatives, Ministry of Agriculture and Food Industries, Ministry of Transport, Ministry of Foreign Affairs, Ministry of Home Affairs, Ministry of Tourism, Arts and Culture, Prime Minister's Department, National Registration Department, Public Service Department, Immigration Department of Malaysia, Attorney General Chambers of Malaysia, Malaysian Armed Forces, Royal Malaysia Police, Majlis Amanah Rakyat, Majlis Agama Islam Wilayah Persekutuan, and Malaysian Investment Development Authority.
SPKM is a course that was designed in preparing the participants on administrative and management matters related to their positions and functions when they are allocated at Malaysian Missions abroad. They were subjected to modules such as Malaysia's Foreign Policy; Roles of Spouses at Mission; Grooming and Social Etiquette; Protocol Matters Related to Foreign Service; Working as One; Fine-Dining, Reception and Official Entertaining; Media Skills; Cross Cultural Awareness; Consular Work at Mission; Promoting Palm Oil Industry; Asset Management, Administrative and Security Matters At Mission; Malaysia's Public Diplomacy; SPLN Accounting System; Auditing Matters; Financial Management; Promoting Malaysia as the Preferred Trade, Investment and Tourist Destination; and Integrity at Work.
There were also sessions on Enhancing Personal Security, Counter Terrorism 101 and Counter Espionage delivered by the Special Branch Division, Royal Malaysia Police, the Southeast Asia Regional Centre for Counter Terrorism, and the Research Division, Prime Minister's Department.
Following the enforcement of Movement Control Order (MCO) and Total Lockdown announced by the Government, this eight-day course was held online via Google Meet, while a session on Grooming and Social Etiquette was held via Zoom as requested by the speaker, Mr. Rudy Ludinata. Nevertheless, each session ran smoothly, allowing both speakers and participants maintained quality interactions throughout this course.
IDFR has generally helped the officers in preparation to be posted at the Malaysian Missions abroad. The closing ceremony was held online via Google Meet on the last day of the course where YBhg. Dato' Mohd Zamruni Khalid, Director General of IDFR, delivered his closing remarks.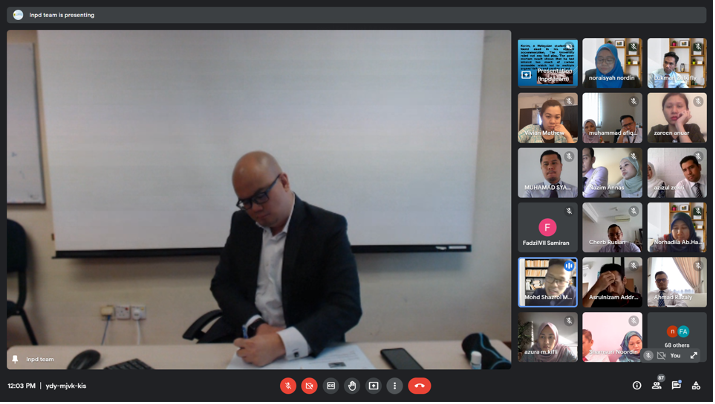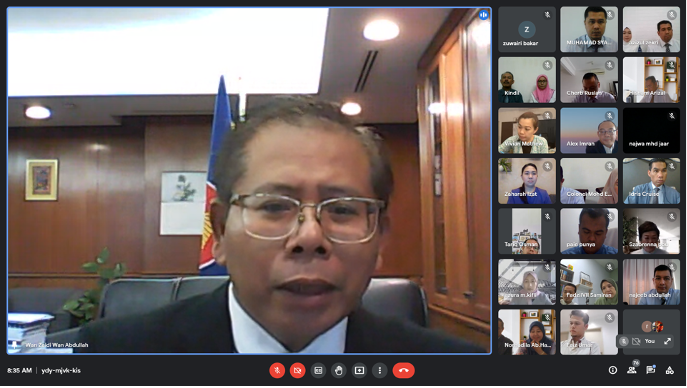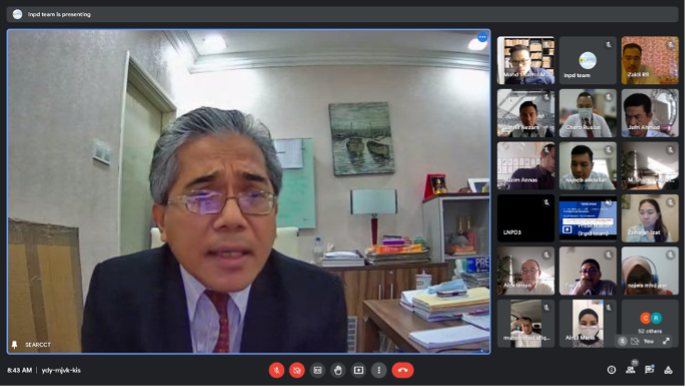 Prepared by:
Centre for Leadership, Negotiation and Public Diplomacy (LNPD)