EU/IDFR-ASEAN Economic Diplomacy Course 2021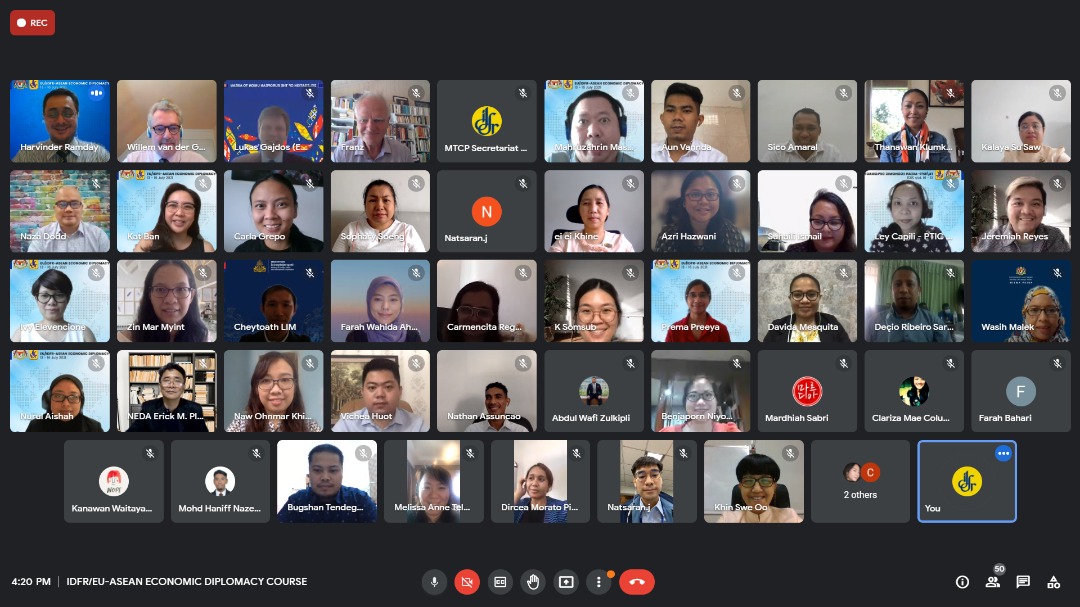 The Institute of Diplomacy and Foreign Relations (IDFR), with the support of the Delegation of the European Union to Malaysia, launched and successfully conducted the Economic Diplomacy Course 2021, from 13 to 16 July 2021. Despite under the less-than-ideal situation of the ongoing pandemic, IDFR is grateful to receive more than 35 participants from various ministries and agencies including from Ministry of Domestic Trade and Consumer Affairs, Ministry of Rural Development, Economic Planning Unit, Ministry of International Trade and Industry, Ministry of Health, Ministry of Tourism, Arts and Culture, as well as Ministry of Energy and Natural Resources, among others.
Economic diplomacy is essential in strengthening economies and a driving force in promoting economic integration at regional and international levels. The programme was aimed to enhancing participants' knowledge on the principles and tools of economic diplomacy. Among the ASEAN nationals that participated in EDC includes, Philippines, Cambodia, Malaysia, Myanmar, Singapore, Thailand, Vietnam and respective participants from Timor-Leste as well. The welcoming remarks and speech were given by YBhg. Dato' Mohd Zamruni Khalid, Director General of IDFR, followed by H.E Michalis Rokas, Ambassador of the European Union (EU) to Malaysia.
The course hopes to give an overview of how economic diplomacy is practiced in the real world - and in keeping abreast with current situation of COVID-19. To serve the very objectives above, IDFR has outlined several modules to ensure the course is well enriching. Among the modules covered are, Post-Covid Recovery: Global, Regional and National Challenges, EU's Recovery & Resilience Facility During the Global Pandemic, Overview and Main Features of EU Free Trade Agreements & EU-Malaysia Sustainability Impact Assessment (SIA), Economic Diplomacy: Future Direction for ASEAN-EU & Negotiating FTA's, Engaging State & Non-State Actors in Trade Policy Making and FTA's, WTO Rules in the Context of Global Health Pandemic: Trips & Trims, Access to Vaccines and Essential Drugs: Pharmaceutical IPR, Production and Import Regimes, Achieving SDGs in ASEAN Countries, and EU-ASEAN Economic Cooperation: The Case of the EU-Vietnam FTA.
Along with the significant topics for this course, IDFR was grateful and pleased to have various esteemed speakers to deliver their lectures and thoughts. Notable insights were shared by all the speakers starting from Dr. Ganeshan Wignaraja, Former Advisor and Research Director of the Asian Development Bank (ADB); Dr. Jorge Nunez-Ferrer, from Centre European Policy Studies (CEPS), Brussels and European Institute of Public Administration (EIPA); Dr. Willem Van Der Geest from United Nations Department of Economic and Social Affairs (UN DESA) (retd.) and EU Policy and Outreach Partnership (EUPOP); Prof. Dr. Sufian Jusoh, IDFR's Distinguished Fellow & World Trade Institute, University of Bern; Ms. Rajeswari Veerasanai, Senior Principal Assistant Director, ASEAN Economic Integration Division, Ministry of International Trade and Industry, Malaysia; Dato' Muhammad Noor Yacob, Former Ambassador & Permanent Representative to WTO; Mr. Pierre Sauve, from World Bank, Geneva and Former Dean, World Trade Institute, University of Bern; Dr. Andika Wahab, from National University of Malaysia and Institute of Malaysian & International Studies, IKMAS; Dr. Haniza Khalid, Senior Development Economist for UNDP Malaysia, Singapore and Brunei Darussalam; H.E. Dr. Franz Jessen, EU Ambassador to the Philippines (2015-2019) and Vietnam (2011-2015); Prof. Claudio Dordi, Professor of International Trade Law, Bocconi University and Former Team Leader of the EU-Vietnam Multilateral Trade Assistance Programme (EU-MUTRAP); and finally Mr. Nguyen Anh Duong, Director of Central Institute for Economic Management, Hanoi, Vietnam.
This course is also intended to act as a platform for exchanges of views and opinions among the participants on related issues. The closing remarks on the last day were delivered by Mr. Lukas Gajdos, Deputy Head of the Delegation of the European Union to ASEAN. IDFR would also like to thank our distinguished speakers for their continuous support and undoubtedly without them and the participants, the course would not be a success.
Prepared by:
Centre for Political Studies and Economic Diplomacy (PSED)