MTCP: Diplomatic Training Course for International Participants 2022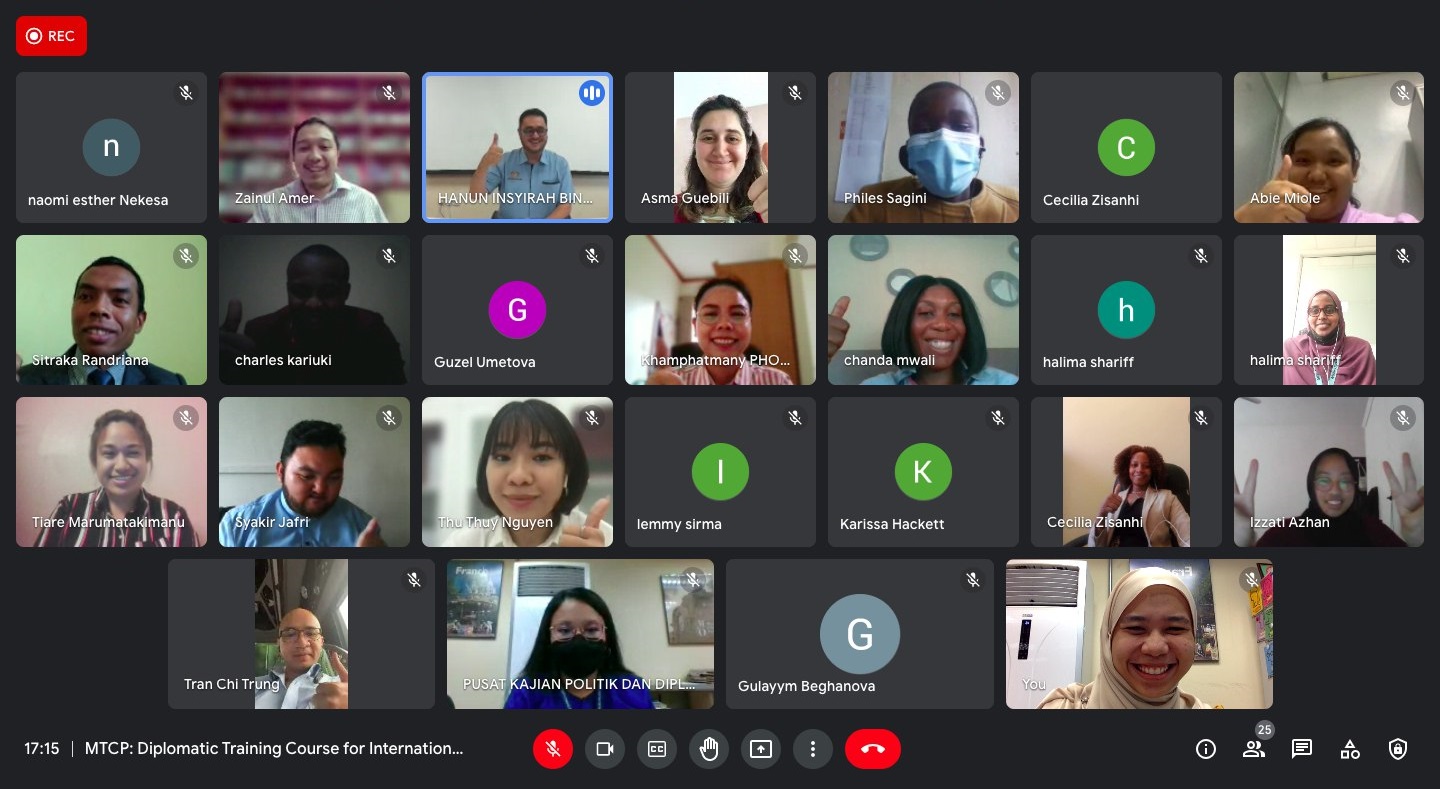 The Institute of Diplomacy and Foreign Relations (IDFR) had successfully conducted its first Malaysian Technical Cooperation Programme (MTCP) of the year, which is the Diplomatic Training Course for International Participants from 23 to 27 May 2022. The five-day online course was held via Google Meet to train diplomatic officers from the MTCP recipient countries in keeping abreast with Malaysia's foreign policy as well as enhancing their diplomatic skills and competencies in the conduct of diplomacy and foreign relations. The course was attended by 25 diplomats from Algeria, Brunei Darussalam, Kenya, Kyrgyzstan, Laos, Madagascar, the Philippines, Papua New Guinea, Samoa, Trinidad and Tobago, Turkmenistan, Vietnam, Zambia and Zimbabwe.
Among the modules covered during the course were Malaysia's Foreign Policy; Malaysia's Bilateral and Multilateral Diplomacy Practices; Malaysia and ASEAN; Crisis Management; Economic Diplomacy and Its Practices; Strategic Leadership and Management for Officers; Integrity in the Government Service; Media Relations and Media Skills; International Negotiations; Futurist Thinking; Protocol Practices and Diplomatic Etiquette and finally on Ambassador Sharing Session. All the modules were designed to equip the serving diplomatic officials with theoretical and practical knowledge in the craft of diplomacy and new methods for effective diplomatic practices.
IDFR is honoured to have prominent speakers throughout the course for their time and effort in sharing their thoughts and valuable experiences with the participants. Among the distinguished speakers were Dato' Dr Shazelina Zainul Abidin, the Director General of IDFR; Dato' Mohd Khalid Abbasi Abdul Razak, Undersecretary of European Division (Department of Bilateral Affairs, Ministry of Foreign Affairs); Mr. Jamal Sharifuddin Johan, Undersecretary of Multilateral Political Division (Department of Multilateral Affairs, Ministry of Foreign Affairs); Mr. Mohd Suhaimi Ahmad Tajuddin, Deputy Director General (ASEAN-Malaysia National Secretariat, Ministry of Foreign Affairs); Ms. Nurhana Muhammad Ikmal, Director (Department of Policy Planning and Coordination, Ministry of Foreign Affairs); Major Mohd Ridzuan Hj. M. Shariff, Head of Strategic Research (Advisory Department, Cyber Security Malaysia); Prof. Dr. Sufian Jusoh, Director and Professor of International Trade and Investment (The Institute of Malaysian and International Studies); Mr. Aznir Abdul Malek, Former Director of Quality (Tenaga Nasional Berhad); Mr. Fison Hamdi bin Ahmad, Chief Consultant (The Malaysian Institute of Integrity); Mr. Nizal Mohammad; Ms. Shanta Nagendram (SkillFokus Consultancy Sdn Bhd); Assoc. Prof. Dr Raja Kumar Murugesan, Head of Research (Faculty of Innovation and Technology, Taylor's University) and Mr. Sophian Ab Rahman, Assistant Datuk Paduka Maharaja Lela (Protocol Division, Istana Negara).
Despite the course being held online for another year, all the participants nevertheless gave full engagement throughout the sessions. Positive feedback was received albeit the participants wished for the course to be conducted physically. As always, IDFR is committed to improving its mechanisms in ensuring the efficiency of the course delivery.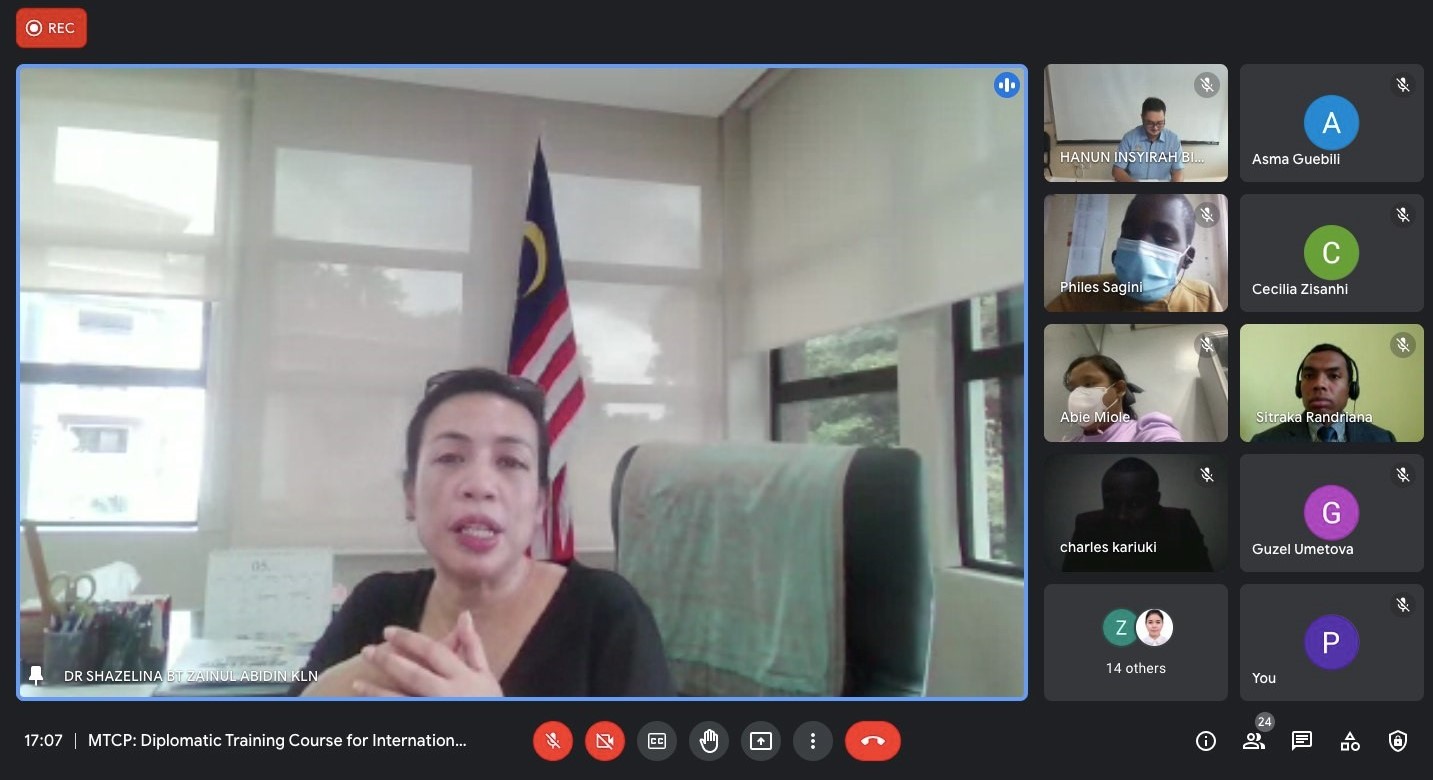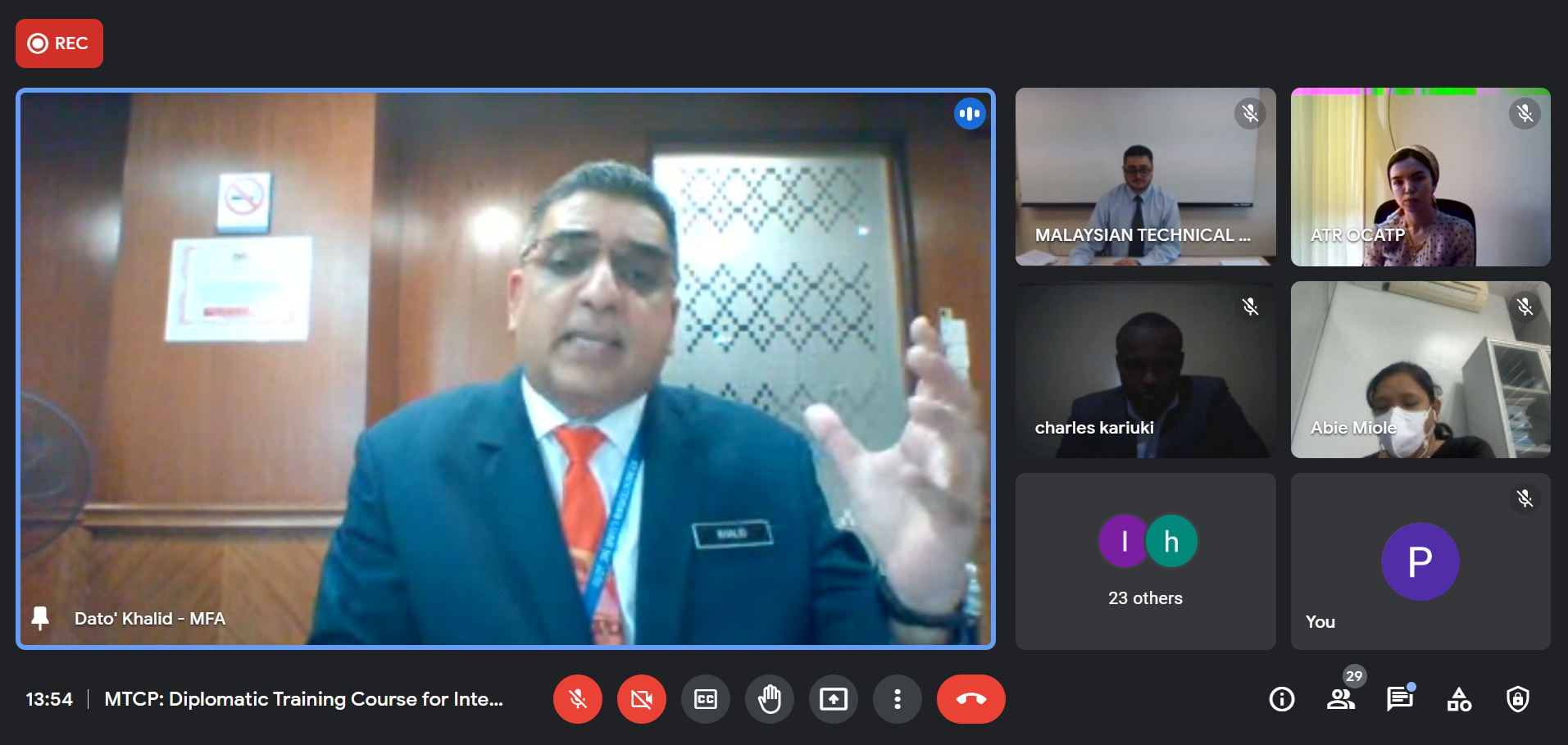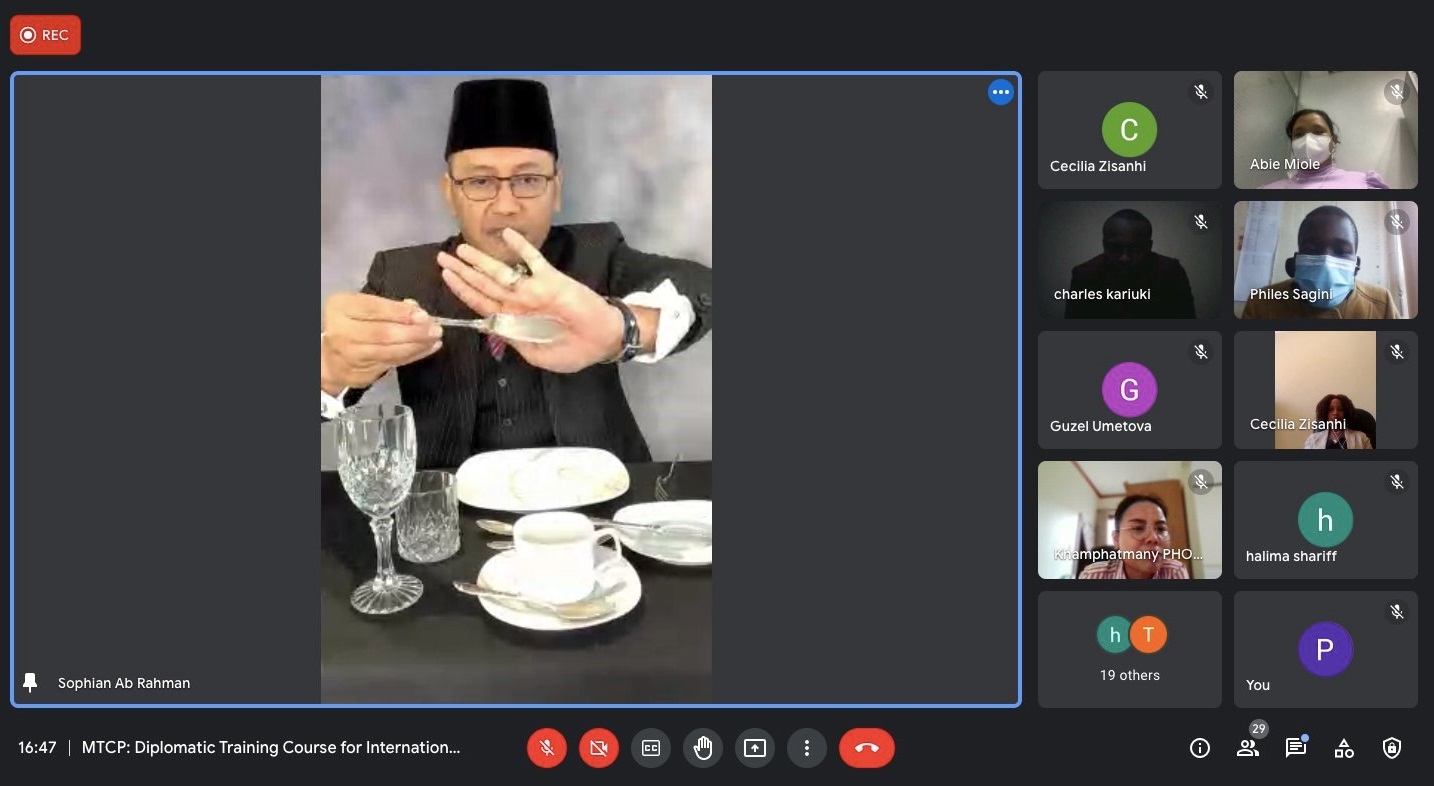 Prepared by:
Ms. Hanun Insyirah Ishak and Ms. Aida Yasmin Azhar
Centre for Political Studies and Economic Diplomacy (PSED)