Malaysian Technical Cooperation Programme (MTCP): Economic Diplomacy Course for International Participants 2022
The Institute of Diplomacy and Foreign Relations (IDFR) had successfully organised the Malaysian Technical Cooperation Programme (MTCP): Economic Diplomacy Course for International Participants 2022 from 15 to 19 August 2022. The five-day course was held virtually via Google Meet platform with the aim to introduce the participants to the practice of diplomacy in Malaysia and also the pertinent components related to economic diplomacy grounds. The course was attended by 27 diplomatic officials from Algeria, Bhutan, Chile, Kenya, Libya, Pakistan, the Philippines, Samoa, Tajikistan and Turkmenistan.
In delving into the role of economic diplomacy and the current state of the global economy, the course has covered diverse topics and issues under its modules such as Malaysia's Foreign Policy; WTO: Establishment and Challenges; Economic Diplomacy for Malaysia: Post COVID-19; Malaysia's International Trade Policy & Free Trade Agreement (FTA); Strategic Thinking for Return Of Investments (ROI); Country Promotion; Islamic Finance and Investments; Health Tourism Economic Opportunities; International Business Etiquette; International Negotiation; Futurism for Economy; Digital Economy; and Ambassador Sharing Session.
IDFR was privileged and honoured to have distinguished guest speakers and Subject Matter Experts (SMEs) throughout the course for their expertise and experience-sharing with the participants. Among the prominent speakers were Dato' Dr Shazelina Zainul Abidin (Director General of IDFR); Ms. Nurhana Muhammad Ikmal (Director, Department of Policy Planning and Coordination, Ministry of Foreign Affairs); Dato' Muhammad Noor Yaacob (Former Ambassador & Permanent Representative to World Trade Organization (WTO); Mr. Mohd Daud Mohd Arif, (Chief Executive Officer, Malaysia Healthcare Travel Council (MHTC); Prof. Dr. Sufian Jusoh, (Director and Professor of International Trade and Investment, The Institute of Malaysian and International Studies); Assoc. Prof. Dr Raja Kumar Murugesan (Head of Research, Faculty of Innovation and Technology, Taylor's University); Mr. Hj. Abdul Rahman Mohd Yusuf (International Centre for Education in Islamic Finance (INCEIF); Mr. Wan Murdani Mohamad (Director of Investment Facilitation, Digital Investment Division, Malaysia Digital Economy Corporation (MDEC); Mr. Aznir Abdul Malek, (Former Director of Quality, Tenaga Nasional Berhad); Mr. Nizal Mohammad; Ms. Shanta Nagendram (SkillFocus Consultancy Sdn Bhd); and Ms. Norizah Yahaya (Finalspot Sdn. Bhd.).
All participants have shown active engagements in lectures as well as group discussions with the speakers. Positive feedback given by the participants on how the course has benefitted them immensely despite being conducted online. The course was concluded with submission of a country report by each participant which incorporates the key takeaways from the course in explaining the potential contributions of their country to Malaysia and the potential opportunities between both countries in terms of economy, trade, and investments.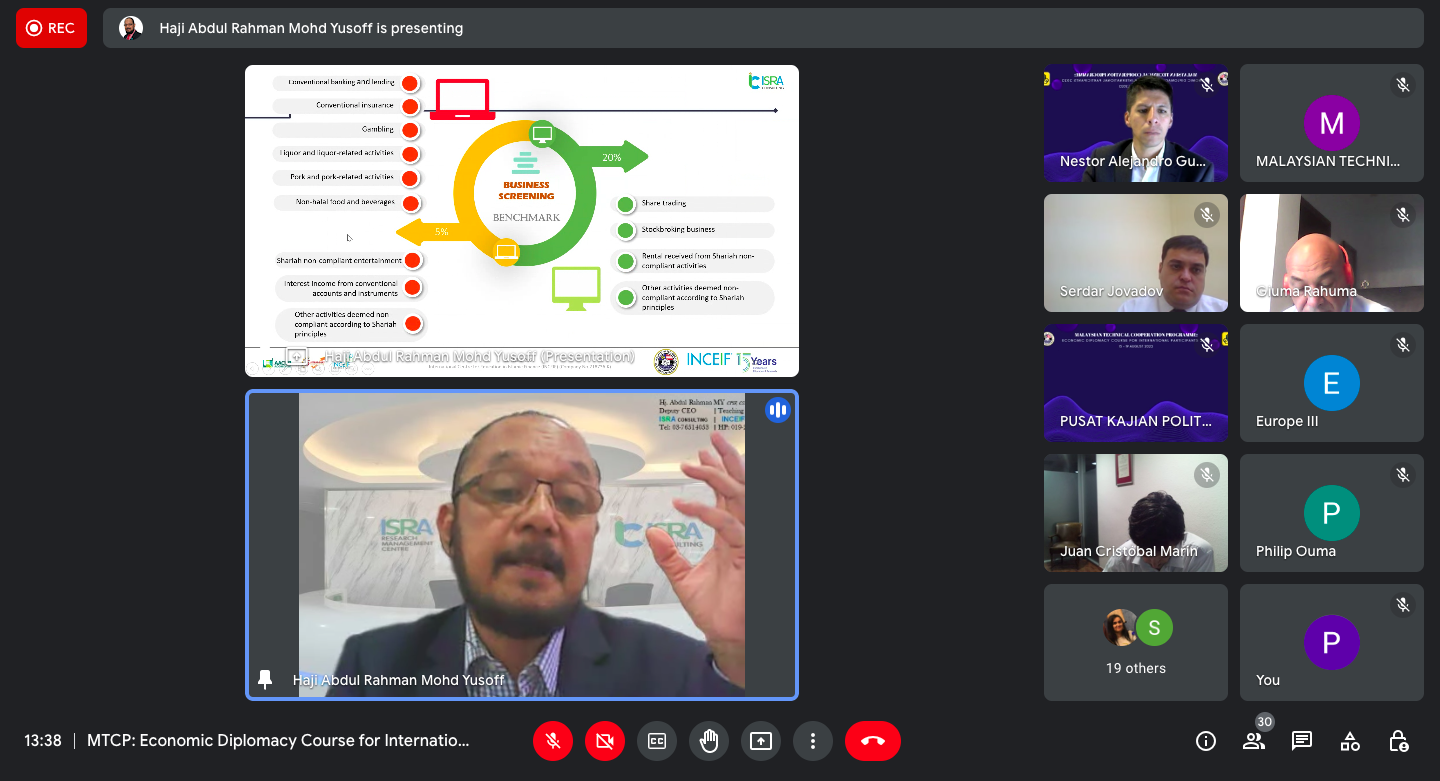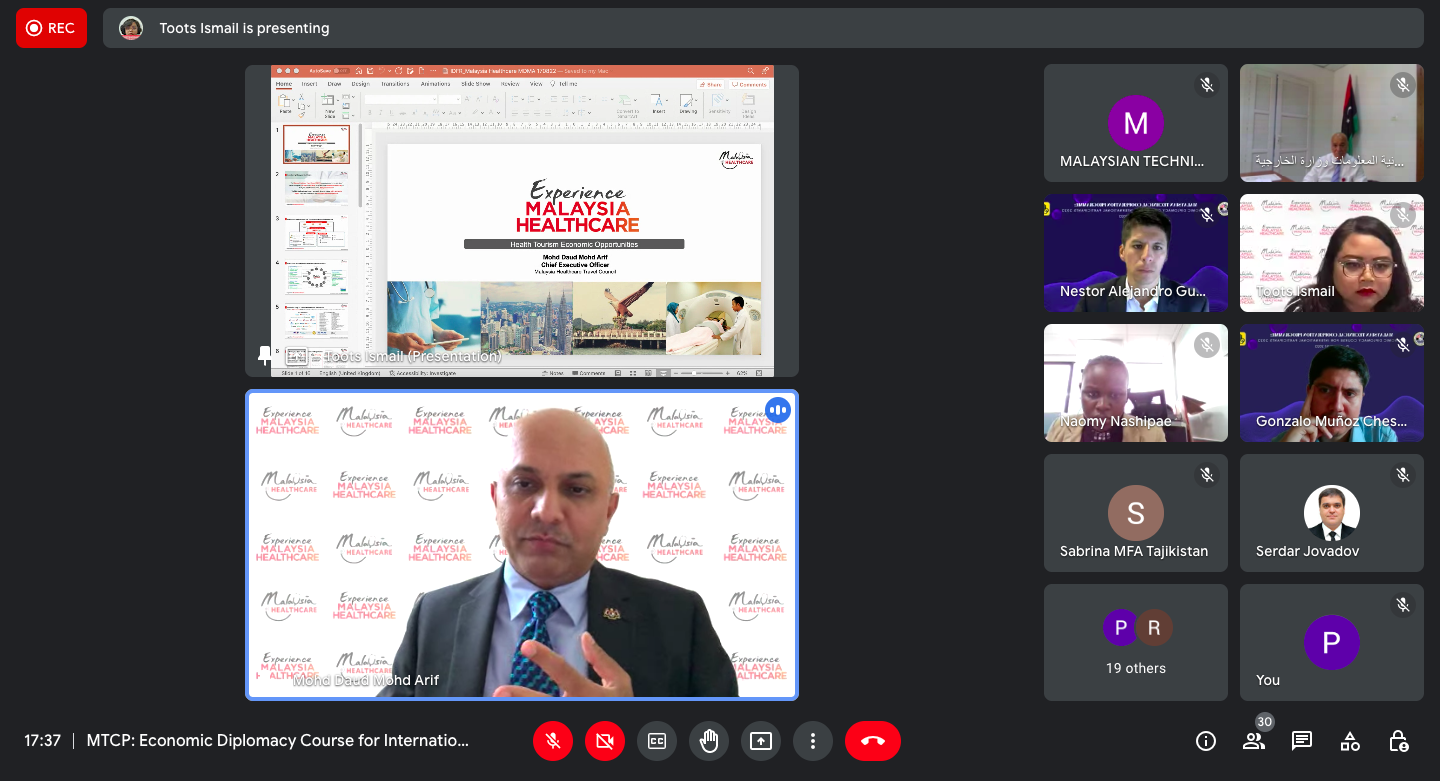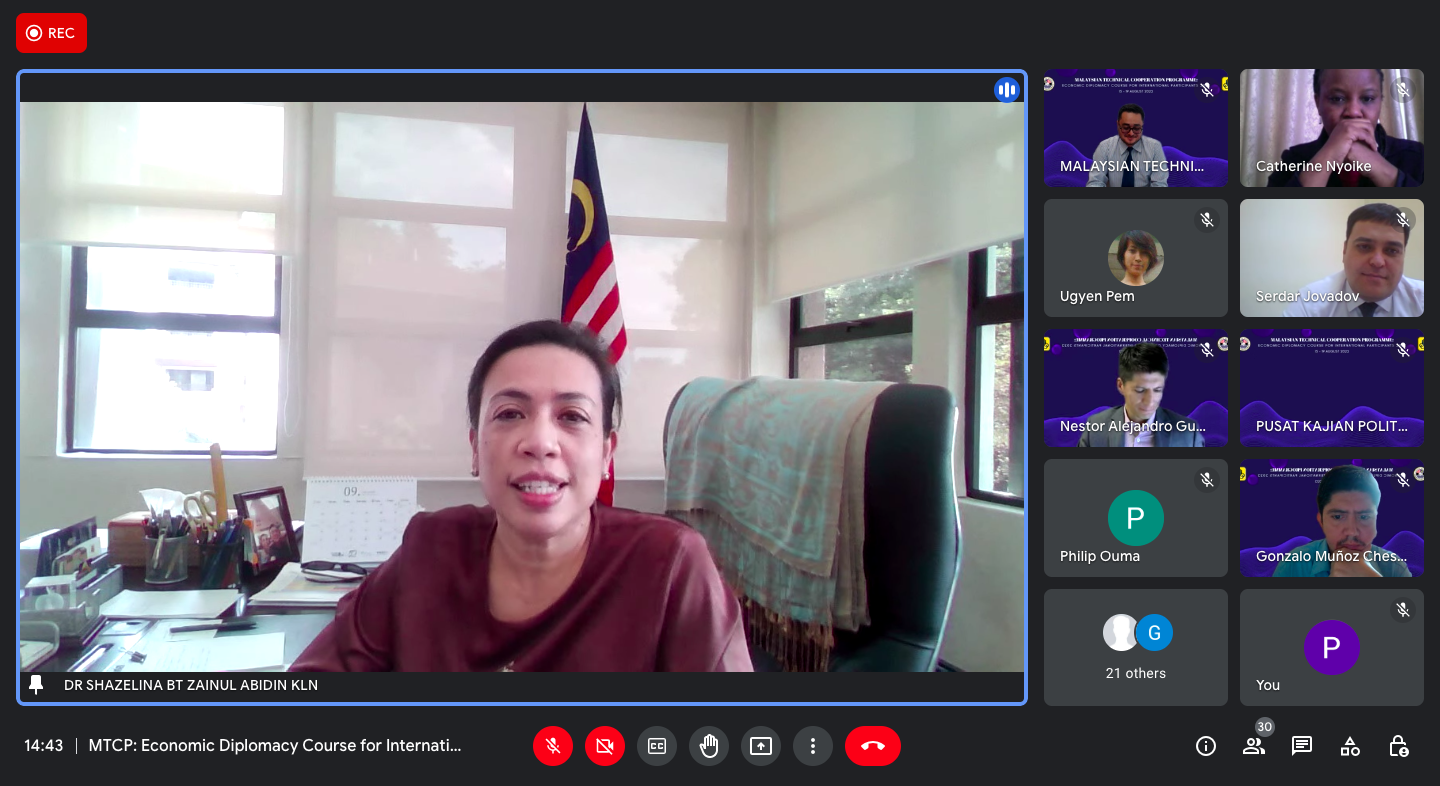 Prepared by:
Ms. Hanun Insyirah Ishak and Ms. Aida Yasmin Azhar
Centre for Political Studies and Economic Diplomacy (PSED)