Malaysian Technical Cooperation Programme (MTCP): Diplomatic Training Course for the State of Palestine Participants 2022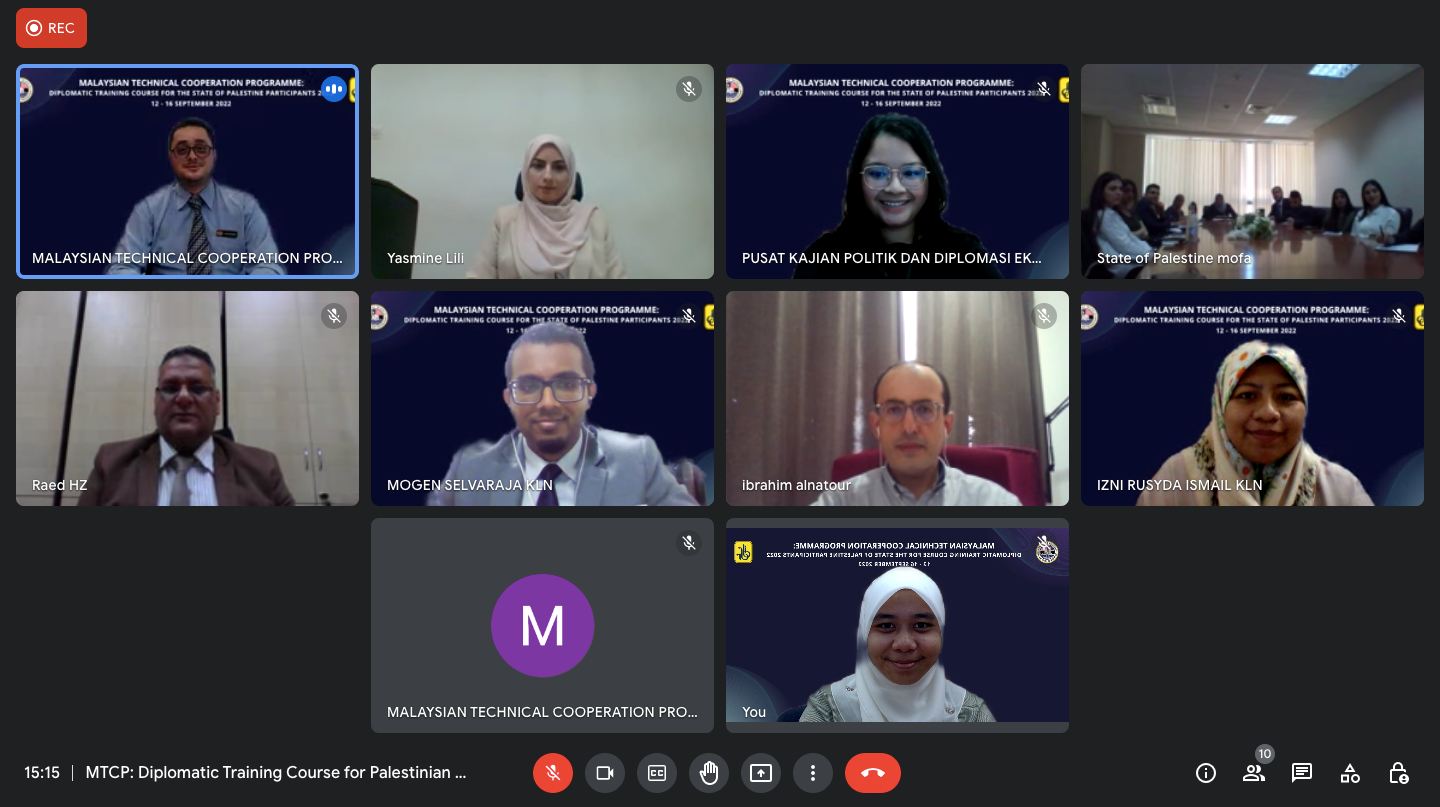 From 12 to 16 September 2022, the Institute of Diplomacy and Foreign Relations (IDFR) has successfully organised and completed another Malaysian Technical Cooperation Programme (MTCP) programme this year, known as Diplomatic Training Course for the State of Palestine Participants. The course was attended by 13 diplomatic officers from the Palestinian Ministry of Foreign Affairs. The course was held online to emphasise and expose critical skills to the participating diplomatic officers on Malaysia's foreign policy and diplomatic practices, as well as enhancing their competencies and skills in diplomatic conduct and foreign affairs.
The five-day course covered a diverse range of topics and introduced tools and knowledge required for participants to perform their duties more effectively. Among the topics were Malaysia's Foreign Policy; Malaysia's Bilateral and Multilateral Diplomacy Practices; Economic Diplomacy and Its Practices, Country Promotion, Public Diplomacy: Mission's Experience; Media Relations and Media Skills; Strategic Leadership and Management; Integrity; International Negotiations, Futurist Thinking, Protocol Practices and Diplomatic Etiquette; and Ambassador Sharing Session.
It was an honour for IDFR to have prominent speakers and Subject Matter Experts (SMEs) onboard to share their expertise and experience with the participants. Among the prominent speakers were Dato' Dr Shazelina Zainul Abidin (Director General of IDFR); Datuk Zahairi Baharim (Department of Bilateral Affairs, Ministry of Foreign Affairs Malaysia); Ms. Aznifah Isnariah Abdul Ghani (Department of Multilateral Affairs; Ministry of Foreign Affairs Malaysia); Mr. Norjufri Nizar Edrus (Department of Policy Planning and Coordination, Ministry of Foreign Affairs Malaysia); Ms. Mimi Kaur Ramday (Consular Department, Ministry of Foreign Affairs Malaysia); Datuk Dr Anis Yusal Yusoff (Institute of Ethnic Studies); Prof. Dr. Sufian Jusoh (Institute of Malaysian and International Studies); Assoc. Prof. Dr Raja Kumar Murugesan (Faculty of Innovation and Technology, Taylor's University); Mr. Sophian Ab Rahman (Protocol Division, Istana Negara); Mr. Aznir Abdul Malek (Former Director of Quality, Tenaga Nasional Berhad); Mr. Nizal Mohammad (Former Media Director/Anchor-man Media Prima/TV3); and Madam Shanta Nagendram (SkillFocus Ltd.).
Throughout the course, all participants gave their full engagement in sharing their thoughts and actively participated in group discussions with the speakers. Through the feedback received, all participants had expressed that the course exceeded their expectations and benefited them in many ways, either personally or professionally. The course was concluded with submission of a course report by each participant which incorporated the key takeaways in explaining the benefits of the course that could contribute towards the betterment in diplomatic knowledge and skills, as well as the shortcomings that could be improved. It is hoped that the participation from the State of Palestine in MTCP courses will continue to flourish in future, to uplift the spirit of the South-South Cooperation and the long-standing brotherhood with Malaysia.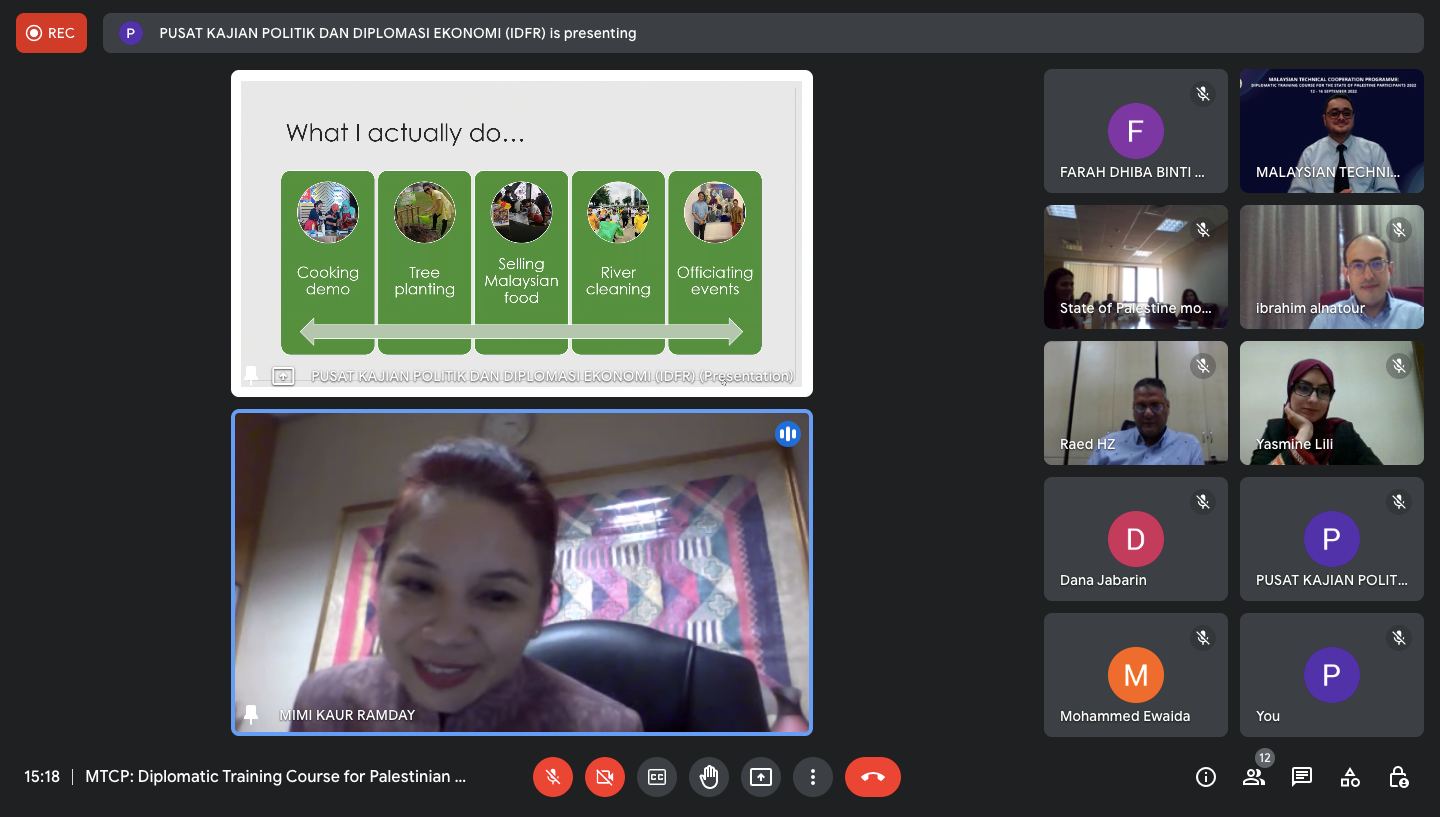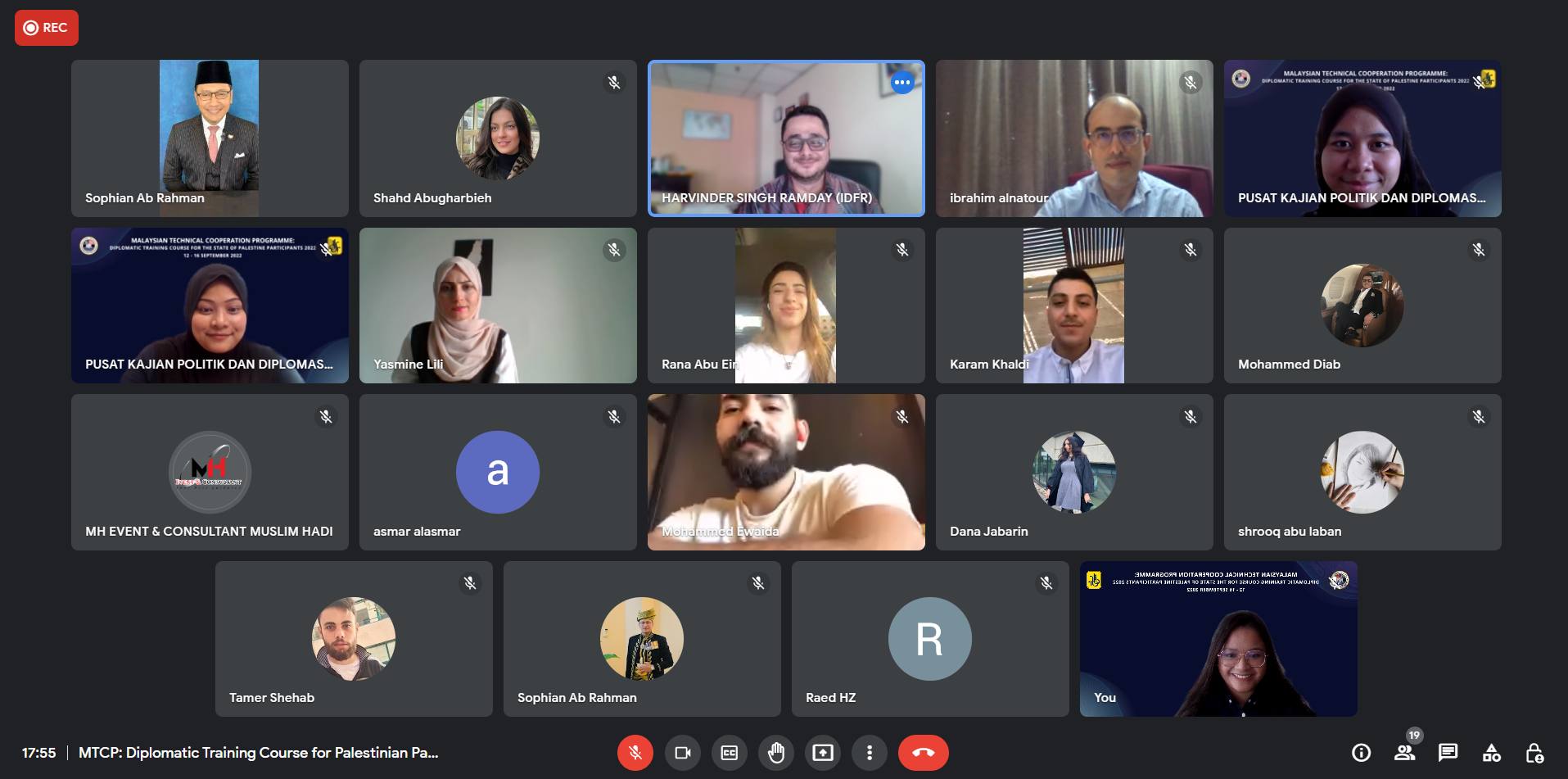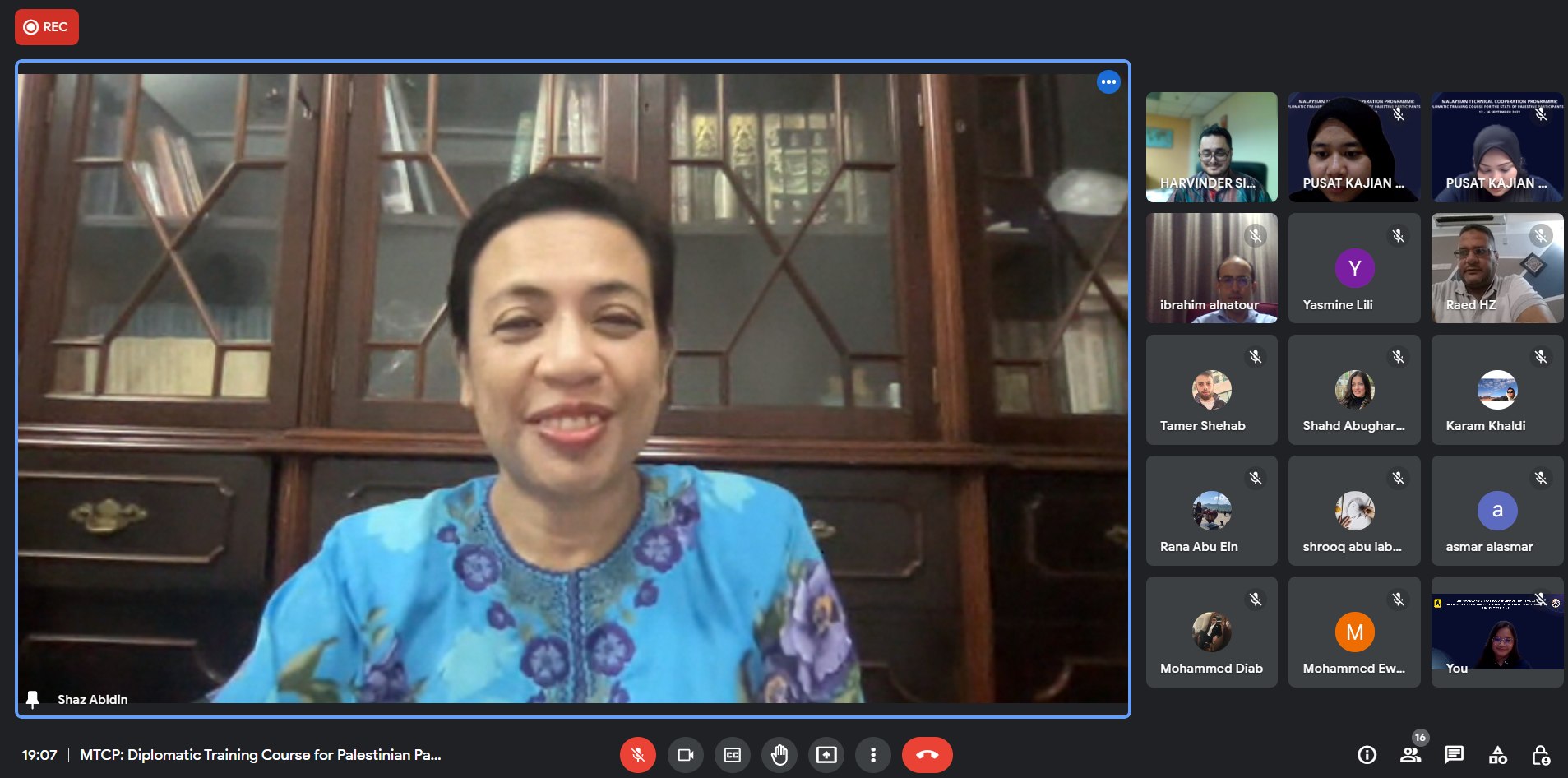 Prepared by:
Ms. Hanun Insyirah Ishak and Ms. Aida Yasmin Azhar
Centre for Political Studies and Economic Diplomacy (PSED)