ASEM 8 Dialogue: Ways Forward for Asia – Europe Cooperation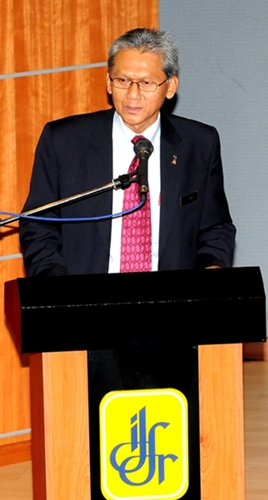 In highlighting the ASEM 8 Summit that will be held in Brussels from 4-5 October 2010, the Institute of Diplomacy and Foreign Relation (IDFR) in collaboration with the Belgium Embassy in Kuala Lumpur and the Delegation of the European Union to Malaysia successfully organized a half-day Forum entitled "ASEM 8 Dialogue: Ways Forwards for Asia-Europe Cooperation" at the Institute on 29 September 2010.
The objective of the Forum, besides publicizing the Summit, was to provide the occasion for the exchange of ideas and views on how to move forward Asia-Europe cooperation, especially with respect to "quality of life" which is the theme of this year's Summit. It was attended by the representatives of government agencies, the academias, the private sectors, NGO's and foreign missions in Kuala Lumpur.
The Forum was officiated by Y. Bhg. Dato' Husni Zai Yaacob, Deputy Secretary General 1 of the Ministry of Foreign Affairs, Malaysia. Its main event was a panel discussion comprising of four tour distinguished speakers, namely Y. Bhg. Dato' Mohd Ridzam Deva, Distinguished Fellow of the Institute of Strategic and International Studies, Malaysia; Ambassador (Rtd) Jørgen Ørstrom Møller, Visiting Senior Research Fellow, Institute of Southeast Asian Studies, Singapore; Y. Bhg. Dato' Mohd Amir Jaafar, Senior Research Fellow at the Asia-Europe Institute, University of Malaya; and H.E. Vincent Piket, Ambassador and Head of the Delegation of the European Union to Malaysia. The discussion was moderated by Y. Bhg. Dato' Renji Sathiah, a former Malaysian Ambassador to Belgium and the European Union.
The Forum ended with the closing remarks by H.E. Dr. Fran Van de Craen, Ambassador of Belgium to Malaysia.