Workshop On Public Diplomacy And Media Skills 2/2011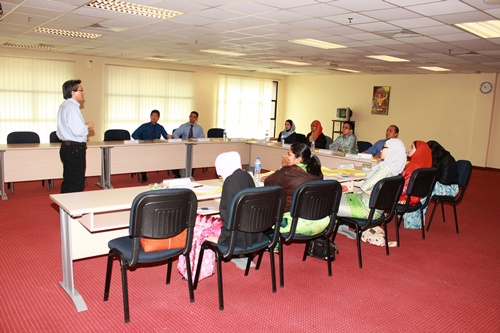 The Workshop on Public Diplomacy and Media Skills 2/2011 was successfully conducted from 21 until 24 November 2011. Twelve (12) officers from the Ministry of Defence, Ministry of Tourism Malaysia, Ministry of Foreign Affairs and Malaysia Timber Industry Board attended the four-day workshop. Although the course was only for four days, the content of the course was quite substantial and very comprehensive. This was confirmed by all the participants.
Among the topics discussed in the workshop were An Overview of Public Diplomacy, The Role of Media in Public Diplomacy, The Role of NGOs in Public Diplomacy, Public Diplomacy: Promoting Malaysia Through Culture, Effective Media Relations, Handling Press Conference and Role Playing – Mock Press Conference. During the Mock Press Conference, the participants were given the opportunity to have the experience to be in front of the camera while being interviewed by regular reporters. Admittedly, the participants now fully understand the need to be fully conversant and have all the relevant information to be able to give accurate answers and truthfully.
Generally, the participants found the workshop to be very beneficial in exposing them to various aspects of public diplomacy and acquire media skills. The benefit was further enhanced as most of the speakers have had their experience in dealing with media. Hence, they were able to answer and relate well to the participants' inquiries. The four-day course was officially closed by Mr Lim Juay Jin, the Director of Training on behalf of the Director General of IDFR.