Visit of His Excellency Dr. Georges Pinto Rebelo Chicoty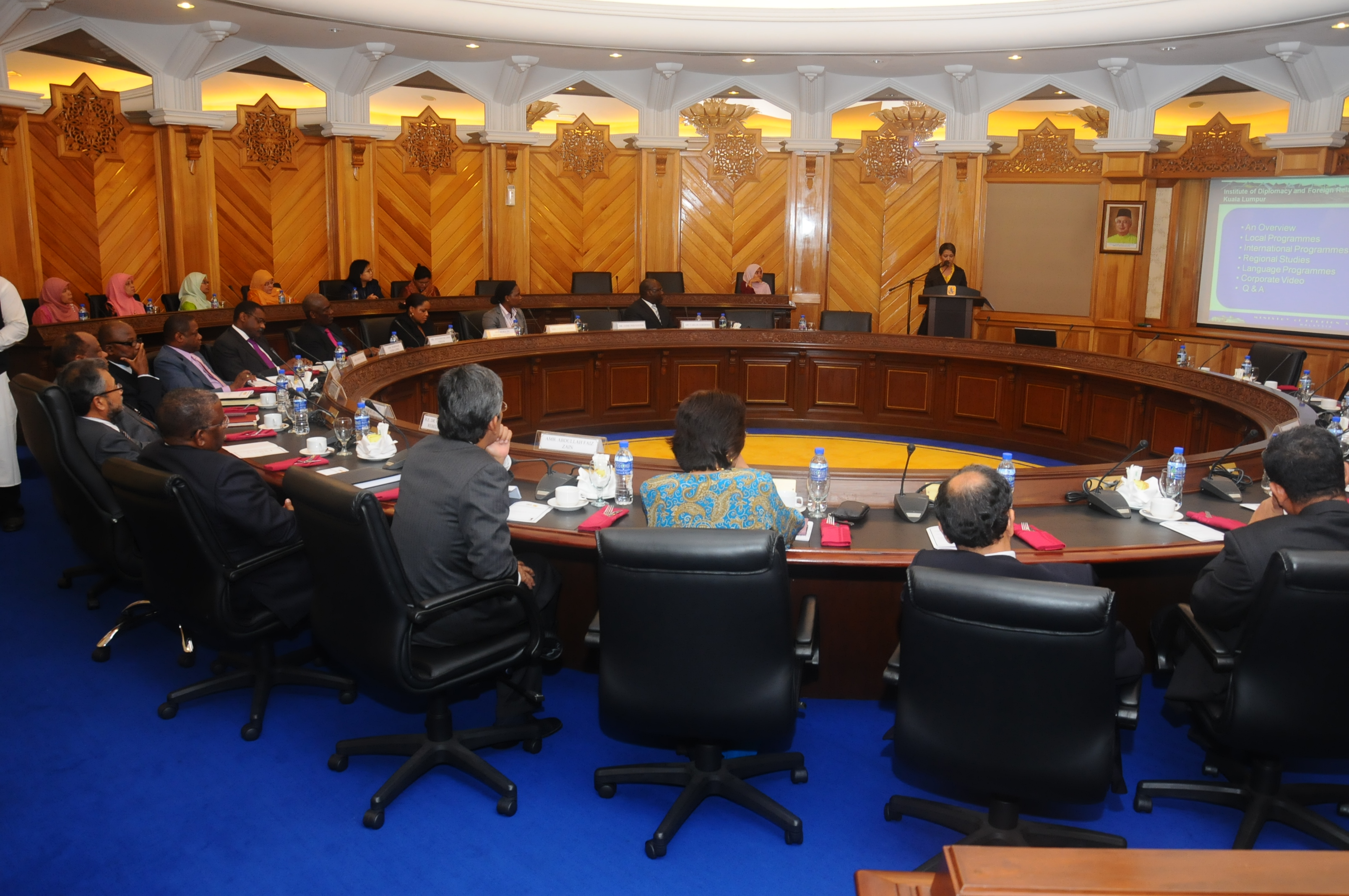 On 24 February 2011, IDFR was honoured to receive the visit of H.E. Dr. Georges Pinto Rebelo Chicoty, the Minister of External Affairs of Angola as part of his two day working visit to Malaysia. Accompanying him to the Institute were 9 members of the Angolan delegation comprising H.E. Antonio Da Costa Fernandes, Ambassador of Angola to Singapore, Mr. Carlos Sardinha, First Secretary, Angola Embassy in Singapore, Ambassador Mr. Jaoquim Augusto de Lemos, Director for Asia and Oceania, Ambassador Mr. Samuel Cunha, Director of the Cabinet of Minister; Ambassador Mr. Domingos Vieire Lopes, Director for the Bilateral Cooperation, Mr. António de Lima Viegas, Minister Counsellor, Mrs. Maria do Rosario Catotola, Assistant to the Minister, Mrs. Catia Cardoso – Attaché, Cabinet Asia and Oceania, and Mr. Jaime dos Santos, Ajudante de Campo.
Dato' Ku Jaafar Ku Shaari, General Director of IDFR together with Ambassador Abdullah Faiz Zain, Directors and senior officers of the Institute were at hand to receive H.E. Dr. Georges Pinto Rebelo Chicoty and his delegates upon their arrival to the Institute at 3.30 p.m. The Angolan delegation was ushered into the Treaty Room for a briefing session on IDFR.
The session started with the opening remarks by Dato' Ku Jaafar Ku Shaari on the role and functions of IDFR as the Malaysian Foreign Ministry's primary training institution in diplomacy and international relations. This was followed by a briefing on the training programmes conducted by IDFR by Cik Romaiza, Deputy Director of Training. The session ended with a screening of IDFR Corporate Video and a Q&A session where the Angolan delegation was enlightened on several of their queries which mainly related to the training programmes offered by IDFR.
H.E Dr. Georges Pinto Rebelo Chicoty in his note of thanks to IDFR conveyed his appreciation of the Institute's courtesy and hospitality. He also expressed his intention to send the Angola Secretary General for an attachment in IDFR as well as a few of his foreign officials for training in IDFR. The visit ended on a cordial note with a presentation of momento of songket from Dato' Ku Jaafar Ku Shaari to Dr. Georges Pinto Rebelo Chicoty. The visit ended at 4.10 p.m. which hopefully marks the beginning of closer relationship between IDFR and the Angolan foreign services.
Other Latest Newsline
---