IDFR's Hari Raya Aildilfitri Celebration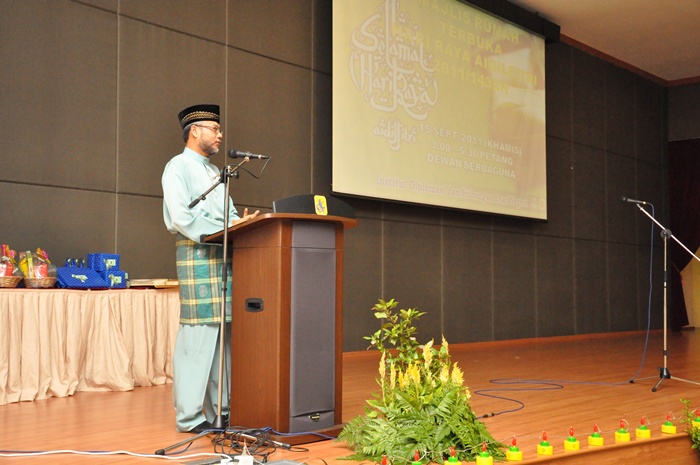 Institute of Diplomacy and Foreign Relations (IDFR) organised an open house to celebrate Hari Raya Aidilfitri on 15 September 2011.
The event, which was hosted by Dato' Ku Jaafar Ku Shaari, Director General of IDFR together with staff of IDFR featured "kampung" theme with makeshift wooden pondok and buffet spread serving traditional and favourite foods such as lemang, rendang tok, sate, laksa and rojak for the guests to indulge.
Among the invited guests were Wisma Putra officials, SEARCCT officials, vendors and suppliers. Dato' Ku Jaafar Ku Shaari expressed his appreciation to IDFR's vendors and suppliers who have been very supportive of IDFR. He also mentioned that the Hari Raya celebration is a great opportunity for IDFR staff to celebrate with colleagues and friends in the festive and joyous spirit of Aidilfitri.
To add colour to the Hari Raya ambience, guests and IDFR staffs also dazzled with the karaoke session of popular raya songs performed by in-house artists – Mohd Zaki Hamid, Nik Latifah Mohd Zaki and few others. The highlight of the event was the lucky draw comprising hampers and goodies.
The Hari Raya celebration ended on a high note leaving everyone in high spirits for the long weekend in conjunction with the Hari Malaysia 2011 celebrations.