Teambuilding And Motivational Programme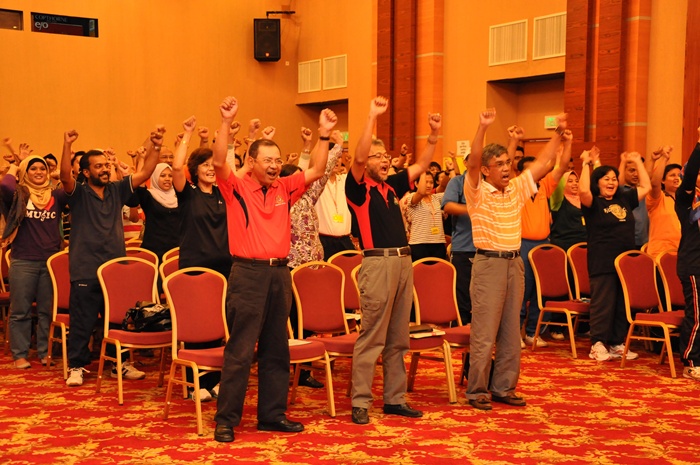 The scenic Pearl of the Orient witnessed the tears and joy of IDFR's staff in concert with staff from the Foreign Minister's office, Protocol and Consular Department as well as the Legal Division of Wisma Putra during the Teambuilding and Motivational Programme held from 28 to 30 October 2011 at Copthorne Orchid Hotel, Tanjung Bungah.
The perfect unison of 130 thrilled souls vibrated through the hotel during the three beneficial amusing days. The programme started with a unique ice-breaking session where everyone shared light-hearted discovery moments about each other thus, creating the bond and warm atmosphere to jump start the teambuilding. There was also a short discussion session on transformation and changes that needed to be executed in order to enable everyone to perform optimally.
The first morning was filled with invention of creative group cheers, headbands and group activities as steps to cultivate teamwork spirit. An Amazing Race followed suit where the physical and mental combo required in order to complete the race encouraged staff to perform at the best level, even under stressful and demanding scenario. To conclude the physical activity, all groups were given the task to perform traditional dances which showcased the hidden talents. This is an eye-opener for all to realise that each individual is unique, thus, creating the appreciation for talents of others. To conclude the second day, a discussion on effective communication was held followed by a "fancy dressing session" to encourage group cooperation where each group had to design a costume made of newspapers and also mummified one of the group members.
The last day saw the manifestation of cooperation and team spirit among staff when the two divided groups managed to build the highest tower from pipes. Then, they were divided into Departments accordingly for dialogue with respective Heads of Department. The programme was officially closed by YBhg. Tan Sri Mohd Radzi Abdul Rahman, Secretary General of Wisma Putra. He conveyed his mandate for all staff to cooperate and integrate as one body to uphold the Foreign Service.
The Teambuilding and Motivation Programme was a huge success and all involved left with a renewed as well as new vigour and values to be transformed in everyone's work life.