"Current Regional Issues" By Y.A.Bhg. Tun Dr. Mahathir Mohamad, Former Prime Minister Of Malaysia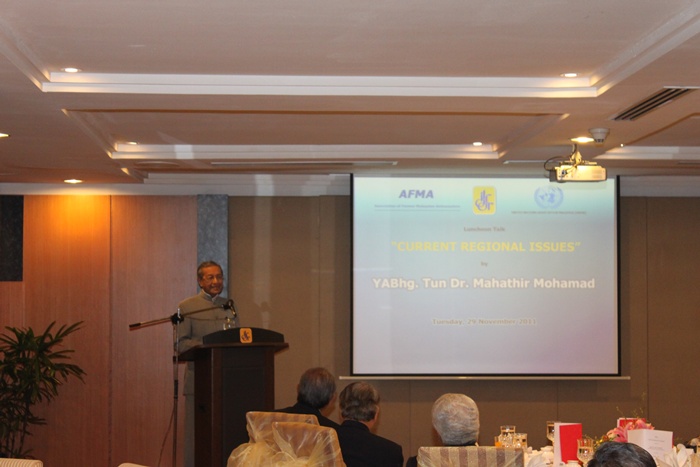 Y.A.Bhg. Tun Dr. Mahathir Mohamad, the former Prime Minister of Malaysia gave a luncheon talk entitled "Current Regional Issues" to a gathering of former Malaysian Ambassadors, former Chiefs of the Armed Forces (Chiefs Circle) and officers of IDFR on 29 November 2011. The event was jointly organized by the Association of Former Malaysian Ambassadors (AFMA), United Nations Association of Malaysia (UNAM) and IDFR.
In his welcoming remarks, Y.M. Tengku Ahmad Rithauddin, President of UNAM and Honorary Member of AFMA briefly highlighted the foreign policy achievements of Malaysia during the premiership of Y.A.Bhg. Tun Mahathir Mohamad.
During the luncheon talk, the former Prime Minister said that in today's integrated world, any major political, economic or social development in any one region will affect the rest of the world. As such he said that Malaysia should be watchful of happenings in other parts of the world as they are likely to have an impact on it.
He also expressed the view that the East Asia-Region to which Malaysia belongs is the fastest growing region in the world and as such poses a serious challenge to the West which has lost its ability to compete especially in the manufacturing of consumer goods. As such, he opined that the West 'invented' the financial market that offered various forms of financial products that have led to an increase in speculation, financial manipulation and other forms of underhanded activities.
In his view, the financial markets have created much wealth in West but were not able to provide employment in sufficient numbers and this has led a high rate of unemployment in the US and other western countries. Also, those in the financial market have become greedy leading to abuses causing the failure of banks, hedge funds and other financial institutions. Saying that the decline of the West is inevitable, he felt that the rapid rise of countries in East Asia likes China, Japan and Korea have contributed to some extent to this process. He opined that today the East Asian countries could produce almost any good/product manufactured in the West at a cheaper price and of better quality.
The former Prime Minister also derided the view that emerging nuclear weapon states pose a threat to the world saying that, as the USA and Russia are far superior in this area, these states are unlikely to use nuclear weapons as it would lead to a strong retaliation and their own destruction.
On democracy, he felt that countries should not go to war on the pretext of promoting democracy as it often leads to the destruction of life and property which is sinful and unforgiveable. Also, he felt that the West often supports democracy for it own convenience as it does not support it in the UN decision making process.
He ended his talk by saying that many in the West feel that it is their "manifest destiny to rule the world". Jokingly, he added that it was his manifest destiny to deny that to them.