Johor Student Leaders Council (JSLC) "Young Diplomats Programme"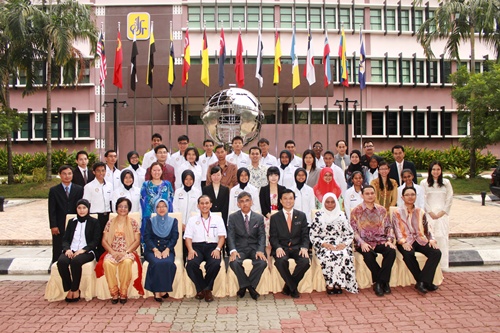 The "Young Diplomats Programme" attended by 20 members of Johor Student Leaders Council (JSLC) was held in IDFR on 5-9 December 2011. The 16-year old students benefited from the five day course indeepening theirknowledge, skills and competency in early exposure to the diplomaticworld. The course also tied the first cooperation between IDFR and the Johor State Education Department.
The participants had the opportunity to listen to His Excellency Zeljko Bosnjak, Ambassador of the Republic of Croatia to Malaysia, which was certainly an eye opener. His Excellency's warmth and sincerity has certainly left an incredible mark on all the participants. They also gained valuable knowledge from the sessions with lecturers from IDFR and Wisma Putra. The Deputy Director General of IDFR had also spent time with the participants to share his experience over 30 years as a diplomat and an ambassador.
The programme completed on a high note with a Closing Luncheon held to bid farewell to the participants. IDFR is indeed delighted to play a part infostering and moulding the youth; aspiring future diplomats with the right skills and knowledge on contemporary diplomacywhich has become more complex, requiring constant adaptation to new issues and circumstances in the ever changing social fabric.