Networking Visit Of ASWARA to IDFR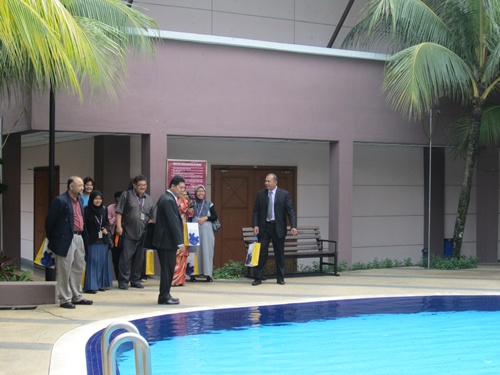 The Bilik Duta (Ambassador Room) of IDFR bore witness to a new smart partnership between the Akademi Seni Budaya & Warisan Kebangsaan (ASWARA) and the Institute of Diplomacy and Foreign Relations (IDFR), when the former paid a networking visit on 10 January 2012. The delegation from ASWARA consisted of seven officers headed by Encik Mohd Asri bin Abu Bakar as the Corporate and International Relations Director, while IDFR was represented by the heads of every division.

The main purpose of the visit was to discuss potential academic cooperation, exchange ideas as well as to structure a mutual long term strategic plan.

Embarking the path of new age diplomacy with one of the domains as art diplomacy, IDFR would be delighted to embark the collaboration with ASWARA, which is among the premier art education institute in the country. With bountiful supply of artistic souls, the future collaboration could initialise a good channel in introducing our unique local art to the diplomatic world, picturing Malaysia's harmonious multi-racial society, 1Malaysia.

In fulfilling the demand of diversified training programmes, the upcoming IDFR-ASWARA collaboration would be stamped as a module in the IDFR Training Programme and would be made available to participants from local and international institutions. By the end of the visit, both sides were positive of the outcome and are hopeful that the initial plans will materialise soon.