Launching of 2012 Color Theory Exhibition at UiTM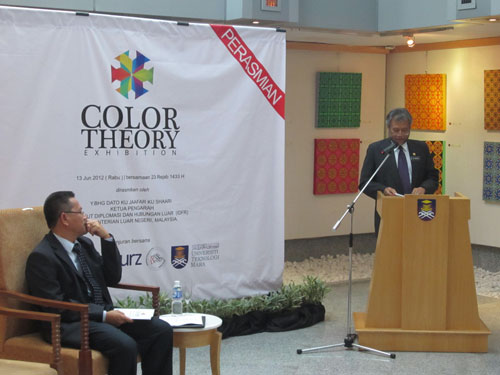 13 June 2012 bore witness to a remarkable meeting between the Director General of IDFR, YBhg. Dato' Ku Jaafar Ku Shaari and the Vice Chancellor of Mara University of Technology (UiTM), YBhg. Dato' Prof Ir Dr Sahol Hamid Abu Bakar. The meeting that took place at the office of the latter was also attended by the Dean of the Faculty of Art and Design (FSSR), Prof Dr. Hj. Mustaffa Halabi Hj Azahari, the Curator of Tuanku Nur Zahirah Art Gallery UiTM (GESTURZ), Encik Nurul Muzamel Rasidi, lecturers of FSSR as well as several officers from IDFR.
The Meeting among others discussed the potential signing of a Memorandum of Understanding (MoU) between IDFR and UiTM which could further strengthen the already existing ties between the two institutions. The Meeting recognised the collaborations that have been undertaken between IDFR and the Faculty of Art and Design for the exposition and display of the students' artworks at IDFR as well as the future collaborations on the Ph.D Programme with the Faculty of Administrative Science and Policy Studies.
With the MoU, the DG of IDFR and VC of UiTM agreed that the collaborations could be further expanded and elevated to the level where both institutes could reciprocate and benefit from each other's expertise. The Meeting saw the UiTM's eagerness in sharing with IDFR its many internationally recognised programmes, and IDFR has also impressed upon UiTM its readiness to reciprocate. Thus far, the existing initiatives have been keenly received by both parties.
Following the meeting, YBhg. Dato' Ku Jaafar Ku Shaari was given the honour to officially launch the 2012 Color Theory Exhibition organised by the Faculty of Art and Design, UiTM showcasing the astounding artworks by the first year students covering more than 100 paintings on ornament, arabesque and batik through the application of various color theory technique.